Best Car Phone Holder
Car cell phone holders like these make it safe and easy to use your phone for navigation, ride-sharing apps, or food delivery on the roads.
By now, we all know that using our phone while driving is a big no-no. But if you're using your phone for navigation, for ridesharing, or even for delivery apps, you still need your phone within eyesight and easy one-touch reach. Finding a holder that is strong enough to hold your phone securely, rugged enough to handle daily stress, and safe to use within your car can be tricky.
The best cell phone holders secure themselves in place without hardware or screws, don't damage your interior, and maintain a firm grip on your phone, so you can keep your hands on the wheel. There are a few common approaches to the problem. Holders mount anywhere from suction cups on your dashboard, to the air conditioning vents, and even your CD player or tape deck!
Some holders operate with spring-loaded arms, others with gravity-loaded clasps, but the best ones offer adjustability to fit a range of smartphones, while also allowing access to the USB or Lightning cable ports for charging or connecting to Android Auto or Apple CarPlay. There are even holders that offer Qi wireless charging!
In many states it is illegal to operate your phone while driving, so always sort out your music or your navigation before you depart. In the meantime, here are our picks for the best car phone holders.
1. Best Air Vent Clip: Miracase Car Phone Mount
The 2021 edition of the Miracase car phone mount boasts incredible grip on your air vents, giving you a secure and robust mount for your cell.
With locking hooks that are set firmly in place with a rotating knob, this is one of the few air-vent clip holders that won't fall off the vent, even under hard acceleration or cornering. The three-arm design of the phone holder also helps hold your device steady, and its rubber-padded, wrap-around arms won't lose their grip.
The bottom arm offers access to the charging port on phones where the port is in the center of the phone, but isn't adjustable so it won't give you access to offset ports. You can also rotate your phone to have it in portrait or landscape mode. It will hold phones and cases as long as they're less than 4.05" wide, which covers most units.
Air-vent clips are notorious for causing long-term wear and tear to the vanes in your air vents, and this one is particularly strong, so use it carefully. Also note this unit won't work on round air vents with central buttons or turners, only on horizontal or vertical vanes.
Key Specs
Car Mount Location: Air-vent clip
Phone Mount Type: Spring-loaded
Max Width: 4.05″
Charging: Access to phone port
Pros:
Cons:
May scratch air vents
Doesn't work with round vents
2. Best Cup-Holder Mount: WeatherTech CupFone
WeatherTech is known for its laser-cut floor mats and upholstery protection products but also provides a suite of products to protect your cell phone.
The CupFone fits into just about any vehicle's existing cup holders thanks to its stackable cup design. If you have console or rigid dash-mounted cupholders in your truck or van, this is ideal, but it won't work on those spring-out cup holders you find in smaller sedans or sport cars.
If your cupholders are too low for you to see the phone easily at a glance, you can buy a 4" extension piece for the CupFone separately, but it impacts the sturdiness of the holder. And that's a shame because sturdiness is one of CupFone's biggest strengths. While other cup-holder mounts are available, many are flimsy and weaker than WeatherTech's offering, especially if the neck is longer.
The receiver will fit most 6.5" phones and their case, as its arms expand to 4.2" wide. Remember that the screen on your phone is measured corner to corner, not width wise when selecting a mount.
Key Specs
Car Mount Location: Cup holder
Phone Mount Type: Spring-loaded
Max Width: 4.2″
Charging: Allows access to phone port
Pros:
Rugged construction
Secure mount
Cons:
Phone is below eyeline in most cars
Only works on console cupholders
3. Most Stable: VANMASS Car Phone Mount 4.0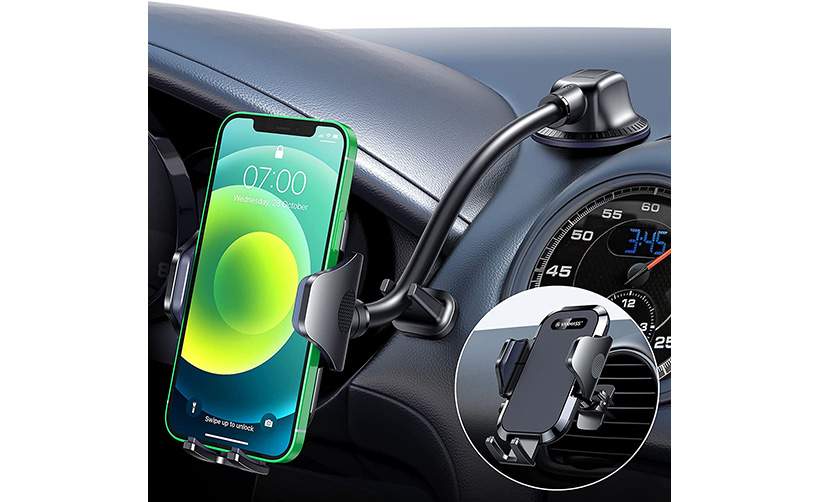 The VANMASS car phone mount is one of the most secure and vibration-free mounts you can find.  
With a heavy-duty suction cup, rigid-yet-stable 9" long gooseneck, and a second u-shaped cradle to support the phone-holding end of your mount, this rig from VANMASS offers extreme stability and adjustability.
The materials are top notch, with high-traffic coating on the backing plate so it always looks new. The engineering of the almost infinitely adjustable gooseneck means you can put your screen exactly where you want it, and you can mount the suction cup on the dash, or on the windshield glass. The company even throws in an air-vent clip in case you want to go that route.
At 4.03" of adjustable width, it will fit just about any phone and the arms on the bottom are so unobtrusive they don't block ports for 90% of devices. The side arms are spring-loaded for firm grip on your phone, and you can use them in horizontal or vertical position.
Our only complaint is how obtrusive this bulky unit is. It's very much industrial, and even with glossy black coating this unit is impossible to miss. You also can't reposition the u-shaped stabilizer holder after you've installed it.
This is the best option if you're a heavy-duty delivery driver or trucker who travels long distances and needs consistent and stable access to your phone.
Key Specs
Car Mount Location: Suction mount
Phone Mount Type: Spring-loaded clip
Max Width: 4.03″
Charging: Access to phone port
Pros:
Stable and secure
Great price
Cons:
Looks bulky
Can't reposition stabilizer after installation
4. Best Magnetic Car Phone Holder: Coolpow Magnetic Phone Mount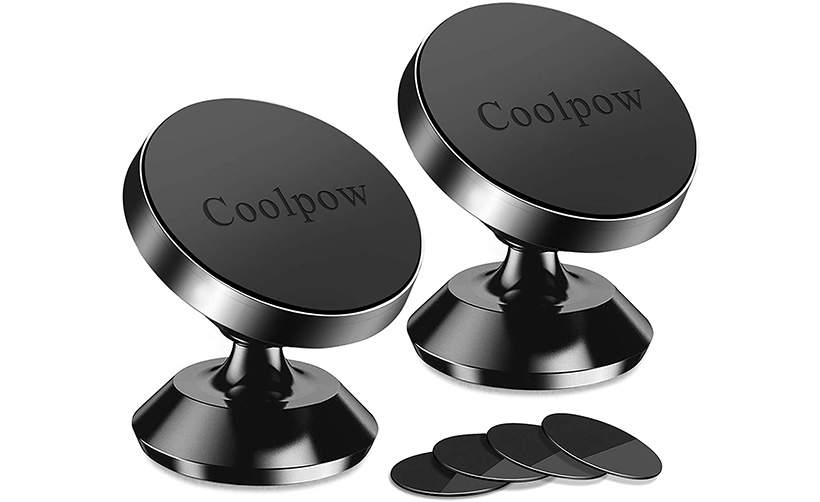 If you want simple, light, and easy to use, look no further than Coolpow's magnetic phone mount.
Available in a surprisingly affordable two-pack, these little magnetic discs sit anyone inside your car's interior and grabs your phone with four high-strength magnets. The set includes two stylish and small mounts, four metal plates that slide into your phone's protective case or glue to your phone, two pieces of high-quality 3M adhesive, and four pieces of protective film.
The 3M adhesive means the post will be firmly attached to any surface you choose, but it works best on metal, wood, glossy plastic, or glass. It's also best to use a flatter surface. The post itself swivels on a ball mount, so you can adjust the viewing angle and orientation of your phone. And because the holder is magnetic, you can put your phone in any position on the post you choose.
One strong downside is that the magnetic plates will interfere with wireless charging and some people report interference with the GPS and Wi-Fi after they install them too. Some worry the powerful magnet will affect your phone, but it should be fine as long as it's kept central, and away from the charging port.
Most users report no issues and love how simple and elegant this option is.
Key Specs
Car Mount Location: Adhesive mount
Phone Mount Type: Magnetic
Max Width: Any
Charging: Access to phone port
Pros:
Simple and stylish mount
Secure grip
Cons:
Metal plates and magnets may harm some phones
5. Best CD Slot Mount: iOttie Easy One Touch 5 CD Slot Universal Mount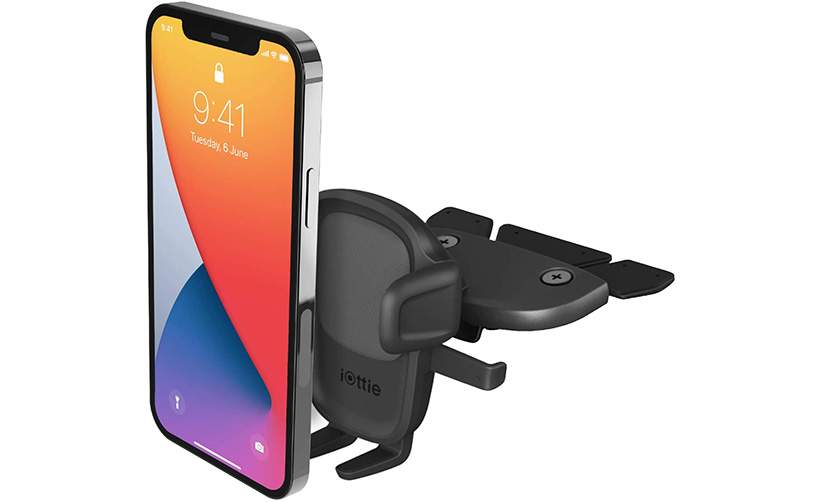 The fifth generation of CD slot car phone holders from iOttie makes use of your stereo CD slot for a sturdy and easy to use holder.
This well-designed phone holder has a raft of clever details that make it one of the best CD slot mounts on the market. First, because most car stereos are centrally located above the infotainment system in your dash, the slot is a good ergonomic location for a phone mount. It's close to your natural eyeline and easy to reach.
iOttie's solution adds a clever magnetic tab that helps secure your charging cable, and an easy one-touch button that makes putting your smartphone in the cradle a breeze. The only real downside is if you use your screen often, in which case this might block some of the display or the controls. This won't matter if you're using native phone apps for music or navigation, especially if you're using Android Auto or Apple CarPlay.
Key Specs
Car Mount Location: CD Slot
Phone Mount Type: Spring-loaded
Max Width: Not specified
Charging: Access to phone port
Pros:
Good mounting location
Doesn't damage interior
Cons:
CD players are rare
Can obstruct screen
6. Best Wireless Charger: MOKPR Auto-Clamping Car Mount
If you're sick of plugging and unplugging your phone's charging cable, then a wireless charger like this one Mokpr is worth a look.
Mokpr's air-vent clip holder doubles as a wireless Qi charger, capable of putting out 7.5, 10, or 15w depending on your phone's needs. That means you can safely charge any wireless charging compatible device and not overload the battery. The fast charging is great for cell phone users who are taking advantage of multiple driving aid apps while out on the road.
The holder itself has three arms, and the weight of the phone on the bottom mount pulls the side arms tight, locking it all in place. The side arms have indents to protect your buttons, and silicon pads to prevent scratches. The charger does require a cable to be plugged into your vehicle's USB or 12v DC port, so it's not a completely wireless option, but it means you don't have to plug and unplug the cable on your phone and fiddle with it. Just pop the phone in the holder and you're ready to rock.
Key Specs
Car Mount Location: Air-vent clip
Phone Mount Type: Spring-loaded
Max Width: 4.5"
Charging: Qi wireless charging
Pros:
Wireless charging
Strong hold
Cons:
May damage vents
Still requires the holder itself to be plugged in
7. Best Value: Lamicall Car Vent Phone Mount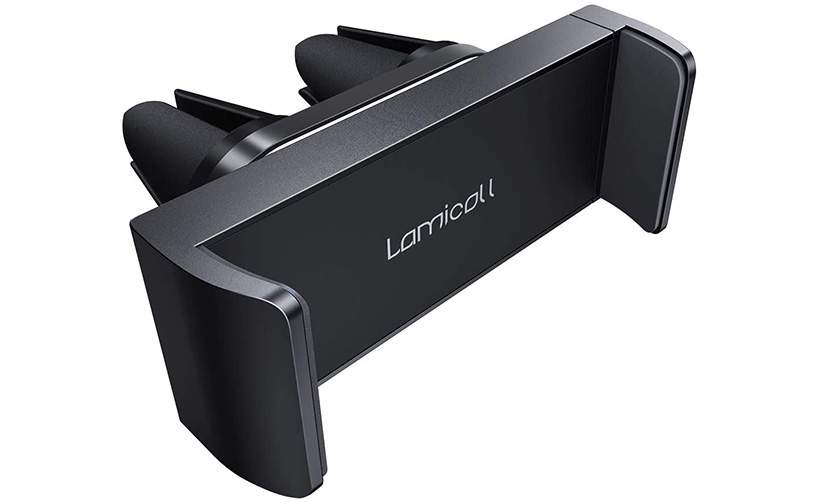 At less than half the price of other units in our list, Lamicall offers an affordable and simple cell phone holder for any car with air conditioning vents.
We love this Lamicall unit for its cheap and cheerful design, with one narrow cradle that snugly holds your phone and two tabs that lock onto the vanes in your air vents to give you a convenient mounting point. The design is super simple, and the unit is so small that you likely won't notice it when you're not using it. Did we mention the low, low price?
The company says its holder will fit any 4.7 – 6.5" smartphone, but at only 3.3" of adjustable width, it won't fit those with bulky protective cases. The tabs that lock onto the air vent also degrade over time.
At this price, this is a great temporary or travel option, or a choice for those who aren't sure they're sold on the idea of mounting their phone in the car just yet.
Key Specs
Car Mount Location: Air-vent clip 
Phone Mount Type: Spring-loaded
Max Width: 3.3″  
Charging: Access to ports   
Pros:
Excellent value
Easy to use
Cons:
Doesn't fit phones with thick cases
Clips lose strength over time
8. Honorable Mention: Fonken Dashboard Cell Phone Holder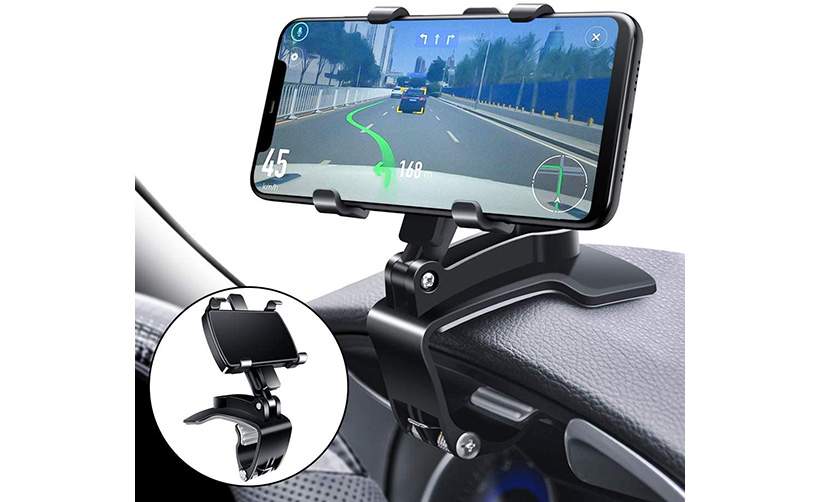 Fonken's dashboard mount features a wide, heavy-duty clip and non-slip silicone pad to grab hold of your dash cover firmly.
This clip is an extra-large, spring-loaded unit designed to clasp onto the thick material above your instrument cluster. That allows you to mount it securely and within your eyeline, reducing time spent looking away from the road. You can also use this clasp on the rear-view mirror, or your sun visor but those are less secure locations that block more vision.
The arms that hold your device are robust and secure, so you can comfortably use the holder in portrait or landscape mode. You can also tilt the angle of the holder arm to set a better viewing angle. There are four arms for enhanced grip. The biggest downside is that this clip only fits on a limited range of dashboards and so it may not fit your vehicle.
Key Specs
Car Mount Location: Dashboard 
Phone Mount Type: Spring-loaded
Max Width: 4.5″
Charging: Access to phone port
Pros:
Puts phone in eyeline
Great price
Cons:
Android Auto and Apple CarPlay
There are alternatives to using your phone while driving. Both Android and Apple provide an excellent automotive app that is compatible with most modern vehicle infotainment systems, and a range of aftermarket head units too. This puts your main functions like voice commands, music, and navigation, as well as hands-free dialing and answering calls all into the onboard vehicle systems. This is both safer and more legal than using a phone. Android Auto will even read your text messages and let you reply with voice to text.
You can also use these two apps on the smartphone, and when you do, they lock out the other functions, while prioritizing voice commands and giving you large, simple buttons for key functions. I'm a fan of Android Auto and use it regularly in my truck.
Main photo credit: BigTunaOnline / Shutterstock.com