Best Run-Flat Tires
Around seven tire punctures occur every second in the US – resulting in over 220 million flat tires each year, according to the latest statistics.
And here's a fact about punctured tires that every driver will agree with — you end up with a flat tire at the most inappropriate time and place!
When faced with such a situation, your best bet is to call Road Side Assistance, such as AAA, but be prepared to wait for at least half an hour before any help shows up.
On the other hand, you can take matters into your own hands and attempt to change the tire. But wait! You are dressed up and do not want to mess up your clothes. Also, what if you don't have a spare tire?
A flat tire will be the least of your worries if you have mounted zero pressure or run-flat tires on your vehicle.
They are designed to support the weight of the car after a tire puncture — most vehicles can get around 50 miles after a flat tire, and reach a tire repair shop or destination safely.
Types Of Run-Flat Tires
When you step foot in the aftermarket, you will come across two major types of run-flat tires. The two function on different support systems, which are:
The Self-Supporting System
Tires that feature the system have sturdy sidewalls that can support the weight of the car when air pressure goes low or if a tire completely flattens out.
Do refer to the owner's manual to know exactly how far you can drive and at what speed to remain safe.
Support Ring System
Tires with the support ring system have a ring of hard rubber or other durable material on the tire that keeps the vehicle in a drivable condition — even when there is low on no air in the tire.
Our advice: It is best to use run-flats on cars with a tire-pressure monitoring system, or you will never notice the change in pressure.
Benefits Of Run-Flat Tires
Whether they come as stock tires with your car or you buy them later, here are some of the many advantages of installing run-flat tires:
You can get to your destination even on a flat tire — Gone are the days of waiting for assistance or changing your tire in the middle of the road

Run-flat tires weigh more than regular tires — the added weight can be easily handled by a high-performance car. Perhaps this is why BMW has been a strong advocate of run-flat tires
The Best Run-Flat Tires
Here are our top picks if you are in the market to buy a set of run-flat tires:
Bridgestone DriveGuard is loved by drivers for its outstanding comfort, low noise, and ability to roll well with a tire puncture.
Perhaps this is why it is used as a stock tire by many carmakers — with the sole purpose of improving the driving experience.
Even on speedy highways, the performance from these tires is better than standard grand-touring tires. It is a popular choice for family cars, including SUVs, minivans, and sedans.
Though not as great as the topnotch summer tires, the DriveGuard still provides a good grip, adequate traction, and responsive steering control to the driver. You can drive up to 50 miles at a speed of 50 mph with a flat tire.
Bridgestone offers a 60,000-mile treadlife warranty with the DriveGuard.
Michelin Pilot Sport A/S Plus ZP
If you are off to the track quite often or you have a tendency to drive at high speeds — the Michelin Pilot Sport A/S Plus ZP will be your ideal choice for run-flat tires. The Michelin Pilot, however, is not available in many sizes.
Whether you are driving on dry or wet roads – be it light or heavy rain – you get exceptional performance, responsive handling, and a firm road grip with the tires.
Despite their all-season capabilities, they do not do well in heavy snow. You can cover enough distance to reach your dealership after a flat tire, though.
Michelin provides a 30,000-mile treadlife warranty with the run-flat tires.
​The Blizzak series by Bridgestone is highly regarded for its exceptional winter performance. Whether you drive on snow-ridden roads or extreme weather conditions, the Bridgestone Blizzak LM-25 RFT will give you outstanding performance, unlike any other run-flat-tire.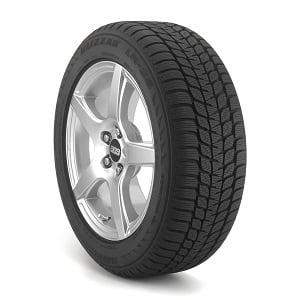 Many car enthusiasts recommend the Blizzak for high-performance vehicles. It is also an ideal fit for BMW vehicles and the Nissan GT-R.
The LM-25 RFT has an independent block tread pattern with Lamellen edge effect — which offers good steering control, a short-braking distance, decent traction, and resistance to hydroplaning.
Though there is no treadlife warranty on the tires, they seem to fare well on most vehicles.
Continental ContiProContact SSR
The Continental is a renowned tire manufacturer known for all kinds of tires. The company was among the first few to introduce run-flats.
The Continental ContiProContact SSR is an all-season tire with a symmetric tread pattern and notched ribs. The ribs give a bigger footprint to the tire, and the tire is always in contact with the ground.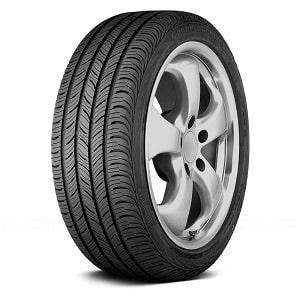 There are broad circular grooves on the tire to evacuate water, slush, and mud, which lead to better traction on wet roads.
The driving experience with the Continental is exceptional, as the car remains stable at all times and offers a good braking distance in the city.
They are not the best option for wet conditions but still do better than other tires in the same price range. You get to drive 50 miles at a max speed of 50 mph on a low-pressure tire.
Continental offers a generous 80,000-mile treadlife warranty with the tire.
Conclusion
Run-flat tires are a robust solution that offer peace of mind and make sure you reach your destination on time. With the right run-flats on, you will not be left stranded curbside, and will reach a tire repair shop easily!