Best Wheel Chocks
Over 13 thousand automotive technicians are injured each year during routine work, according to The Occupational Safety and Health Administration (OSHA).
And to be honest, it does not come as a shock. Mechanics deal with heavy equipment and machinery all the time.
This is why OSHA mandates the use of wheel chocks during all vehicle maintenance. They provide increased security for mechanics as they operate on heavy automobiles.
There are many options for wheel chocks in the aftermarket to choose from. Read on if you want to buy a wheel chock and get the best value for money!
Wheel Chocks In A Nutshell
Wheel chocks are small wedge-shaped objects placed on the front or back of a tire — to prevent any movement of the car.
No matter how reliable your brakes are, one should use a wheel chock when carrying out maintenance work on the vehicle or transporting a vehicle.
Even the slightest of mistake can free a car during maintenance work and cause serious injuries.
Types Of Wheel Chocks
Some wheel chocks have a rubber or level surface to ensure that they maintain a good grip with the ground.
The wedges not only prevent movement, but they also absorb the impact in cases of a sudden jerk.
But there is no jack of all trades — so you need to pick something that works best for you. It depends on the kind of car you have and where and how you plan to park it.
Things To Consider
Here are a few things you should consider before buying a wheel chock:
Consider where you will park the car, whether the ground has sand or gravel, or whether it is a smooth surface on an incline. Assess the level of traction needed by the chock to keep the car in place.
Also, check where you should place the chocks — the front or the back. This will help you determine the shape of the wheel chock to buy.
A good wheel chock should have a height that is quarter to the height of your tire. It should comfortably fit the back or front of your tire.
If you plan to park the car on an incline, you should buy something sturdy to make sure the vehicle stays in place.
All chocks are meant to hold a car still, be it small or big. But you need to choose the right wheel chock for your car because not only it has to shoulder the car's weight, but it has to work against gravity at times.
Best Wheel Chocks
We tested some of the best wheel chocks available in the market. After many tests and detailed inspection, here are our top picks:
The Camco 44414 Wheel Chock is designed to hold vehicles in place. Once placed, you do not have to worry about any movement from the car.
Putting it behind or in front of the tire is easy, and the best part is you receive two-wheel chocks out of the box.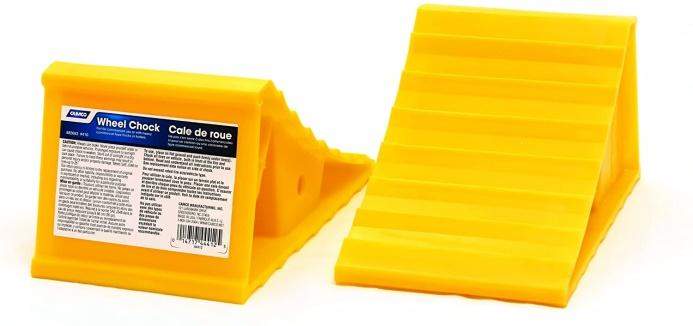 The bright yellow wheel chocks are lightweight, so you can carry them around and can hold big vehicles such as trailers and RVs in place.
So whether you plan to get some shut-eye or want to leave your trailer in the driveway for a couple of days — the chocks will make sure the vehicle doesn't back away.
YM W4194 Solid Rubber Wheel Chock
Made from reinforced rubber, the YM W4194 is a highly durable wheel chock — it can maintain a secure grip on any surface.
So no matter where you park – on a slippery slope or an inclined surface – your car will never roll away.
The rubber used on the chock is scratch-resistant so you do not have to worry about tearing up the rubber anytime soon.
The YM W4194 also has a rubber handle, which makes it easy to place the chock underneath a car.
Fasmov Solid Rubber Heavy Duty Wheel Chock
The Fasmov wheel chock is built for heavy-duty usage, and the pair even looks sturdy. Once placed under a car, it will make sure the vehicle doesn't budge an inch — all thanks to the traction produced due to a ribbed design.
The wheel chocks can be used for RVs, vans, sedans, or trucks. And using them is no rocket science — you can easily place them on the front or back of your tire.
Thanks to the use of sturdy rubber, your vehicle will not move, and the wheel chock remains functional all year long — regardless of the weather conditions.
The Fasmov wheel chocks are oil-resistant, so you do not have to worry about the car or anyone slipping near the car next time you carry out maintenance on your vehicle.
MaxxHaul 70072 Solid Rubber Heavy Duty Wheel Chock
Whether it's raining cats and dogs, knee-deep snow or other slippery slopes, the MaxxHaul 70072 can keep your car still in place — thanks to an all-weather construction.
The rubber pad is sturdy enough to hold bigger vehicles like an RV or a trailer in place.
It is a popular choice among people who work in the automotive industry. You can work on a car without fearing it would slip away. The chock has a non-slippery surface, which maintains a good grip even if there is an accidental oil spill.
The MaxxHaul 70072 has a rubber handle, which makes it easy to place under a vehicle. It is also very easy to move around or take along on a camping trip. The wheel chock has horizontal ribs which grip treads on the tire.
Despite its many outstanding capabilities, the MaxxHaul 70072 is an affordable wheel chock — and we think it offers the best value for money!
Key Takeaways
It is wise to invest in a quality wheel chock if you work on cars often, or you are an avid camper. The products we reviewed are safe and easy to use and will last you a lifetime — without burning a hole in your pocket!
Click here to check out some other bestsellers or to explore more options!