Best Carbon Wheels
If you are here, chances are your stock tires are already on borrowed time, or you want to purchase a new set of carbon wheels to get the most out of your ride.
We are sure you would want something of good quality and better than what you have been using.
Here's a disclaimer – if you have never used carbon fiber wheels, you are up for a pleasant surprise. The best carbon wheels out there will provide you outstanding aerodynamics due to the use of 40mm – 50mm carbon fiber in the tire.
Carbon allows you to speed up quickly and require less force to move on an uphill ride.
There are a few things to look out for when buying a set of tires for your bicycle. You want something that lasts and is easy to maintain.
We reviewed some of the best carbon fiber tires available in the market—to help you pick out the best for your bicycle.
Types of Carbon Fiber Wheels
Although carbon fiber wheels differ from manufacturer to manufacturer, they are all lightweight and last for a longer period of time as compared to regular tires.
More importantly, they let you achieve faster speeds quickly — so if you like to race, you need to equip your bicycle with carbon fiber tires!
Here are some options to consider when in the market for a set of carbon fiber wheels:
The wheels are lightweight and are mainly used with mountain bikes. They are known and loved for their speed and ability to climb inclined surfaces quickly without much effort.
Tires mounted to a 700c wheelset are usually tall and broad — they are available in different sizes, some are 22mm slim while the others are tall cyclocross tires.
They are perfect for people who want to go fast and yet remain sturdy. Most pros use the 700c wheelset.
Carbon Clincher Wheelset Or Tubular Wheelset
Carbon clinchers are tires with tubes, which means that they have an outer layer that connects to the wheel. When you get a flat tire — you just have to replace the tube and not the whole tire.
Tubular tires, on the other hand, are one-piece tires. If there is an issue with the tire, the whole thing needs to be repaired or replaced.
Carbon Disc Brake Wheelset
These are premium tubeless tires that are the most expensive and are best suited for pros who like to race. You can choose these for your bicycle if you are serious about your performance.
Benefits Of Installing Carbon Wheels
Here are some advantages of using carbon wheels:
Performance — Since carbon fiber wheels are lighter than regular tires, they are easy to use and help you speed up quickly.

Comfort — The ride comfort with carbon wheels is amazing.

Quality — There are many varieties of carbon fiber wheels available in the market. Due to competition, the quality of the tires by all manufacturers is decent.

Design — Carbon fiber wheels are aesthetically appealing, and a lot of thought goes into their design to ensure good aerodynamics.
Best Carbon Fiber Wheels
Queen Bike Carbon Fiber Road Bike Wheels
The Queen carbon fiber wheels weigh only 1,395 grams and are 700c in size, with a depth of 50mm. The rim features a 3K matte finish and has a width of 23mm.
The wheels are known for a short braking distance — all thanks to the 14mm brake lining on the tire. The rear wheel has 24 spokes, while the front wheel has 20 spokes.
The gears are made by Campagnolo and Shimano, while Powerway manufactures the hub.
Out of the box, you also receive brake pads, and the bike can hold a maximum weight of 260 pounds. The tires work best with an air pressure of 125 PSI.
Superteam Carbon Fiber Road Bike Wheels
Another worthy 700c carbon wheel with a 50mm depth and a 23mm width! The Superteam wheels have a 14mm brake line allowance.
The rear wheel has 24 spokes, while the front wheel has 20 spokes. Thanks to the featured Powerway R13 hub, the wheels can hold a maximum weight of 260 pounds.
The gears that come with the wheel are Shimano and provide up to 11-speed gear options. There are also skewers with quick-release, and brake pads are included in the package.
It is recommended that the air pressure should be maintained at 125 PSI for optimum performance.
Superteam 50mm Clincher Wheel Set
Whether you are riding uphill or against the wind — the Superteam 50mm Clincher Wheelset offers a beyond exceptional performance.
The set is 50mm in depth and is sized at 700c with a 23mm depth. The back wheel has 24 spokes, while the front wheel has 20.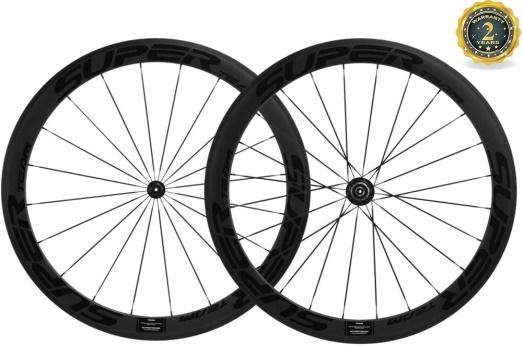 It offers 8 to 11-speed gear options, which is made possible by the featured Shimano cassette body.
The skewers are quick-release, and there is a Powerway hub. The wheelset only weighs 1,680 grams, and the recommended air pressure is 125 PSI.
Ican 86mm Carbon Time Trial Wheel Set
Who knew you could achieve so much from your bike by just changing your wheels, and this is what you will feel once you mount the new Ican 86mm Carbon Time.
The wheel has four sealed bearings for the rear wheel and two for the front, along with a standard ICAN hub.
The set is quite lightweight with – front-wheel weighing only 880 grams – and the rear wheel a little over a thousand grams.
The Ican 86mm Carbon Time Trial has CN spokes with a radial pattern for the front wheel, and a two-cross spoke pattern for the rear wheel.
The carbon fiber is made from 69 folded layers, and the provided gears are SRAM or Shimano, which allow for 10 and 11-speed gear options.
The carbon wheels can handle a maximum weight of 230 pounds — and work best at an air pressure of 135 PSI.
End Note
From the looks of things, carbon wheels are now the preferred choice among professionals. If you want the best from your bike, we suggest you mount any of the tires reviewed in the piece on your bicycle.
If you are still unsure, click here to explore some other options for your bicycle!