Top 12 Best Synthetic Oil Products
Merely a few decades ago, synthetic motor oil was a rare commodity, and we were stuck with regular oil. However, the tables have turned and now motorists can pick from a wide selection of fully synthetic oils. The best synthetic oils offer more mileage, keep the engine cleaner, perform equally well in low and high temperatures, and protect your engine by keeping wear at bay.
Here are our picks for the best synthetic oil products you can buy:
---
Mobil 1 120769 High Mileage Synthetic Oil
Mobil 1 is a leading player in the synthetic oil industry for good reasons. For starters, the company's High Mileage 120769 oil is one of the premium high mileage car oils available today. This is because it renders fantastic lubrication as well as gear protection, which is a vital component for automobiles with high mileage.
Even if you think your car doesn't need a high mileage oil like this, do not forget that with every passing day, your engine parts are becoming more prone to damage. By using an exclusively designed product, you are preserving your car parts for a longer run.
This 5W-30 synthetic oil will reduce deposit and sludge generated due to evaporating. Moreover, it will assist in preventing leaks. According to Mobil 1, the oil is designed to prolong the engine life of automobiles with 75,000+ miles.
Pros:
The oil offers fantastic engine protection
It's specifically engineered for high mileage vehicles
Very reasonably priced
Stays ultra-functional even in sub-zero temperatures
Cons:
---
Liqui Moly Premium 5W-40 Synthetic Oil
Say goodbye to perennial ignition problems every winter with the Premium 5W-40 Synthetic Oil by Liqui Moly. The lubricant offers a complete engine and gear protection for all types of automobiles, and is a proven solution for motorists living in regions with low temperatures.
The Liqui Moly renders spectacular engine cleanliness and an ultra-high defense against wear. This German-made fully synthetic oil ensures the longevity of your car parts since it doesn't compromise its potency even in frigid temperatures.
An energy conserving synthetic oil for the latest gas and diesel engine technology such as variable cam & timing configurations, multi-valve arrangements, supercharging, turbocharging, and intercooling. It saves fuel and gives immediate lubrication after a cold start. According to seasoned mechanics, the product is excellent for extended oil change intervals.
Pros:
The oil offers swift oil delivery at extremely low temperatures
It provides great lubrication at both low and high temperatures
This Liqui Moly synthetic oil gives remarkable engine cleanliness
It is feasible for all mileages
Cons:
The Liqui Moly synthetic oil is not so effective with the spout design
---
Shell ROTELLA T6 Full Synthetic Oil
Shell's Rotella T6 is one of the most powerful synthetic diesel engine oils available in the market. This is because it offers a strengthened fuel economy capacity of 1.5% without jeopardizing engine protection. Also, it provides a substantially increased level of security against damaging engine wear compared to the earlier generation API CJ-4 motor engine oils.
Its triple protection formula blends completely synthetic base oils with modern multifunctional additives for superior equipment protection and extended engine life. Therefore, your engine gets protected against the effects of dirt, soot, and other contaminants. Moreover, this oil prevents viscosity loss through shear while maintaining optimum pressure in your engine.
Additionally, sophisticated low-ash formulation assists control blocking or contamination of exhaust devices, thereby helping to sustain car's emission compliance and fuel efficiency. The product is feasible for diesel-powered automobile from trailers/tractors to vintage cars and heavy-duty SAE 5W-40 enabled diesel pickups. Lastly, it's made to prevent breakdowns by heat to offer sustained protection across the service interval.
Pros:
The oil contains high weight and is tailor-made for diesel automobiles
ROTELLA offers improved fuel economy and wear performance
The Shell synthetic oil comes with improved deposit control and heat resistance
Cons:
According to some seasoned mechanics, the product only offers an above-average performance
---
Castrol 03057 GTX MAGNATEC Full Synthetic Oil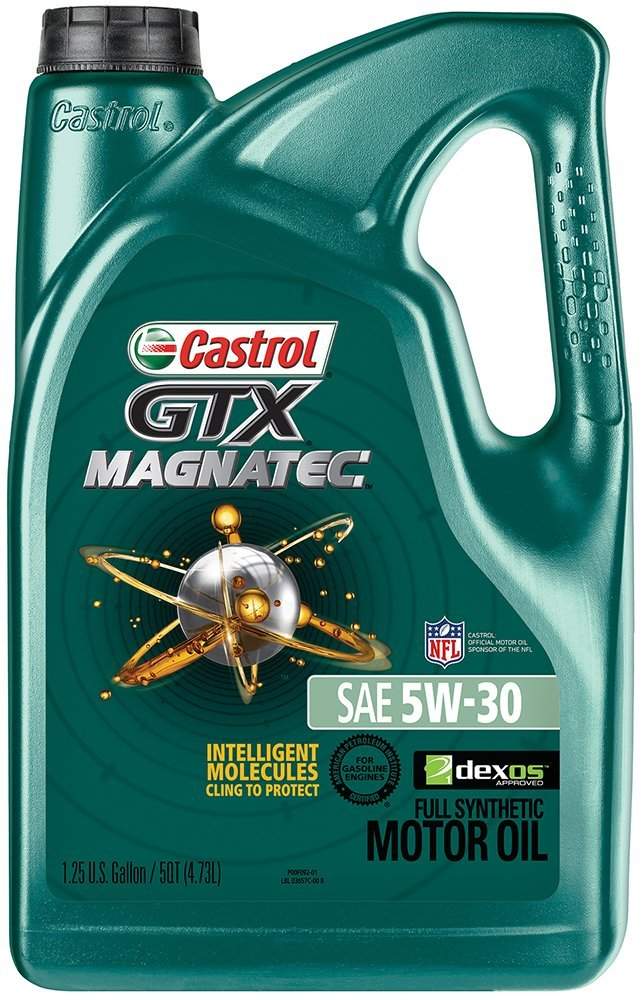 The 03057 Magnetic by Castrol puts up an excellent performance by consistently keeping the oil delivery functional. It's manufactured to start protecting your engine the moment you start the car, which is good news for all the motorists who struggle with winter morning ignition problems.
Remember, 75% of engine wear takes place right after the first ignition in the morning. This Castrol product is manufactured with a formula that keeps the wear at a minimum in any inclement weather.
Its secret lies in little molecules, which do not exhaust off the synthetic oil from the engine. These intelligent little molecules in Castrol synthetic oil form an extra layer between the gear, thereby offering the required lubrication all the times.
Pros:
The oil comes with intelligent molecules technology for instant oil delivery
It ensures hassle-free engine performance during any weather
This Castrol product offers high lubrication
The oil keeps the essential gear 4 times smoother than its rival motor oils
Cons:
The product does not come in all viscosity levels
---
Mobil 1 120766 Synthetic Oil
If you are changing the motor oil yourself, and looking for a product that can last a good many miles, this Mobil 1 product may end your hunt. It is backed by an advanced full-synthetic formula with a sureshot protection of 15k miles.
The synthetic oil is dexos1 licensed, and helps forestall deposit buildups and would not turn into sludge even if you're driving for an intended 10,000+ miles. The 120766 oil extends premium oxidation and thermal stability, thereby completely safeguarding your engine. It's recommended to change this oil about every 7,000 miles to keep the engine silky smooth.
Pros:
The oil offers superb lubrication and wear resistance under several operating conditions
The correct balance of performance additives renders outstanding engine security
This Mobil 1 synthetic oil offers remarkable oil-breakdown control
The oil is made to sustain stable oil viscosity
The Mobil 1 oil offers twice as much value as regular motor oil
Cons:
As per few buyers, the oil make their engines noisy
Can be on the expensive side
---
Royal Purple 51530 High Performance Synthetic Oil
The majority of rival synthetic oils have built their product around temperature resistance and better delivery, but this Royal Purple product helps your vehicle get better fuel efficiency.
The oil will keep your engine healthy without threatening to collect too many deposits. Moreover, the Royal Purple 51530 is 100% compatible with fuel containing ethanol.
This synthetic oil is manufactured to safeguard your gear and engine from corrosion over an extended period of time.
Pros:
The oil significantly increases the fuel efficiency
This motor oil works flawlessly with premium catalytic emission system
The oil is designed to discourage corrosion
The product functions equally well with both diesel and gasoline engines
Cons:
You have to wait for your 1st scheduled change before using this Royal Purple synthetic oil
As per some users, the product is shipped in subpar packaging thereby causing leaks upon opening the package
---
Pennzoil 550036541 Platinum Synthetic Oil – Best Budget Value
Any motorist would tell you that irregular auto maintenance or using a wrong blend of motor oil can make your engine suffer, which affects its power and performance. If you're looking for sound engine protection on a budget, give Pennzoil's Platinum Synthetic Oil serious consideration.
The product protects your engine from extreme temperatures, keeps it smoothly lubricated, increases the fuel economy, and improves the horsepower. What's more, it also shields the car engine from oxygen stability, and friction, which further contributes towards overall performance.
The functioning capacity of this motor oil surpasses the most rigorous car manufacturer requirements for protection and cleanliness. As a result, it ensures that your car pistons are up to 40% cleaner than the severest industry standard.
Pros:
The Pennzoil synthetic oil cleans out sludge better than conventional blend oils
It offers fantastic fuel economy
This Platinum Synthetic Oil offers all-in-one protection
Better for treacherous driving conditions than regular motor oils
Protection in extreme temperatures
Cons:
The product is conducive for hybrids
The Pennzoil synthetic oil is incompatible with foreign car models
---
ValvolineSynPower Full Synthetic Oil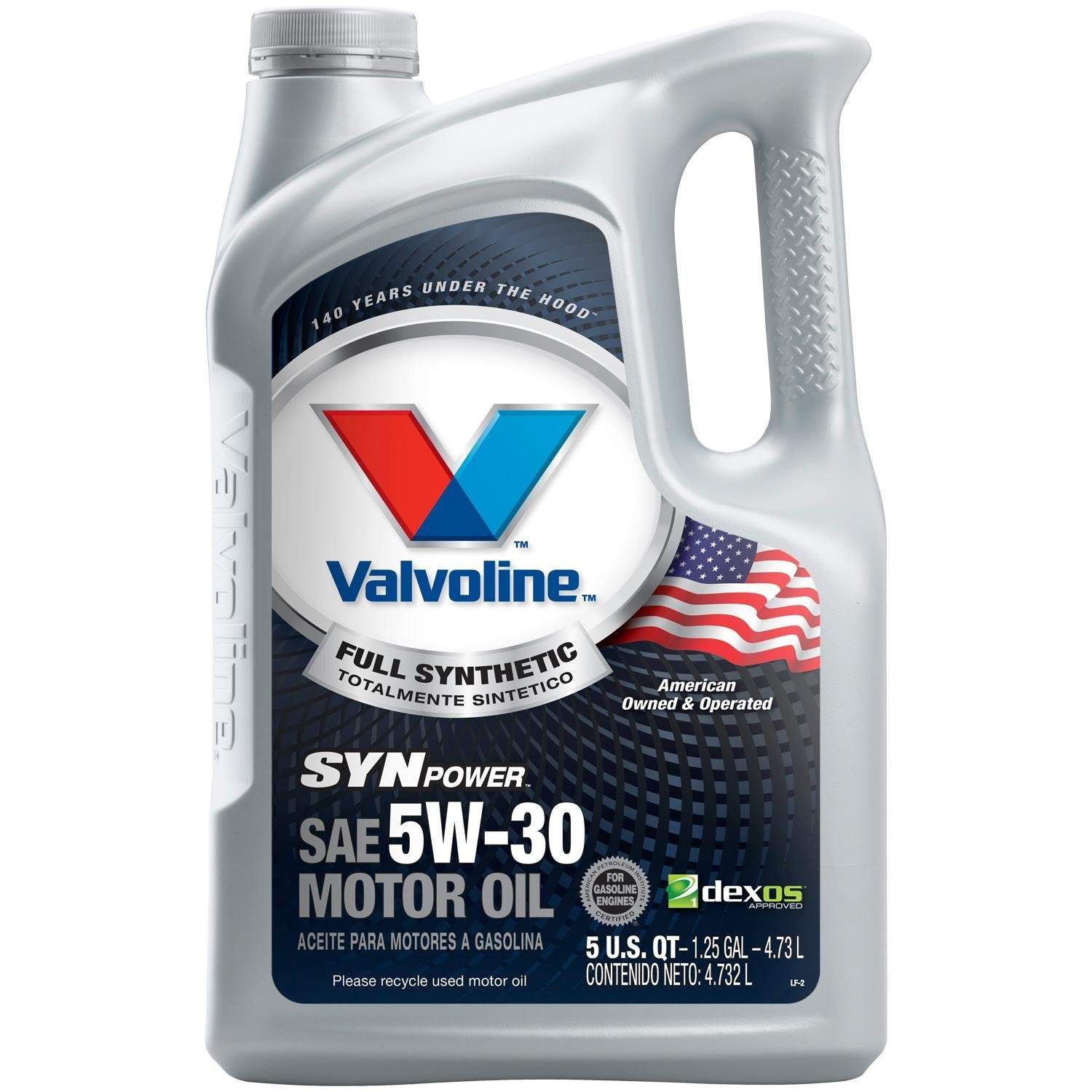 The primary function of high-quality synthetic motor oil is to keep your engine clean and Valvoline SynPower ranks among the best in that regard. Remember, a cleaner engine extends exceptional performance, a quicker ignition time, and heightened velocity of the running parts.
Moreover, it's built to render premium engine protection by combating the three principal causes of engine stress: deposits, heat, and wear. It's because the Valvoline SynPoweris the only preeminent completely synthetic oil processed with several anti-wear additives that stay longer in the oil.
The product comes built-in with spectacular temperature protection, which works to cool down or warm up the engine in accordance with the weather condition. The Valvoline SynPower fulfills all the requirements for various types of engines, including superchargers and turbochargers.
Pros:
This synthetic oil offers excellent engine cleanliness
The oil is sludge-resistant
It comes with terrific temperature regulation
The oil offers fantastic compatibility with every engine
It offers solid fuel efficiency
Cons:
The Valvoline SynPower is not for hybrids
The product isn't compatible with some foreign car models
---
---
Mobil 1 98KE65 Extended Performance Synthetic Oil
The 98KE65 Extended Performance synthetic oil extends superb engine protection to facilitate maintaining a long engine life, and also conforms with engine seals. Its 100% synthetic formula with sophisticated supersyn system prevents sludge and deposit build-up to ensure longevity.
The product is processed to deliver splendid lubrication and wear protection under any kind of operating condition. Moreover, it comes built-in with additional performance additives to further secure the engine at oil change intervals of about 15,000 miles or 12 months, whichever comes earlier.
Moreover, Mobil 1's 98KE65 comes with superior oxidation and thermal stability for impressive oil breakdown control and also assists in maintaining stable oil viscosity.
Pros:
The synthetic oil has a fantastic low-temperature capacity for a speedy, cold weather start
The product puts less stress on the car starting system compared to the rival products
You can instantly notice the smooth difference in your car engine sound after putting this synthetic oil
You can use the 98KE65 synthetic oil in conjunction with the extended life oil filter to get up to 12,000 miles
Cons:
The product is slightly over-priced according to few seasoned professionals
---
Castrol EDGE Advanced Synthetic Oil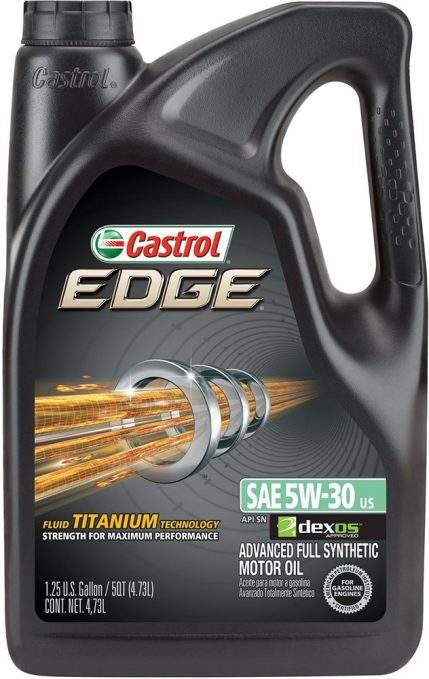 Castrol is a globally renowned corporation. The company is a top synthetic oil manufacturer and is considered a sound option by many motorists.
The EDGE is engineered with Castrol's exclusive titanium technology, which physically alters the way the oil reacts at extreme pressures. Specifically, the technological titanium multiples the oil film strength, thereby protecting it for ultimate performance.
The oil's film strength is its capacity to defy the effects of load, temperature, and speed without breaking down. Remember, an uninterrupted film between lubricated surfaces is pivotal in preventing wear. It will shield the engine for the complete drain interval even under intense pressure.
Pros:
The oil is made with Castrol's titanium technology, which diametrically alters the way the lubricant reacts at extreme pressures
Decreases engine deposit formation to help maximize engine response
Many regular buyers term it the top fully synthetic oil money can buy
Cons:
The product is shipped in a plastic bag, which is prone to leaks.
---
Pennzoil Platinum Full Synthetic Motor Oil 5W-30
The synthetic oils by Pennzoil are one of the purest available on the market today. Its platinum product line offers top of the line 5w30 oils, and have built a reputation to withstand extreme temperatures for an extended period. The company may not be as aggressively branded as Mobil 1, but the functional efficiency of its products match the best of the industry.
It's not a surprise that these motor oils are often used in motorsports and racing. The product is made to force the best out of the car engine while simultaneously protecting it against wear and tear. Lastly, its modern full synthetic oil formula provides resistance against oxidation and friction stability.
Pros:
Pennzoil synthetic oil offers you an additional 550 miles every year compared to a grimy engine
Renders first-class oil flow in intense temperatures
Protects your engine from loss of horsepower
Oil is equally effective in old and new car engines
Cons:
Few buyers have complained about receiving less MPG than Castrol synthetic oil blend
---
Valvoline High Mileage 10W-40 Synthetic Oil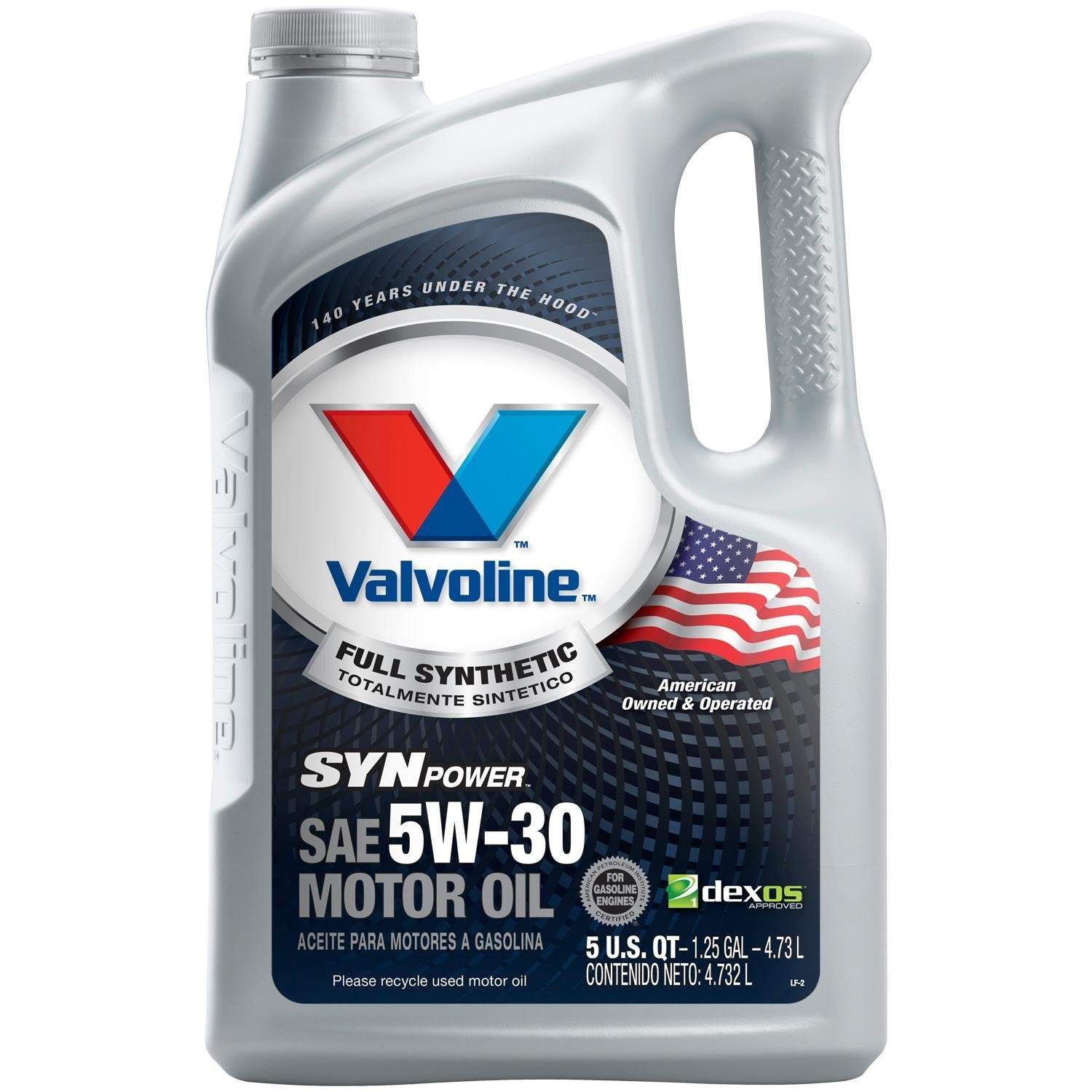 Valvoline's founder, Dr. John Ellis, is credited with the invention of motor oil. Therefore, it will be an understatement to suggest that the company knows the industry well. The establishment started with steam engines, following by motor oil supply for the Model T.
Today, the company is driven to manufacture motor oils for high-mileage engines, and its 10W-40 synthetic oil is one of them. Its seal conditioners reinvigorate engine seals to prevent oil leaks. Moreover, the antioxidants prevent oil partitioning, which keeps deposit formation and engine-clogging sludge at a bay.
Pros:
Valvoline distinguishes itself from the competitors by offering you a partial parts warranty, provided your engine doesn't have more than 125,000 miles on it
The oil comes with additional wear protection to prevent future engine damage
The oil is more feasible for older engines
Very affordable
Cons:
The product is not that effective on newer car models.
---
Everything You Need to Know About Synthetic Oil
Changing your car's oil is a necessary part of properly maintaining your engine. It's also something you can do yourself along with using fuel injector cleaners to ensure your engine is running efficiently and smoothly.
Despite its apparent simplicity, motor oil plays one of the most decisive roles in your car engine's performance and longevity. Simply put, it is the lubricant that stops all those moving metal components in your engine from damaging each other. The smoother things are running inside your engine, the fewer problems you'll experience. Here's everything you need to know about motor oil and why a synthetic oil product might be best for you.