The Best Tire Deals on Amazon Prime Day 2020
Just in time for winter, Amazon's Prime Day event is back with automotive deals that will see your vehicle ready, waiting, and dare we say downright eager, to take on the snow and ice this holiday season. Yes, this two-day shopping extravaganza on October 13 and 14 – exclusive to Amazon Prime members – features deep discounts on a wide selection of tires, rims, pressure gauges, air compressors, and so much more, all from top brands in the automotive industry. In fact, with over one million retailers introducing their latest and greatest products to eager consumers, you can be sure you'll be shopping for deals from an impressive line-up of superior grade equipment and accessories. So, mark your calendar, set your alerts, and nope, no need to start your engines… because this race to the finish is all on line!
Now, if you've previously put the brakes on becoming a Prime member, it's not too late to join in and take advantage of the incredible perks that membership brings. Best of all, it's simple. Just click here and you can start reaping some serious benefits including fast and free shipping – always important for keeping your car in tip-top shape and your budget in check. You also have instant access to Prime Video for limitless streaming of movies and TV, as well as Prime Music for unlimited, ad-free listening to hundreds of Prime Playlists. And if you're still not sure about becoming a member, Amazon gives you a chance to test drive this money-saving feature for the next 30 days – free of charge. And nothing beats free, right?
But there's even more because Amazon also gives you a head-start on some of the extra-special, promotional deals they'll be pushing out over the course of this event. Their Prime Early Access feature provides you with a 30-minute lead on all Lightning Deals – promos that offer ridiculously low prices for a brief, 15-minute pocket of time before they expire and revert back to regular pricing. This type of pop-up sale runs throughout the two-day event and if you want in on some of the savings, you need to act quickly – cause when they're gone, they're gone.
So, let's talk about those deals and some of the services offered by Amazon. If a new set of all-season treads is in the cards for you this winter, but you plan to head over to your local garage because you're not equipped to install them yourself, fear not because Amazon has you covered. Buy your most trusted brands – including Bridgestone, Goodyear, Firestone and even Pirellis – on sale and have them shipped to one of the many partner locations (such as Sears Auto Centers and Pep Boys Auto Centers) for installation and balancing. In fact, for a modest price, you can even have the crew come to your home and do the install in your driveway. And by the way, these services are also available for brakes and batteries too.
You know, each year the deals just keep getting better as Amazon looks for new ways to excite their Prime members with cutting edge merchandise, trusted brands, and jaw-dropping savings. And when you're talking discounts that actually rival Black Friday, why would you wait till November to winterize your vehicle?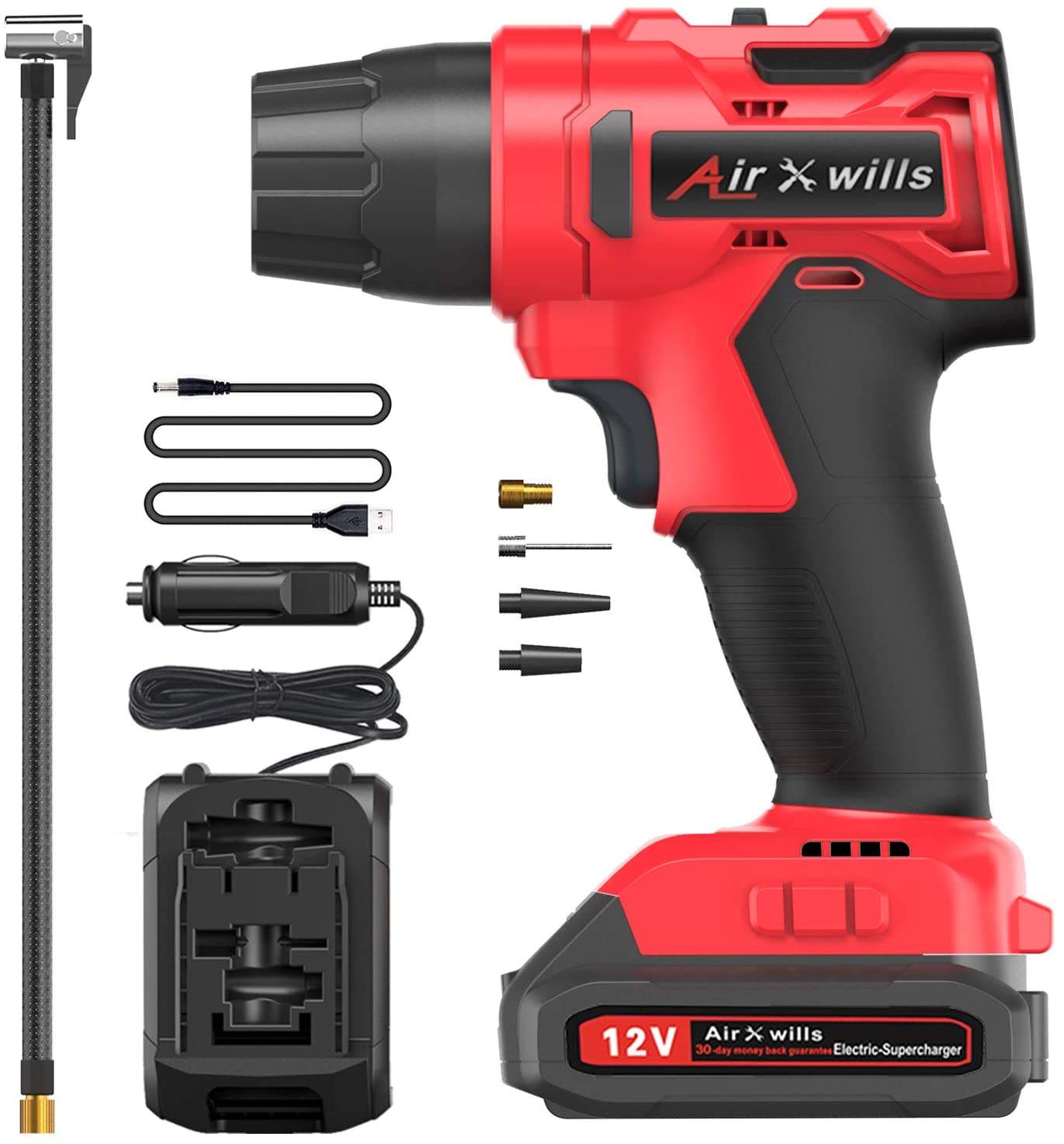 Compact but powerful, this tire inflator is one of those things you should always have in your trunk. Cordless and with a rechargeable battery, it can be used anywhere- on the road, off the grid, at home- and if it loses charge, you can easily use the cigarette lighter socket to get it up and running again. Ideal for inflating tires, this nifty little tool is compatible with American, English, and French valves and will get your tire from flat to full within minutes. Similarly, you can connect Inflator to tires at any time to gauge the tire pressure and check if they need to be topped up before you go on a trip.
Thanks to its unique nano-polymer formula, this tire shine spray won't just make your tires look like they belong on the showroom floor, but it will also coat and protect them from harmful UV rays, road salt, and general grime and dirt you encounter on the road. Non-toxic and made in the USA from high-quality substances, this spray has a water-based formula that is long-lasting and penetrates deep into the surface of the tires to prevent cracking, fading, and other signs of wear and tear: one application will keep your tires looking sleek and wet for weeks. And the best part is that this spray is super easy to use- just spray it on and wipe with the included the applicator pad and you're all set.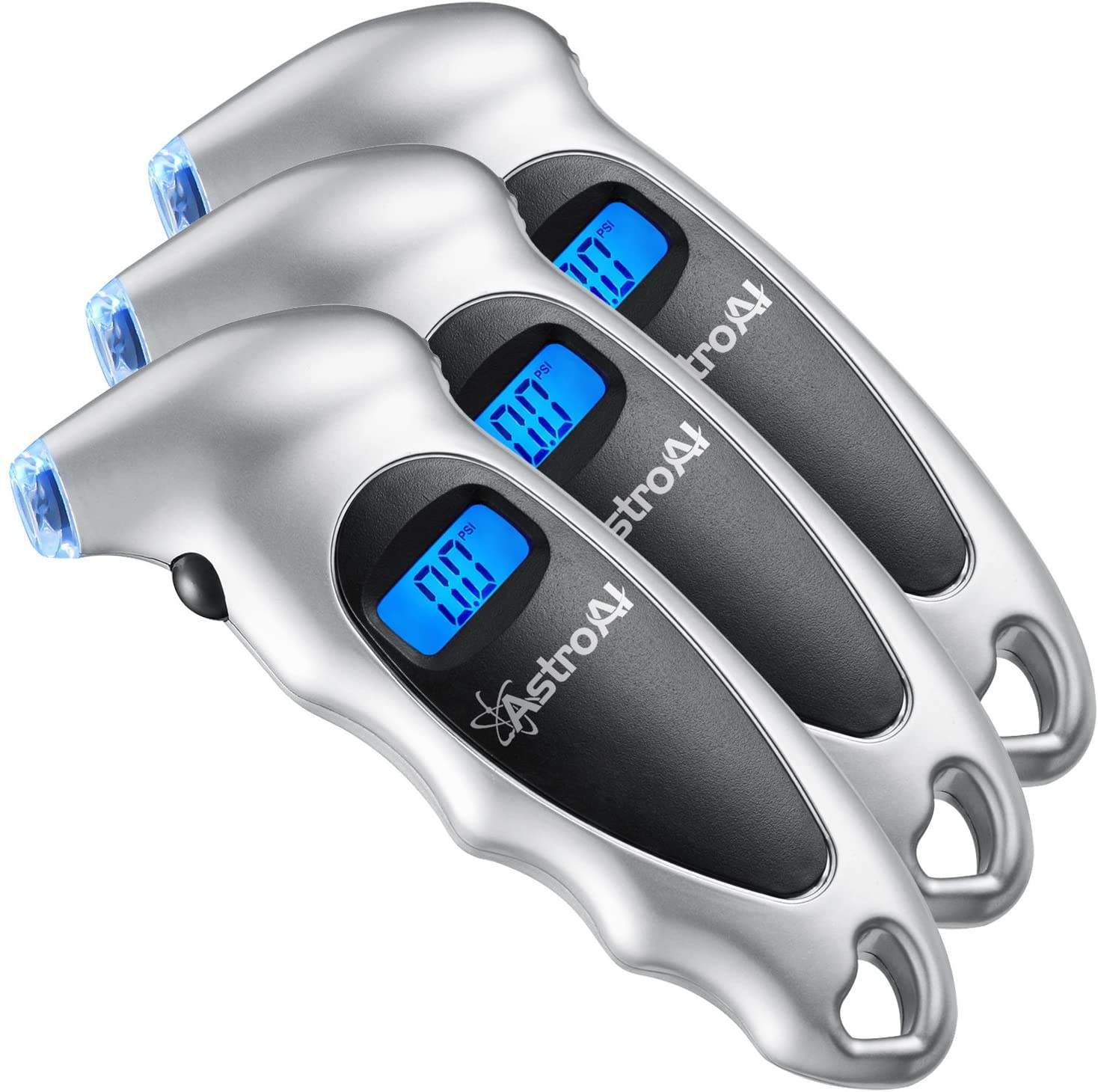 Maintaining correct tire pressure can significantly extend tire life: under-inflated tires or overinflated tires can experience accelerated wear and tear, uneven wear, and generally get weakened to the point of failure way before their time. This is why this nifty tool should be a part of every driver's basic car care kit: it will allow you to effortlessly check the pressure in your tires wherever you are. The backlit LCD display and lighted nozzle give you good visibility in all conditions, and the values will be shown clearly and instantly. Slim and portable, this gadget fits comfortably in men and women hands both and uses coin batteries so it can be used without an electrical outlet nearby. It measures accurately in 0.1 increments and features 4 settings with range: 0-150PSI / 0-10Bar / 0-10Kgf/cm² or 0-1000KPA.
Whether you drive a motorcycle, a bicycle, truck, or a car, it's all the same; you'll want to make sure your tires are not overinflated or underinflated to prevent unnecessary damage and ensure a longer service life of your tires. And if you want a reliable, professional-grade tool to help you keep track of tire pressure, you can't go wrong with this precise and powerful gadget. Certified to ANSI 2A Standard. With advanced dual sensors for max precision, it will give you accurate data on its high resolution backlit display. Made from brass and steel, this tire pressure gauge is durable, well-made, and recommended by mechanics. To boot, it also features a built-in air bleeder valve that bleeds pressure in real-time for quick deflation when needed.
This handy set that has everything you need to repair tubeless tires without the help of a professional- with 75 pieces in the set you'll be able to deal with all kinds of punctures on any kind of tubeless tire, whether it's your car or your lawnmower tires that need patching up. The kit includes wear-resistant, non-slip gloves, premium pliers made from hardened steel, a T-handle tool, and an assortment of valve caps, valve cores, and other useful accessories such as a folding utility knife or jar of lubricant. To top everything off, all of the items in this tire repair kit are nicely packed in a red carrying case that will fit perfectly under your seat or in the trunk.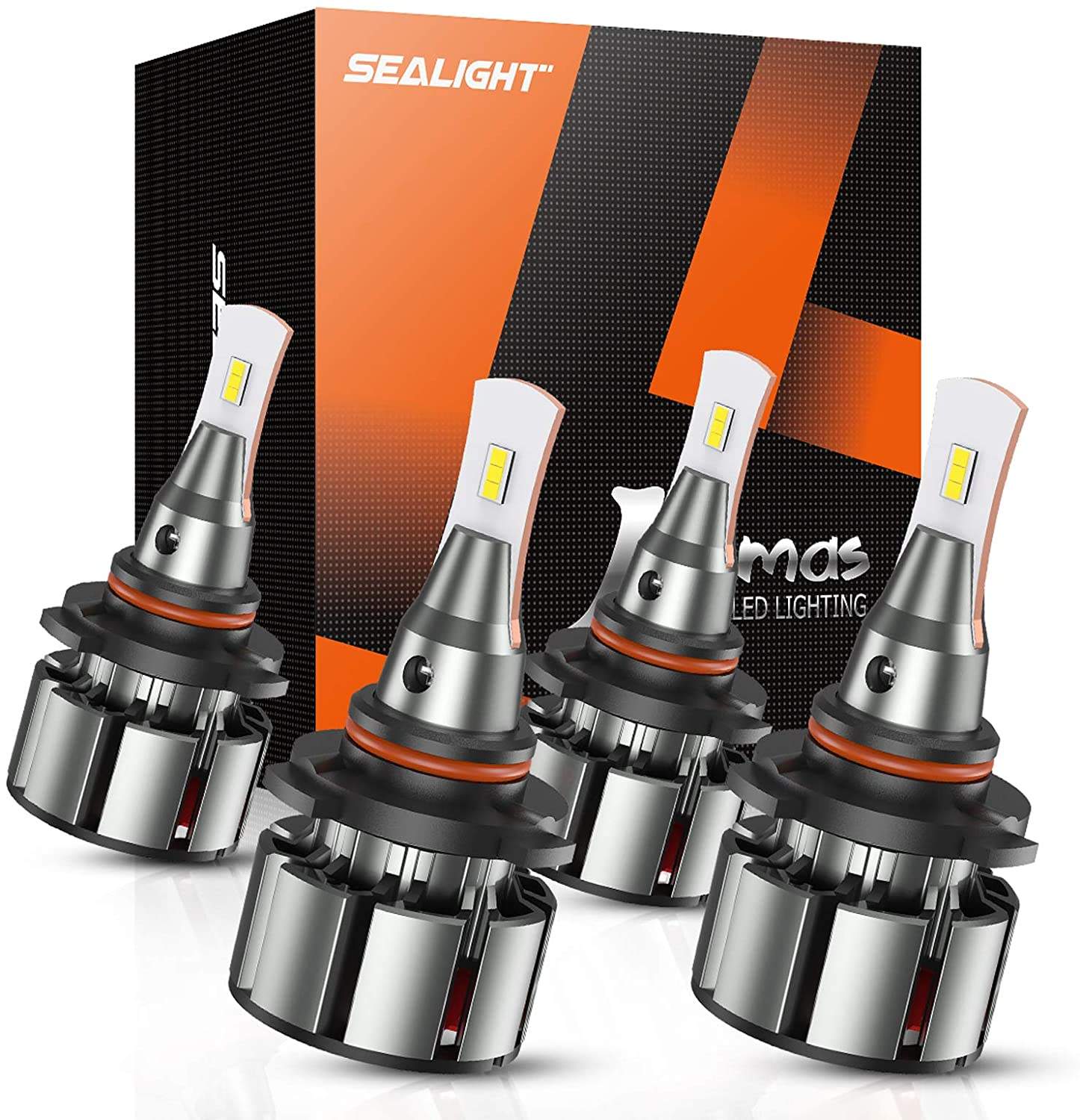 These LED headlight bulbs boast some impressive specs: they are 300% brighter than halogen lamps, they have a perfect beam pattern and a superior lifespan of over 50,000 hours of use. The 4 LED bulbs have an output of 16000 Lumens which translates to improved visibility in nighttime and much brighter lights, whereas the unique 360-degree design prevents the lights from glaring at the oncoming traffic and helps you see farther and clearer. Easy to install in minutes, these headlights are free of error codes and radio interference on almost all vehicles thanks to a third generation constant current driver.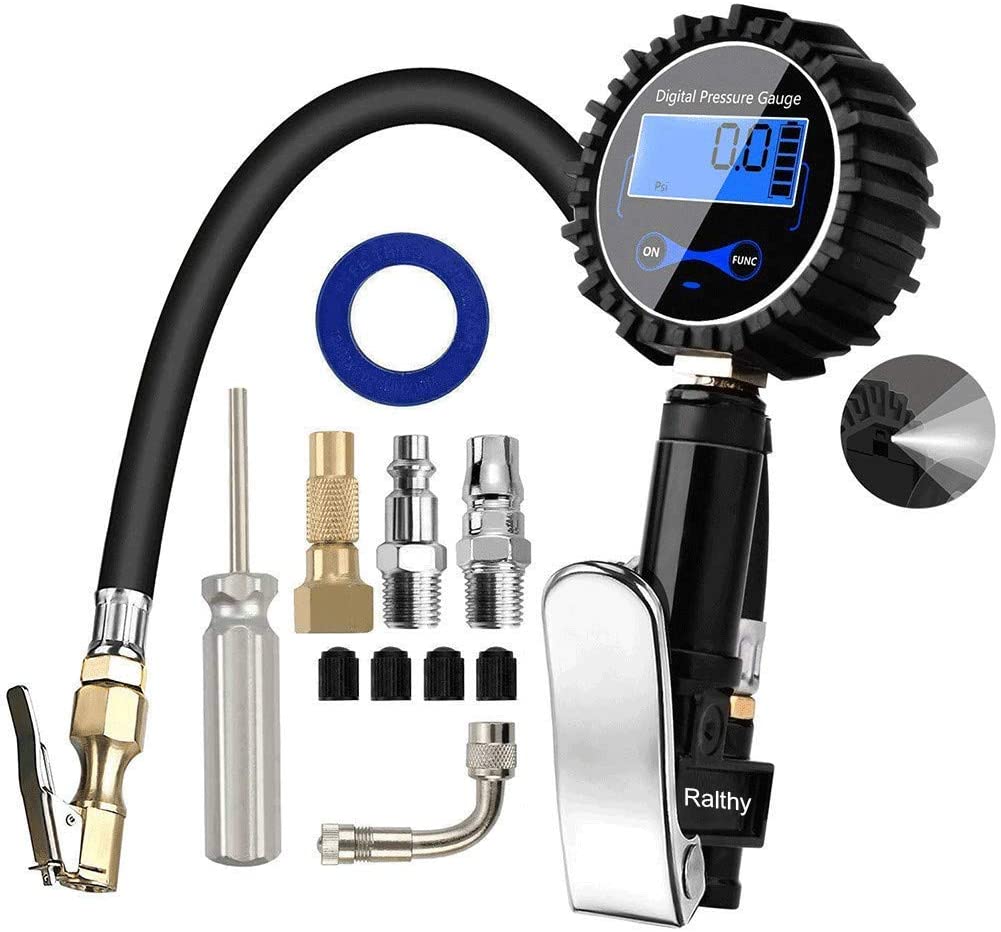 Professionally calibrated, this high-quality digital tire pressure gauge will give you a reading within 1% of the exact pressure- which is ideal if you are looking for a reliable and precise tool to keep your tires in optimal shape. With three functions bundled up in a single tool, this convenient and compact gadget will allow you to easily check the pressure in your tires as well as inflate or deflate them as needed. Easy to use, this versatile multifunctional tool can come in handy whether you drive an RV, car, truck, motorcycle, or even a bike. The 1/4″ NPT quick-connect male fitting works with all types of tires!
You don't have to think twice about when's the last time you've checked tire pressure- with real-time monitoring, you'll always be in the loop. This smart little gadget allows you to keep an eye out on the temperature and pressure of 4 tires at the same time, saving you time and effort both. The 4 external sensors are easy to mount on the tires and are equipped to be weather-resistant, meaning that they are sealed against dust, water and snow. The value display device boasts a full-color screen that shows data clearly and features six-alarm modes (fast leak alarm, high/low-pressure alarm, high-temperature alarm, sensor low voltage alarm, and sensor fault alarm) as well as the ability to set the pressure and temperature alarm values by yourself.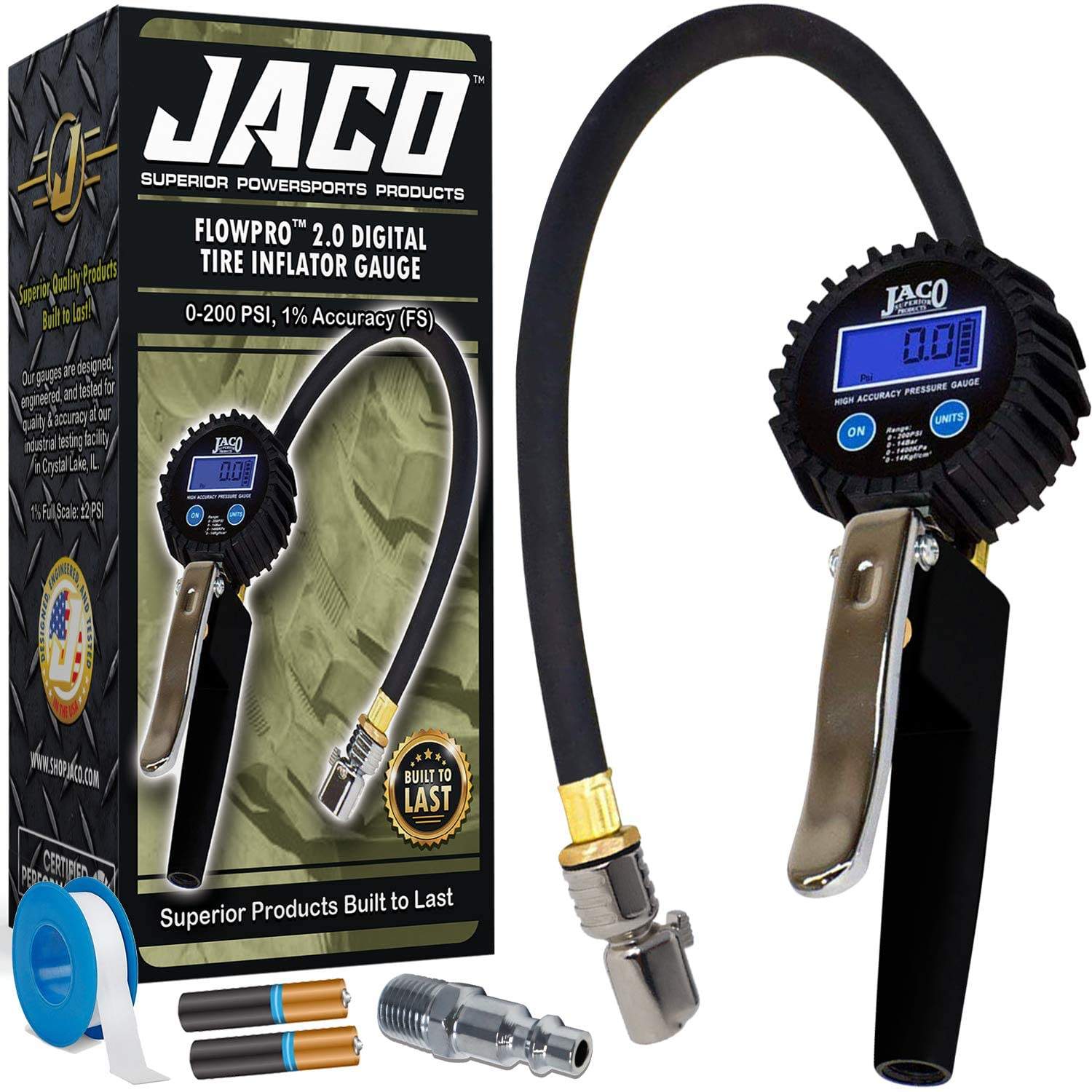 High accuracy and ease of use are the defining features of this digital pressure gauge and tire inflator: it is calibrated to provide information that is as accurate as ±1% FS with a display resolution of 0.10 for pro accuracy. Ideal for pros and newbies alike, this convenient device will give you professional-grade results with minimal effort as it is super easy to use- just lightly squeeze to deflate and fully squeeze to inflate. The bright backlit display makes data easy to read any time day or night and will make this tire inflator and pressure gauge an invaluable accessory for the road or to use at your garage.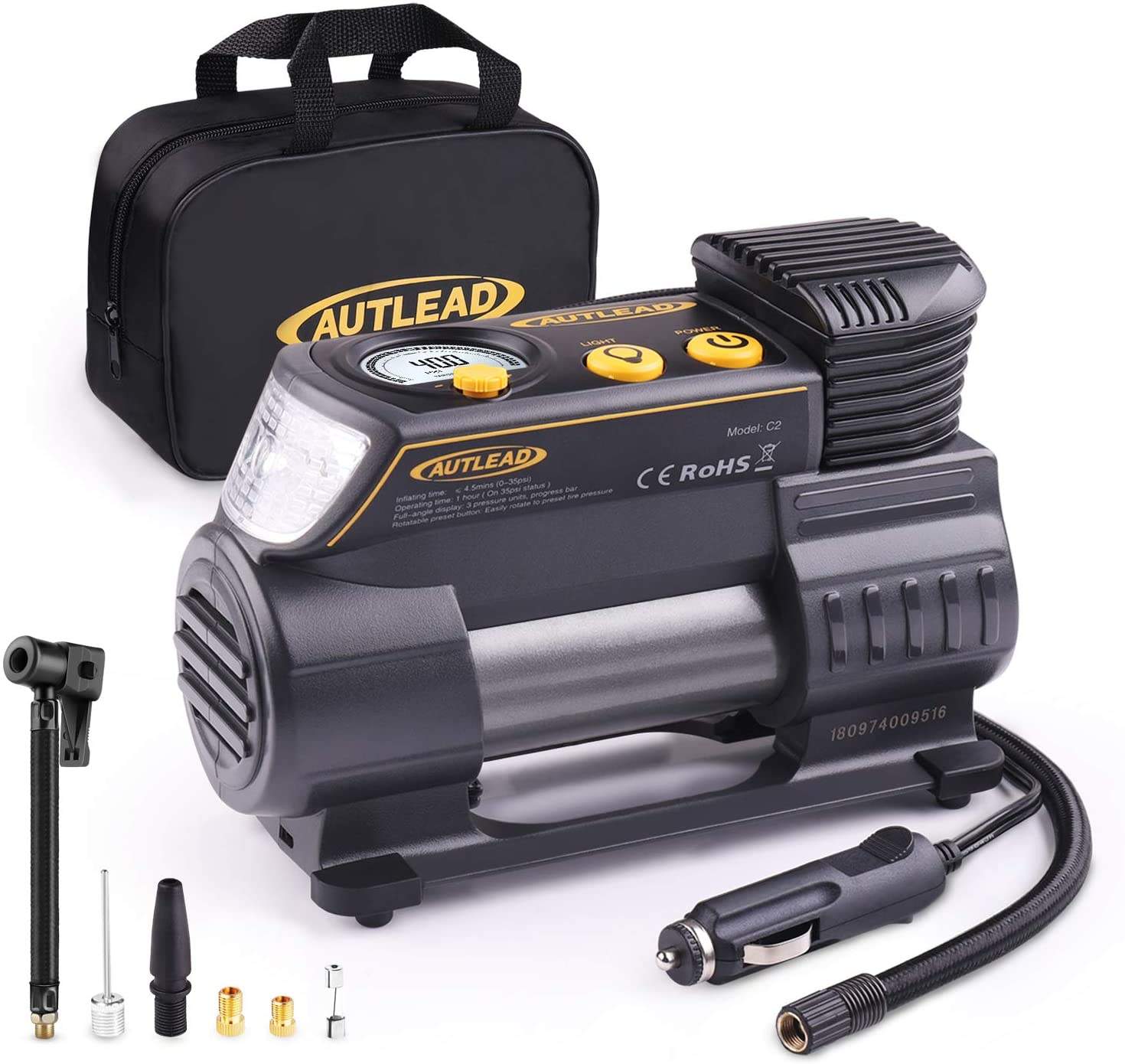 With this useful gadget in your trunk, you'll never get stranded again due to a flat tire. Compact and portable, it is easy to carry with you (it even has its own carry case with handles) but potent enough to fully inflate a flat tire in less than two minutes. With a 1.43 CFM inflating speed, it can inflate a 195/70R14 tire from 20 to 30 PSI in 40 seconds, which is more than impressive especially considering the size of the compressor and the fact that it draws power from the car's cigarette lighter outlet. In addition to being a great tool to have in your car, this handy gadget also comes with a converter that allows you to use it to inflate balls, balloons, inflatable pool toys, and so on.