Sailun Terramax A/T 3PMS Tire Review & Rating
The Sailun Terramax A/T 3PMS is an all-terrain light truck tire designed for four-season (year-round) use. It is an upgrade over the original Sailun Terramax A/T tire which did not sport the 3PMS appendage. As the name implies, the new Terramax tire features the three-peak mountain snowflake (3PMSF) logo, which means it is designed to provide solid grip on snow and ice.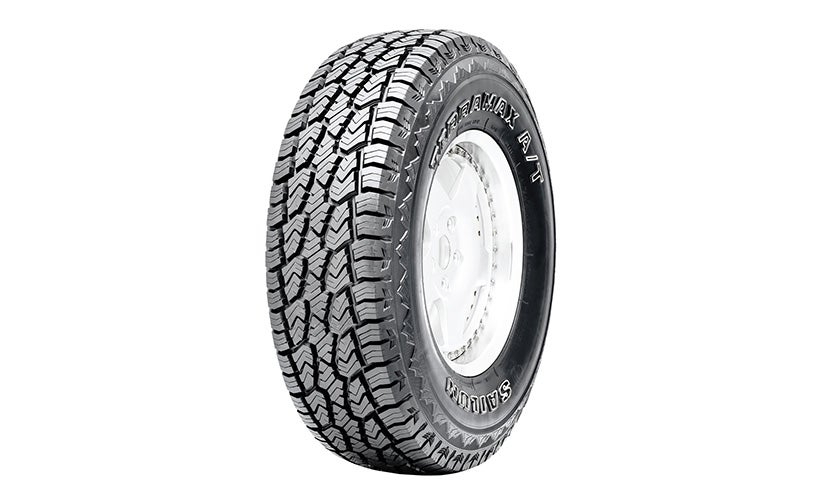 The chunky tread pattern includes an aggressive open shoulder that Sailun claims ejects snow, slush, water and mud with ease. The center rib is solid which promotes smooth on-road ride and low noise but has shallow lateral grooves in it to help expel water and snow.
Aggressive and stylish ridges in the sidewall help provide bite, and there is a strong symmetrical zig-zag pattern in the tread. Sailun hasn't added a lot of sipes to this tire though, and some users complain that you don't get as much bite on hard-pack snow and ice.
Sailun Terramax A/T 3PMS tires are available in sizes ranging from 215/75R15 to LT325/60R20. Speed ratings of R (up to 106 mph), S (up to 112 mph), and T (up to 118 mph). Larger sizes of Terramax carry load ratings as high as 126, which means each tire can support 3,748 lb fully inflated.
Pros:
Four-season tire
Aggressive tread design
Good value
Cons:
Road noise
Not as good on ice or hard-pack snow
Overall Thoughts
Sailun Terramax A/T 3PMS is an affordable and durable tire that offers decent year-round performance and a wide range of sizes to suit most light trucks, SUVs, and 4x4s. As a four-season tire it compromises on winter surety and confidence compared to dedicated winter tires, but offers convenience, value, and safety for drivers who like to head off road on occasion.
The tread blocks do generate more noise than other tires and so the tires are favored by drivers with good amounts of sound insulation. Highway manners are impressive, and the tire has enough bite to handle a wide range of off-road scenarios. Choose this tire if you're looking for a tire that keeps your insurance company happy year around without breaking the bank. We're also fans of the overall appearance of this tire, which brings genuine all-terrain credibility to your ride.
Tire Sizes
15" Rims
16" Rims
245/75R16
265/75R16
235/70R16
265/70R16
LT235/85R16
LT225/75R16
LT245/75R16
LT265/75R16
LT285/75R16
17" Rims
265/70R17
245/65R17
265/65R17
LT235/80R17
LT245/75R17
LT245/70R17
LT265/70R17
LT285/70R17
18" Rims
275/65R18
LT265/70R18
LT275/70R18
LT275/65R18
20" Rims
275/60R20
275/55R20
LT275/65R20
Competitors & Alternatives
General Grabber's Artic LT is a more winter-focused A/T tire that is also studdable and will offer more grip in extreme conditions. The BFGoodrich K02 is another excellent all-round A/T tire that offers impressive winter performance as well, albeit at a much higher price point.
Price Range
At around $100 per tire for the smallest sizes and with common larger sizes available at between $150 and $175 Sailun's Terramax is an affordable A/T tire. You may also find occasional rebates, discounts, coupons, and special offers on this tire.
Warranty
Sailun offers a 50,000 mile or 60 month limited manufacturers warranty on the Terramax A/T 3PMS tire. There is also a ride-disturbance warranty which allows drivers who experience ride issues to replace their tire at no charge within the first 2/32 of an inch of wear, or the first 12 months.