Pirelli Scorpion ATR Tire Review & Rating
The Pirelli Scorpion ATR is designed to provide all-terrain performance while also delivering excellent driving characteristics around town on a daily basis. Built for drivers of light pickups, SUV's and larger crossovers, the ATR features a less aggressive tread design with more sporty features that fills a unique void in the AT marketplace.
A silica enhanced tread compound combines with a symmetric tread pattern to provide increased traction and stability on dry pavement. Radial shoulder grooves increase braking performance and handling, an area this tire excels in. Lateral shoulder grooves and circumferential grooves give this model better wet pavement performance, as well as reducing the risk of hydroplaning.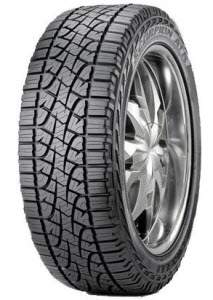 Off-road performance is equally impressive for the ATR, due in part to Pirelli's siped, interlocked independent tread blocks that enhance the tire's grip on rock, grass, sand, gravel and other terrain.
Inside the tire you will find two steel belts which are nylon wrapped for added strength and durability at higher speeds. Polyester cords provide increased sidewall support and make the overall ride more comfortable. Pirelli includes a 40,000 mile tread guarantee and has sizes available in 15-20 inches.
Pros
Very good highway manners

Impressive off-road traction on light terrain

Long lasting tread design and a 40,000 mile warranty
Cons
Would like to see better snow and ice traction
Overall Thoughts
We really like this Pirelli ATR for several different reasons. It fills a unique niche in that it's more like an AT tire with high-performance street capabilities. The sporty tread design is geared more towards everyday on pavement driving, although it will easily handle light off-road terrain such as gravel, dirt, grass, sand and even light mud. While you may not get off-road performance like the BFGoodrich TA KO2 or other more aggressive AT tire, but it holds its own quite well.
On the street, it has UHP like manners. Traction and handling on dry or wet pavement is among the best in class for an AT tire. Some models even carry an H-speed rating. Braking and acceleration are impressive, and treadlife has shown to be good as well. The one area that has room for improvement is deep snow and a little more ice handling.
Overall, Pirelli has done an outstanding job with this tire. If you're looking for a more sporty type of all-terrain tire, this is one that fits the bill nicely. Highly recommended.
Click Here For Current Pirelli Coupons
Click Here To Find Current Prices
What Vehicles Will The Pirelli ATR Fit?
(This is not a complete list of ALL vehicles this tire will fit)
Chevrolet Silverado, Suburban, Avalanche, Tahoe

Dodge Durango, Ram, Dakota

Ford Expedition, Explorer, F-150, F-250, Escape, Ranger

GMC Envoy, Sierra, Yukon

Honda Ridgeline, Element, Pilot

Hummer H2

Infiniti QX4

Jeep Grand Cherokee, Wrangler

Land Rover LR3

Lexus RX300

Mercedes-Benz G500, R350

Nissan Titan, Frontier, Xterra

Toyota Sequoia, Tacoma, 4Runner, Tundra, RAV4

Volkswagen Touareg
Tire Sizes
15″
205/70R-15 96T RBL
P225/75R15XL105T RWL
P235/75R15 108T XL W
LT235/75R-15/D1 110S
31X10.50R-15/C1 109S
16″
P225/70R-16 102T RWL
LT225/75R-16/D1 110S
P235/70R-16 105T RBL
LT235/85R-16/E1 120R
P245/70R16XL111H RBL
LT245/70R-16/D1 113T
P245/70R16XL 111T BW
P245/70R-16 107T BLK
LT245/75R-16/E1 120R
P255/70R-16 109T RWL
P265/70R-16 112T RWL
LT265/75R-16/E1 123S
P275/70R-16 114T RWL
LT285/75R-16/D1 122R
17″
P225/65R-17 102H RBL
P235/65R17 XL 108H B
P235/70R17XL111T RBL
LT235/80R-17/E1 120R
P245/65R17 XL 111T
P245/65R-17 107T RWL
LT245/70R-17/E1 119R
P245/70R-17 108T RWL
P255/65R-17 110T RBL
P265/65R-17 112T RWL
P265/70R-17 113T RWL
LT265/70R-17/E1 121S
LT285/70R-17/D1 121S
18″
P255/55R18 109H XL B
P255/60R18XL112H BSW
P265/60R18 XL 110H W
P275/65R18 XL 116H W
19″
P255/55R19XL111H BSW
20″
P275/55R-20 111S FRD
P275/55R-20 111S BLK
LT305/55R-20/E2 121S
LT325/60R-20/D2 121S
Price Range
Prices on the Scorpion ATR range from $106 and up. You may also find occasional rebates, discounts, coupons and special offers on this tire.
Click Here To Find The Current Prices On All Pirelli Scorpion ATR Sizes
Warranty
The ATR includes an unlimited time period or 40,000 mile tread warranty. Tire uniformity is guaranteed for one-year or the first 2/32 inch of wear.
Materials and workmanship are warranted for life and include free first year or first 2/32 inch of wear replacement. A prorated amount is given for the remaining time period down to the final 2/32 inch of tread depth.
---