Pirelli P Zero Nero GT Tire Review & Rating
Designed by Pirelli to provide more balanced performance, the P Zero Nero GT summer tire features the latest in tire technology for increased performance and longer tread life. Created for drivers of sport coupes and sedans, this newest Pirelli model builds off the widely popular P Zero Nero and adds some unique twists.
An all-new silica added tread compound not only gives the tire improved traction on both wet and dry road surfaces, but has added wear resistance for a longer overall tread life. Pirelli has stated you should expect upwards of 30,000 miles or more out of the tread, which for a high performance tread design is much longer than most competitor tires.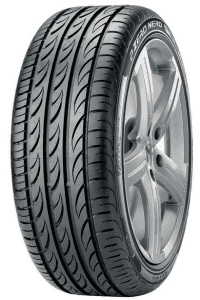 The asymmetric tread pattern sports a larger footprint for increased handling and cornering grip, while also providing quicker steering response. An added benefit to this unique tread design is that you'll notice a lower level of outside road noise from the tire. Four circumferential grooves and the added silica combine to maximize traction on wet road surfaces and reduce the risk of hydroplaning, which is a big plus on this model.
Inside the tire you will find two steel belts that are nylon reinforced for added strength and durability at higher speeds. Rayon body plies further increase handling and stability. Sizes are available from 16 to 19 inches, and V, W and Y speed ratings.
Pros
Traction and handling on dry or wet pavement

Steering response

Braking and acceleration

Low road noise

Longer lasting tread life
Cons
A little extra ride comfort
Overall Thoughts
Pirelli has put a lot of efforts into the new P Zero Nero GT and it shows. The newer tread compound gives this model very good handling and cornering grip on dry surfaces, while the added silica increases grip on wet roads. We like the faster steering response and feel this model provides as well.
While the ride is quiet and more than acceptable, we would like to see a bit more comfort. This will likely not be an issue for most drivers. Tread life has been addressed through the new compound and looks to be a nice improvement.
Overall, we like this tire and find it delivers solid performance and value for the money.
Click Here For Current Pirelli Coupons
Click Here To Find Current Prices
What Vehicles Will The P Zero Nero GT Fit?
(This is not a complete list of ALL vehicles this tire will fit)
Acura Integra, 3.2TL, RSX

Audi A4, S4, TT, A6

BMW 325i, X3, 328i, 750i, M3, 530i, Z3

Chevrolet Camaro, Impala, Cobalt

Ford Mustang, Contour, Focus ZX5

Honda Accord, Civic

Hyundai Genesis, Azera

Lexus GS 350

Mazda Miata, MazdaSpeed6, Mazda3, RX-7

Mercedes-Benz E350, CLK430, E500

Mini Cooper S

Nissan Altima, Sentra, Maxima, 350Z

Pontiac Bonneville, Grand Prix

Porsche Boxster, 911

Subaru WRX

Toyota Camry, Celica GTS

Volkswagen GTi, Jetta, Passat
Tire Sizes
16″
195/45R16 84V BSW
195/45ZR16 84W BSW
205/45ZR16 83W BSW
215/40ZR16 86W BSW
17″
195/40ZR17 81W BSW
205/45R17 88V BSW
205/45ZR17 88W BSW
215/40ZR17 87W BSW
215/50ZR17 95Y BSW
225/45ZR17 94Y BSW
225/50ZR17 98Y BSW
225/55ZR17 101W BSW
235/45ZR17 97Y BSW
245/40ZR17 91Y BSW
245/45ZR17 99Y BSW
255/40ZR17 94Y BSW
18″
225/35ZR18 87Y BSW
225/40ZR18 92Y BSW
225/45ZR18 95Y BSW
235/40ZR18 95Y BSW
235/45ZR18 98Y BSW
245/40ZR18 97Y BSW
245/45ZR18 100Y BSW
255/35ZR18 94Y BSW
255/45ZR18 99Y BSW
19″
215/35ZR19 85Y BSW
225/35ZR19 88Y BSW
235/35ZR19 91Y BSW
235/40ZR19 96Y BSW
245/35ZR19 93Y BSW
245/40ZR19 98Y BSW
255/35ZR19 96Y BSW
255/40ZR19 100Y BSW
265/30ZR19 93Y BSW
275/30ZR19 96Y BSW
Price Range
Pirelli GT prices range from approximately $139 and up. You may also find occasional rebates, discount prices, coupons and special offers on this tire.
Click Here To Find The Current Prices On All Pirelli P Zero Nero GT Sizes
Warranty
Pirelli provides a limited tread warranty on the GT. Tire uniformity is guaranteed for the first year or first 2/32 inch of wear. Materials and workmanship are warranted for an unlimited time period and include free replacement during the first year or first 2/32 inch of wear. A prorated amount is given down to the final 2/32 inch of tread depth.
---