Pirelli P Zero All Season Plus Tire Review & Rating
As the newest member in their ultra-high performance all-season tire lineup or 2014, the Pirelli P Zero All Season Plus is built to deliver precision handling, shorter stopping power and increased dry/wet traction. The new P Zero All Season Plus is aimed squarely at driving enthusiasts of sport coupes and high-performance sedans.
Pirelli starts with an advanced all-season tread compound which contains special silica and polymers to give it added grip on both dry and wet pavement. The tire's four circumferential grooves and lateral sipes, along with the silica and polymer compound, deliver excellent traction on wet streets and highways. In fact we would go as far to say that it's among some of the best tires in the UHP class and much improved over the original P Zero All Season.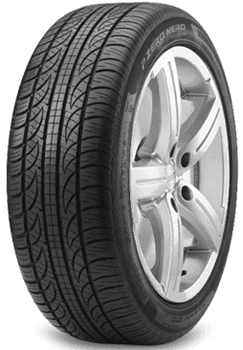 This compound also allows for shorter braking distances, which is another strong point for this tire. Hydroplane resistance is very impressive, especially when pushed to the limits. You feel very much in control at all times. On snow and slush, Pirelli has added winter siping into the inner tread blocks for increased grip.
An asymmetric tread pattern and variable sized tread elements assist in eliminating annoying road noise, while dual steel belts with a spirally wrapped nylon cap ply give the PZero All Season Plus added comfort. A continuous center rib provides very good steering response and road feel.
Pirelli has over 50 sizes available and the tire comes in various H, V and W-speed ratings. There's also a 50K mile treadwear guarantee included.
Pros
Wet traction and braking

Handling performance

Steering response
Cons
Deep snow and ice handling
Overall Thoughts
The P Zero line of tires from Pirelli are well known for their performance, and this new All Season Plus only adds to it. You can't help but come away very impressed with the traction/braking on dry and wet pavement. The tire inspires a lot of confidence on wet pavement, both in cornering grip and braking power, and as mentioned above, corrects the biggest issue with the original P Zero All Season.
Ride comfort is what you would expect from a UHP tire. It's comfortable for the most part and bit harsher when going over more severe bumps and through those dreaded potholes. There's little in the way of road noise, which is quite nice for times you want to carry on a conversation.
Tread life has initially shown to be very good, and the 50K mile tread warranty backs it up. Other than winter handling in deeper snow and ice, this is a tire with few complaints.
Overall, we give the P Zero AS Plus high marks and rank it as one of the better UHP all-season tires currently available.
Click Here For Current Pirelli Coupons
Click Here To Find Current Prices
What Vehicles Will The Pirelli P Zero All Season Plus Fit?
(This is not a complete list of ALL vehicles this tire will fit)
Audi S4, A8

BMW 328i, 330Ci, 750i

Chevrolet Camaro, Impala

Ford Mustang

Hyundai Genesis

Infiniti Q50S

Jaguar XJ8

Mazda MAZDA6

Mercedes-Benz E-Class

Saab 9-5

Toyota Camry

Volkswagen GTI, Jetta

Volvo C30
Tire Sizes
17″
245/40R17 91W BSW
245/40R17 91Y BSW
245/45R17 95W BSW
245/45R17 95Y BSW
235/45R17 97W BSW
235/50R17 96W BSW
235/55R17 99W BSW
225/45R17 94W BSW
225/45R17 94Y BSW
225/50R17 98W BSW
225/55R17 97W BSW
215/45R17 91W BSW
215/55R17 98W BSW
18″
265/35R18 97W BSW
265/35R18 97Y BSW
255/35R18 94W BSW
255/35R18 94Y BSW
255/40R18 99Y BSW
255/45R18 99Y BSW
245/40R18 97W BSW
245/40R18 97Y BSW
245/45R18 100W BSW
245/45R18 100Y BSW
235/40R18 95W BSW
235/40R18 95Y BSW
235/45R18 98Y BSW
235/50R18 101W BSW
225/40R18 92W BSW
225/40R18 92Y BSW
225/45R18 95W BSW
225/45R18 95Y BSW
225/50R18 95W BSW
225/50R18 95Y BSW
225/60R18 100W BSW
215/45R18 93W BSW
19″
275/40R19 105W BSW
275/40R19 105Y BSW
255/35R19 96W BSW
255/35R19 96Y BSW
245/40R19 98W BSW
245/40R19 98Y BSW
245/45R19 102W BSW
245/45R19 102Y BSW
20″
275/40R20 106W BSW
275/40R20 106Y BSW
245/45R20 103W BSW
245/45R20 103Y BSW
Price Range
Pirelli P Zero All Season Plus prices range from approximately $125 and up. You may also find occasional rebates, discount prices, coupons and special offers on this tire.
Click Here To Find The Current Prices On All Pirelli P Zero All Season Plus Sizes
Warranty
The PZero All Season Plus comes with a 50,000 mile treadlife warranty. Mileage is reduced by half if different sizes are used in the rear than on the front. A one-year or first 2/32 inch of wear guarantee on the tire's uniformity is also included.
Materials and workmanship are warranted for an unlimited number of years and includes first year or first 2/32 inch of wear free replacement. A prorated amount is given down to the final 2/32 inch of tread depth.
Finally, Pirelli gives a 30-day trial guarantee on this model.
---