Pirelli Cinturato P7 All Season Plus Tire Review & Rating
The Pirelli Cinturato P7 All Season Plus is the company's latest touring all-season tire. Built for drivers of coupes and sedans, this new P7 is engineered to provide year-round traction, higher fuel efficiency and a longer tread life.
A silica based tread compound that maximizes treadwear, also contains unique polymers for lowering the rolling resistance of the tire which result in better fuel efficiency. An optimized asymmetric 5-rib tread pattern and wider shoulder blocks increase traction and cornering grip, while also enhancing overall stability.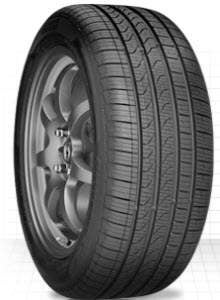 Four wider circumferential grooves channel away water from under the tire and reduce the risk of hydroplaning on rain covered road surfaces. Multiple siping around the tread give this tire added biting edges for increased traction on snow or ice. Road noise is minimal while driving due in part to the optimized tread design, which is an area that Pirelli has done a very good job at.
Inside the tire you will find two steel belts for added strength and durability, as well as a polyester cord body that provides more ride comfort. Sizes are available from 16 to 20 inches, and with H or V-speed ratings. A 70,000 mile tread guarantee is also included on the P7 All Season Plus.
Pros
Excellent dry and wet traction

Cornering grip and stability is very good

Comfortable and quiet ride

Increased fuel efficiency

Treadlife is a plus
Cons
A little more grip on the ice
Overall Thoughts
Pirelli has delivered one of the better touring all-season tires in its class with the P7 All Season Plus. They've utilized the latest in tire technology and materials to manufacture a well performing tire that provides a very smooth and quiet ride.
Dry traction and braking is very good on this model, as is cornering grip and stability throughout the speed range. Steering is precise and responsive, providing you with added confidence behind the wheel. Finally, ride comfort is exceptional.
About the only area where we could see improving is adding a little extra grip when it comes to driving on icy roads. Light to moderate snow on the pavement is not a major issue for this model in most cases. Finally, tread life has been another plus for this P7 and one mentioned by many drivers in reviews as well. Pirelli stands behind the tire with a 70,000 mile guarantee.
Overall, the tag line Pirelli uses on this tire says it all: "One Tire, Four Seasons, No Compromises." Simply stated, this is one of the best touring all-season tires on the market today.
Click Here For Current Pirelli Coupons
Click Here To Find Current Prices
What Vehicles Will The Pirelli P7 All Season Plus Fit?
(This is not a complete list of ALL vehicles this tire will fit)
Acura ILX, TSX, RDX

Audi A4, A6, A3, TT

BMW 128i, 325Ci, 328i, 530i, X1, X3, X5

Buick Verano, LaCrosse

Chevy Cobalt, Sonic, Cruze, Malibu, Impala

Chrysler PT Cruiser, Sebring, 200

Dodge Avenger, Dart

Ford Focus, Fusion

Honda Civic, Accord

Hyundai Elantra, Sonata, Genesis, Accent

Infiniti I30, Q45, Q50

Kia Forte, Soul

Lincoln MKZ

Mazda3, Mazda5

Mitsubishi Gallant

Nissan Leaf, Sentra, Maxima, Altima

Porsche Panamera

Scion xB

Subaru Legacy, Matrix

Toyota Corolla, Camry

Volkswagen Beetle, Jetta, Golf, Passat

Volvo S80
Tire Sizes
16″
225/55R16 95H BSW
225/55R16 95V BSW
225/60R16 98H BSW
215/55R16 97H BSW
215/60R16 95H BSW
215/60R16 95V BSW
205/50R16 87H BSW
205/50R16 87V BSW
205/55R16 91H BSW
205/55R16 94V BSW
205/60R16 92H BSW
205/60R16 92V BSW
195/55R16 87V BSW
17″
245/45R17 99H BSW
245/50R17 99V BSW
235/45R17 97H BSW
235/45R17 97V BSW
235/50R17 96V BSW
235/55R17 99H BSW
225/45R17 94H BSW
225/45R17 94V BSW
225/50R17 94V BSW
225/55R17 97H BSW
225/55R17 97V BSW
225/60R17 99H BSW
225/60R17 99V BSW
215/45R17 91V BSW
215/50R17 91V BSW
215/55R17 94H BSW
215/55R17 94V BSW
205/50R17 93H BSW
205/50R17 93V BSW
18″
245/45R18 100V BSW
245/50R18 100V BSW
235/45R18 94H BSW
235/45R18 94V BSW
235/50R18 97V BSW
225/45R18 95V BSW
19″
255/40R19 100V BSW
255/45R19 100V BSW
245/40R19 98V BSW
245/45R19 98V BSW
235/40R19 96V BSW
225/55R19 99H BSW
20″
245/40R20 99V BSW
245/45R20 99V BSW

Price Range
Pirelli Cinturato P7 All Season Plus prices range from approximately $116 and up. You may also find occasional rebates, discount prices, coupons and special offers on this tire.
Click Here To Find The Current Prices On All Pirelli Cinturato P7 All Season Plus Sizes
Warranty
The Cinturato P7 Plus comes with a 70,000 mile treadlife warranty. A one-year or first 2/32 inch of wear guarantee on the tire's uniformity is also included.
Materials and workmanship are warranted for an unlimited number of years and includes first year or first 2/32 inch of wear free replacement. A prorated amount is given down to the final 2/32 inch of tread depth.
---