Hankook Ventus TD Tire Review & Rating
Hankook's Ventus TD range is a semi-slick performance tire that is also street legal. These "DOT Tires" allow track-day enthusiasts and performance drivers to drive to the track on the same tires they lap with.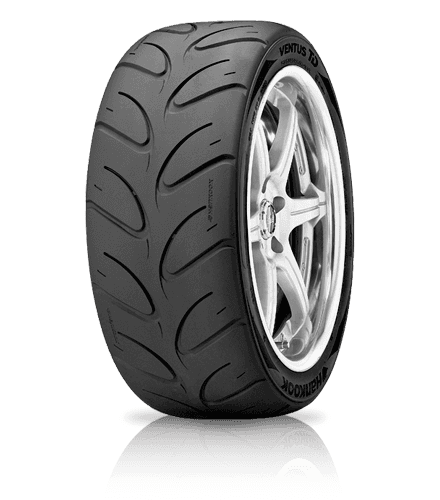 There is a range of compound options including C70 soft, C50 medium, and C30 hard depending on your need for longevity or outright grip. The aggressive semi-slick tread pattern features deep and wide grooves in a staggered symmetrical pattern. The focus here is very much keeping as much rubber connected to the asphalt as possible. Because of the semi-slick pattern these tires are not recommended for heavy wet weather. Hankook claims its "highly dispersed silica" compound offers wet grip and it will handle light drizzle or dampness, but if there are puddles on the road, you should leave your Ventus-equipped car at home.
Pricing is commendably low, coming in much lower than competitors like the Pirelli Trofeo R. These tires all offer much more life than others in this class, making them ideal for the occasional performance driver on a budget.
From a performance perspective, these are admirable but not amazing. The tires take some time to come up to temperature, and the sidewalls are extremely rigid, which can hurt bite and braking performance at the limit. On the plus side, that stiff sidewall means the Ventus TD accepts throttle steer willingly.
We mentioned already that what little tread pattern there is, is deep and wide. The result is a loud tire that generates more road noise than you might expect a semi-slick to create.
Pros:
● Great value
● Great balance of grip and longevity
● Aggressive and attractive appearance
Cons:
● Loud
● Limited wet-weather performance
Overall Thoughts
The Ventus TD tire from Hankook is ideal for performance-oriented drivers running track days or club events on circuit, including autokhana or gymkhana. A low price, long tire life, and upscale appearance make them a great option for drivers who like to push hard when they get to the track, but also drive their sports car on the daily.
Users report loud noise and trouble getting the tires to their optimum operating temp, but rave about the tread life and traction on dry surfaces. This is a tire you can lean on hard out on the circuit, and it will maintain composure and security underneath you in dry conditions. Being a semi-slick, there is a real risk of hydroplaning in wetter weather with standing water, so take care if you do get caught out in a shower.
Tire Sizes
15" Rim
195/55R15V
17" Rim
215/45ZR17W
225/45ZR17W
235/45ZR17W
245/40ZR17W
255/40ZR17W
18" Rim
235/40ZR18Y
245/40ZR18Y
265/35ZR18Y
285/30ZR18Y
295/30ZR18Y
Competitors & Alternatives
The Ventus TD is offered in a small range of sizes, which opens the door for competitors. Drivers with 16-inch rims could look to the Yokohama Advan A048, which has a similar style but a slightly higher price tag. Drivers who want ultimate grip should seek out a tire like the Pirelli Trofeo R or the Michelin Pilot Sport Cup.
Price Range
Hankook offers this tire at around $140 for a 15-inch tire, and you will find the more common 18-inch size around $275. The sticker price is at the lower end of the streetable performance tire segment. You may also find occasional rebates, discounts, coupons, and special offers on this tire.
Warranty
There is no tread-life warranty on the Hankook Ventus TD. Materials and workmanship are warrantied for six years of the tire and include free replacement during the 2/32 inches of wear. A prorated amount is given for the remaining period down to the final 2/32 inches of wear. Your tires may also qualify for the company's limited road hazard warranty.