BFGoodrich Advantage Control Tire Review & Rating
The BFGoodrich Advantage Control is an all-purpose, all-season tire built for passenger vehicles of all sizes, from smaller compact sedans and hatches to larger SUVs. This is a tire focused in equal parts on superior wet-weather performance and touring comfort.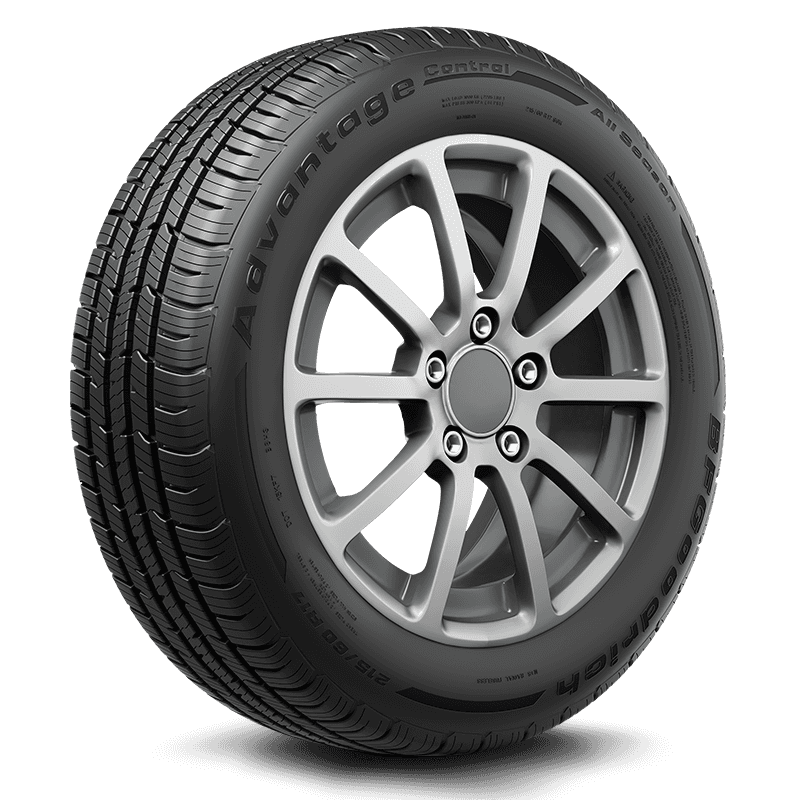 The rubber is infused generously with silica for improved wet weather adhesion, but the real genius in this tire lays in the tread pattern. Are you ready for some marketing speak? It features "Aqua-Flume technology," consisting of "curvilinear grooves." Translation? Lots of little curved sipes help wick water away from under the contact patch. The center two of the four wide water-evacuating grooves feature curved edges too. This makes them more effective at dispersing water and also helps soften road noise on the highway.
BFGoodrich fashions its sidewalls with what it calls "g-Wedge," a stabilizing design that helps the tire maintain its integrity under cornering loads for crisp, confident handling under pressure. That stiff sidewall and a lack of 3D sipes make this a less effective tire on ice than some all-season tires, but as always, we recommend a dedicated winter tire for extreme conditions anyway.
These are on the performance end of the mainstream tire spectrum and offer speed ratings of either H, V, or W depending on size. That means either 149 mph or 169 mph max speed, well above highway. The tires have load ratings of between 1,168 and 1,709 lbs per tire – again, more than sufficient for passenger vehicle use. There's also a generous tread life warranty of 75,000 miles.
Pros:
Consistent all-round performance
Good touring comfort
Quality construction
Cons:
Less effective on ice
Some users report less traction under acceleration
Overall Thoughts
BFGoodrich's Advantage Control tire is a genuinely versatile tire that offers confident performance in almost all conditions. Winter and ice traction suffer, mostly because of the simple sipes. On the plus side, there are a lot of them and they're effective at preventing aquaplaning in wet conditions. This tire shines most in turns, and offers stable, precise response to steering inputs.
Some drivers say these tires don't offer the same level of traction under power as they do under braking or cornering, which could be a function of the symmetrical tread pattern and rigid sidewall. Drivers are almost universal in praise for the tread life, but we should point out its vital to rotate these tires to get the most out of them. Why? See above regarding inconsistent acceleration traction.
These are also a modestly priced tire for the segment, so they not only represent great all-round performance, but impressive value for money too.
Tire Sizes
15" Rims
185/60R15 84H BSW
185/65R15 88H BSW
195/60R15 88H BSW
195/65R15 91H BSW
205/60R15 91H BSW
205/65R15 94H BSW
215/70R15 98H BSW
16" Rims
195/55R16 87V BSW
205/50R16 87V BSW
205/55R16 91H BSW
205/60R16 92H BSW
205/60R16 92V BSW
205/65R16 95H BSW
215/55R16/XL 97H BSW
215/60R16 95H BSW
215/60R16 95V BSW
215/65R16 98H BSW
225/60R16 98H BSW
225/65R16 100H BSW
235/60R16 100H BSW
235/65R16 103H BSW
17" Rims
205/50R17/XL 93V BSW
205/55R17/XL 95H BSW
215/45R17 87V BSW
215/50R17/XL 95V BSW
215/55R17 94H BSW
215/55R17 94V BSW
215/60R17 96H BSW
215/65R17 99H BSW
225/45R17 91H BSW
225/50R17 94H BSW
225/50R17 94V BSW
225/55R17 97H BSW
225/55R17 97V BSW
225/60R17 99H BSW
235/45R17/XL 97H BSW
235/50R17 96H BSW
235/50R17 96W BSW
235/55R17 99H BSW
235/60R17 102H BSW
18" Rims
215/55R18 95H BSW
225/45R18/XL 95V BSW
225/50R18 95H BSW
225/55R18 98V BSW
225/60R18 100H BSW
225/60R18 100V BSW
235/45R18/XL 98V BSW
235/55R18 100H BSW
245/40R18/XL 97W BSW
245/45R18 96V BSW
245/55R18 103V BSW
19" Rims
225/55R19 99V BSW
235/45R19 95H BSW
235/55R19 101H BSW
235/55R19 101V BSW
20" Rims
235/55R20 102H BSW
245/45R20 99V BSW
Competitors & Alternatives
There are no all-season tires that really excel over BFGoodrich in any particular category. The Goodyear Assurance WeatherReady all-season offers better winter performance but it is almost 25 percent more expensive. Drivers on a budget may prefer the Riken Raptor HR tire which is another 30 percent less expensive than the Advantage Control.
Price Range
Smaller variants of the Advantage Control tire come in under $90 each, while the more-common 18-inch sizes are around $150-$160. That puts BFGoodrich at the lower end of pricing in this all-season touring segment. You may also find occasional rebates, discounts, coupons, and special offers on this tire.
Warranty
BFGoodrich guarantees workmanship and materials for six years or down to the end of the usable tread. Any claims made during the first 2/32 inches of wear will result in a new tire free of charge as long as the claim is made within one year of purchase. A prorated cash amount is paid out for the remaining period down to the final 2/32 inches of wear. The company also offers a 75,000-mile treadwear warranty which means you'll get pro-rated financial compensation if your tires reach the end of usable life before that mark.