Goodyear Winter Command Tire Review & Rating
Overview
One of the latest products launched by Goodyear is the Winter Command tire. This tire has been designed specifically to run in tough weather conditions such as snow and rain. Launched in March 2019, this is a mid-range option and comes in 54 different sizes. 
Attached with the coveted three peak mountain snowflake symbol, the tire also comes equipped with a special tread compound and pattern designed specifically for ice covered roads. Additionally, the full depth zigzag sipes makes it the perfect match to combat winter conditions and even wet roads.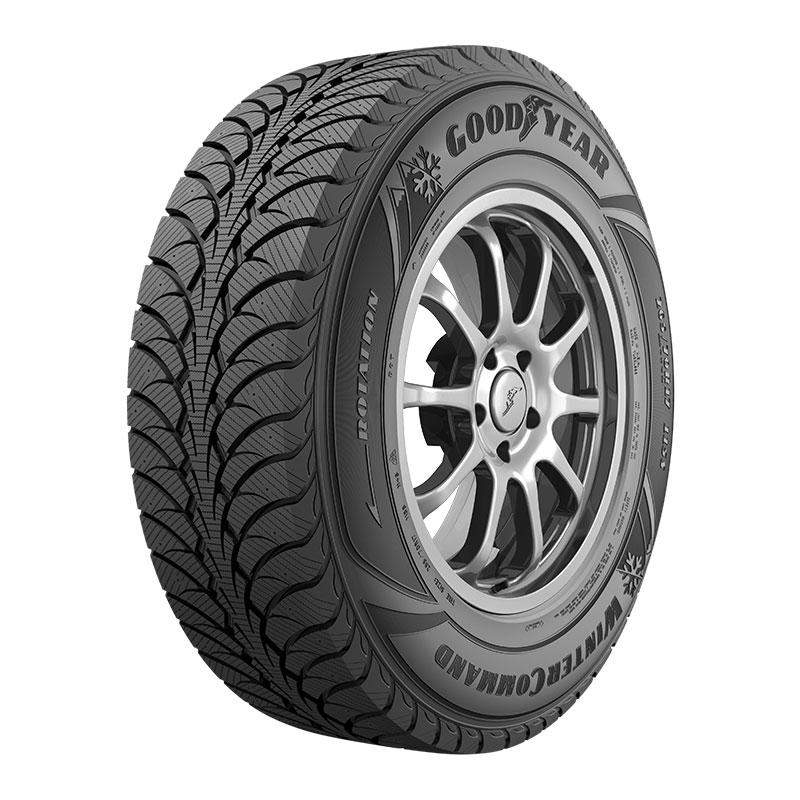 This model is designed for passenger cars, CUV's, SUV's as well as light trucks and comes with a Q, S or T speed rating. The tire also features a three tread pattern with variations to suit different types of cars for more optimal use and to ensure enhanced performance. The tread pattern features various biting edges to ensure improved traction on snow and while starting or stopping the car. 
The tire is mainly designed to provide users with a cost efficient and capable option that has the ability to power through the winter season.
Overall, it's clear that with Winter Command, Goodyear is hoping to revitalize its image in the market and stamp their authority once more as a leading tire brand. 
The Pros
Easy running through standing water

Enhanced and a much more confident grip on snow and ice

Assured traction on snow, ice and wet roads

Increased strength in tires and improved ride quality
The Cons
This tire has launched only recently which is why there are not many reviews of it
Overall Thoughts
Goodyear's Winter Command is specifically designed to ensure durability and confidence during the winter season. With proven technology and a durable design, the tire will allow you to power through winter conditions such as ice, snow and wet roads. 
Based on the specs, it is our opinion that they seem fit for most vehicles that are supposed to go out during tough winters. We feel that Goodyear has kept in mind what most users have to go through during such times and have come out with tires capable of minimizing the risk of accidents.
The most interesting aspect we find in these tires is that they come with a polyester casing below twin seat belts – this will certainly help improve the overall quality of the ride. 
All in all, we feel that these tires will do well amongst users who face a tough time during the winter season. 
What Vehicles Would Goodyear Winter Command Tires Fit?
These tires are capable of being used in all sorts of passenger cars, SUV's, CUV's and light trucks. Following are some of the vehicles that the Goodyear Winter Command tire is suitable for:
Honda Pilt

Dodge Journey

Toyota Ford Runner

Hyundai Santa

Toyota Tacoma

Ford  Explorer

Honda Ridgeline 

Chevrolet Colarado
Tire Sizes Available
The Goodyear Winter Command comes in a variety of wheel sizes that range from 15" to 20" – the list below shows the available sizes:
15″
185/65R15

195/60R15

195/65R15

205/65R15
16″
205/55R16

205/60R16

205/65R16

215/55R16

215/60R16

215/65R16

215/70R16

225/60R16

225/65R16

235/60R16
17″
215/50R17

215/55R17

215/60R17

215/65R17

225/50R17

225/55R17

225/60R17

225/65R17

235/55R17

235/60R17

235/65R17
18″
225/50R18

225/55R18

225/60R18

235/50R18

235/55R18

235/60R18

235/65R18

245/60R18
19″
20″
Price Range
This new range of winter tires start at 87$ a piece – this price can vary depending on discounts and deals offered by online stores or dealerships. Also, some online stores and authorized dealers may provide a lower price if you purchase a set of four.  
As of right now, Goodyear is offering a rebate of 25$ on a set of four through MasterCard as well as a 50$ rebate if you buy through the Goodyear Credit Card (terms and conditions applied). For further details, you can visit the Goodyear website. 
Warranty Offered
Goodyear tires are offered in limited warranty and are covered against faults and defects – this variant comes with following warranty conditions.
Tread life warranty for 6 years or 45,000 miles, whichever comes first. Half mileage if the rear  tire is of different size than the front

Uniformity warranty of 1 year or 1.6mm (2/32") of wear

Workmanship and material warranty of 6 years with free replacement for the first or 1.6mm (2/32") of wear and then prorated until 1.6mm (2/32") of remaining depth