Futura Scrambler A/P
Overview
Futura is a relatively new tire brand by Pep Boys, a well-known all-American automotive retailer that many refer to as the pioneer of motorized aftermarket. Their range includes performance, touring and truck tires with the Futura Scrambler leading the way with its affordable cost and comfortable drive.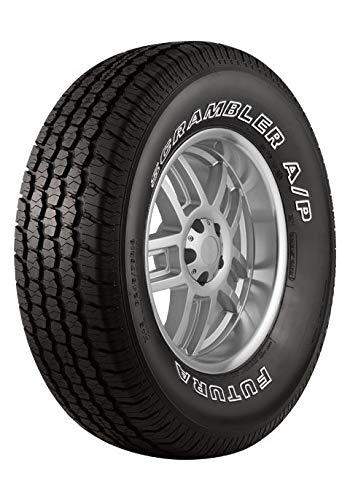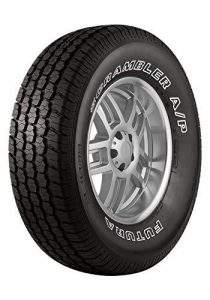 The Futura Scrambler is designed according to the needs of SUVs and light trucks. As such, this tire is capable of performing equally well under different conditions and delivers excellent drive in all-seasons.   
The symmetric tread pattern enables the tire to perform exceptionally well on wet and dry, and provides good handling throughout. It also allows the tire to run smoothly with low rolling resistance that results in lower fuel consumption and increased tread life. Also, this model is highly convenient as owners can safely rotate the tires because of its identical pattern on both halves.
Additionally, the Futura Scrambler offers an open shoulder design that restricts dirt and mud from getting stuck between the tread. Four circumferential grooves provide increased stability and grip on wet surfaces, and also helps to minimize the risk of hydroplaning. Further, the lateral grooves increase the tire's contact patch for added grip in wet conditions and promotes even treadwear.
A rigid sidewall helps the tire to maintain its shape during high-speeds; the sidewall is also lowered to give maximum stability while turning corners and prevents the tire from bending. As an added benefit, it provides increased steering response along with better dry handling.
Lastly, the siping design on the tread improves braking and traction for a smooth ride.
The speed rating on this tire is S (180 km/h) and it comes in limited sizes that range from 16" to 17"
The price of this tire is significantly less than other comparable brands and it performs equally well in all conditions. 
The Pros
Increased all-season traction

Better control and stability on roads

Increased tread life and less tread wear

Ease of installation

Affordability
The Cons
Average winter performance

Less dependability
Overall Thoughts
The Futura Scrambler A/P is an excellent tire, considering qualities like tread design, lower sidewall, increased tread life, etc.
Most of the users that have installed a set of these tires are amazed by its on-road performance in all seasons, especially since it costs way less than other options. Moreover, almost all Futura Scrambler buyers experience significantly lower tread wear and praise this tire for its control on dry and wet surfaces alike.
This tire is designed to perform in all types of weather conditions with its special ribbed tread structure that provides increased road grip. Also, the sidewall rigidity enables it to excel at high-speeds and the improved road contact results in even treadwear with enhanced steering responsiveness.
All in all, this tire is great for use in all seasons with its distinct look and high-performance characteristics. The most impressive factor to consider when buying this tire is its price, which is substantially low compared to others. 
While some users suggest that it wears out somewhat quickly and it is a little noisy on dry roads, it is still an impressive choice for all-season driving given its many other features.
What Vehicles Would The Futura Scrambler A/P Tires Fit?
Futura Scrambler tires are designed for SUVs and light trucks to give them ultimate traction and stability on different road conditions.
Some of the vehicles that this tire is manufactured for are listed below. Note that this is not a complete list. 
Chevrolet Blazer

Chevrolet C2500

Chevrolet C3500

Chevrolet Express 2500

Chevrolet Express 3500

Chevrolet G20

Chevrolet G30

Chevrolet K1500

Chevrolet K1500 Suburban

Chevrolet K2500

Chevrolet K3500

Chevrolet Silverado 3500

Chevrolet Silverado 3500 HD

Chevrolet Silverado 3500 HD WT

Chevrolet Silverado 3500 LS

Chevrolet Silverado 3500 LT

Dodge B2500

Dodge B350

Dodge B3500

Dodge Nitro

Dodge Ram 1500

Dodge Ram 1500 Laramie

Dodge Ram 1500 ST

Dodge Ram 1500 Sport

Dodge Ram 1500 WS

Dodge Ram 2500

Dodge Ram 2500 Van

Dodge Ram 3500 Van

Dodge Sprinter 2500

Ford E-150

Ford E-250

Ford E-350 Club Wagon

Ford E-350 Super Duty

Freightliner Sprinter 2500

GMC C2500

GMC C3500

GMC G2500

GMC G3500

GMC K1500

GMC K1500 Suburban

GMC K2500

GMC K3500

GMC K3500 Sierra SL

GMC K3500 Sierra SLE

GMC K3500 Sierra SLT

GMC Savana 2500

GMC Sierra 3500

GMC Sierra 3500 HD

GMC Yukon

Honda Passport

Isuzu Rodeo

Jeep Grand Cherokee

Jeep Liberty

Jeep Wrangler

Jeep Wrangler JK

Mercedes-Benz Sprinter 3500

RAM ProMaster 1500

RAM ProMaster 2500

RAM ProMaster 3500
Tire Sizes Available
This tire is available in a limited size range of 16" to 17" as listed below:
16"
225/75R16

255/70R16

265/70R16
17"
Price Range
Future Scrambler A/P is offered for a price starting from $94.99 per tire from Pep Boys official online store. You can get a further discount of up to 15% upon purchase of two or more tires. 
Warranty Offered
Pep Boys offers free replacement warranty within the first 90 days of use – the tire is replaced free of charge if it proves to be defective in workmanship and materials. After 90 days, they either refund or replace the tire on a prorated basis.
If the tread wears out to 1.6mm of remaining depth, it is then subject to a prorated adjustment.