Firestone Firehawk Wide Oval Indy 500 Tire Review & Rating
The Firestone Firehawk Wide Oval Indy 500 is the company's high performance summer tire that shares much of the same technology that it uses in their race car tires. Developed for drivers of sport coupes and sedans, this tire is all about providing the most in performance traction and handling.
A silica enhanced tread compound also utilizes L.L. Carbon Black and a directional tread pattern for added wet handling and enhanced treadwear. Larger outside shoulder blocks increase cornering grip and performance, while the continuous center rib delivers added braking abilities and improved steering response.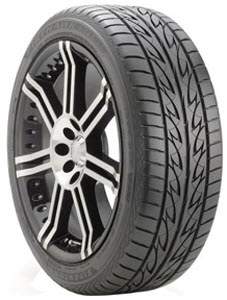 Three circumferential grooves and special 3-D tread blocks expel water from under the footprint and reduce the risk of hydroplaning. High angled grooves provide added wet pavement traction as well. The tire's O-bead works to create better tire uniformity and a more comfortable ride, which is something this tire does very well for a high performance model.
Inside the tire you will find two steel belts that are nylon reinforced for added strength and durability. The polyester cord body further enhances ride comfort. Firestone has sizes available from 15-20 inches, and the tire sports a W-speed rating.
Pros
Dry and wet traction is excellent

 

Steering is crisp and responsive

 

Very good ride quality

 

Lower cost option in a high performance tire

 
Cons
Would like to see a little more grip in the corners
Click Here For Current Firestone Coupons
Overall Thoughts
These Firehawk's have been some impressive performers. Expect excellent traction on both dry and wet pavement. Naturally, you should back off the accelerator a bit when the roads are wet, but this tire handles wet streets pretty well. Grip in the corners is very good, but lacks the level found on tires like the Bridgestone RE760 Sport, BFGoodrich's g-Force Sport Comp-2, and certainly nowhere near that of the Michelin Super Sport.
Steering response is crisp and provides good feel. The ride on this tire is comfortable for a high performance summer tire. You may notice a little extra noise as the tire ages and wears down, but that is not really a big issue.
For drivers on a tighter budget who want a good high performance tire, this model costs far less than some of the other top tires in this class. Overall, the Firehawk Wide Oval Indy 500 is a middle of the pack tire in its class. It's not a bad choice by any stretch, but there are other tires that are ahead of it performance wise. 
(Update) Firestone has just released their new Firehawk Indy 500 and we would recommend it over this model. You can read our review here.
What Vehicles Will The Firehawk Indy 500 Fit?
(This is not a complete list of ALL vehicles this tire will fit)
Acura RSX, TL

 

Audi A3, A4, S4

 

Subaru Legacy

 

Cadillac CTS

 

Chevrolet Camaro, Impala, Corvette, Cobalt, Monte Carlo

 

Dodge Challenger, Charger

 

Ford Mustang GT, Focus SVT

 

Honda Prelude, Civic, S2000

 

Hyundai Sonata, Genesis, Tiburon

 

Infiniti M45, G35, G37

 

Mazda6, Miata, RX-8, Mazda3, MX-3

 

Nissan 350Z, 370Z

 

Pontiac Firebird, Grand Prix, Bonneville GXP

 

Porsche 911

 

Saab 9-5 ARC, 9-3

 

Scion tC

 

Subaru Impreza WRX, Outback

 

Volkswagen GLI, Jetta, CC VR6 4Motion

 
Tire Sizes
15″
195/55R15 85W BL
205/55R15 88W BL
16″
205/45R16 83W BL
205/50R16 87W BL
205/55R16 91W BL
215/55R16 93W BL
225/50R16 92W BL
225/55R16 95W BL
245/50R16 97W BL
17″
205/40R17 84W XL BL
205/50R17 93W XL BL
215/45R17 91W XL BL
215/50R17 95W XL BL
225/45R17 94W XL BL
225/50R17 94W BL
225/55R17 97W BL
235/45R17 97W XL BL
235/55R17 99W BL
245/40R17 91W BL
245/45R17 95W BL
255/45R17 98W BL
275/40R17 98W BL
18″
225/40R18 92W XL BL
225/45R18 91W BL
235/40R18 95W XL BL
235/50R18 97W BL
245/40R18 97W XL BL
245/45R18 100W XL BL
255/45R18 99W BL
275/35R18 95W BL
275/40R18 99W BL
19″
235/35R19 91W XL BL
245/35R19 93W XL BL
245/50R19 105W XL BL
285/35R19 99W BL
20″
245/40R20 99W XL BL
245/45R20 103W XL BL
255/35R20 97W XL BL
255/45R20 101W BL
275/35R20 102W XL BL
Price Range
Prices on the Firestone Indy 500 range from approximately $68 and up. You may also find occasional rebates, discounts, coupons and special offers on this tire.
Warranty
Firestone provides a limited tread warranty on this model. Tire uniformity is guaranteed for the first 1/32 inch of wear. Materials and workmanship are warranted for 5-years and include free replacement during the first 3 years. A prorated amount is given for the remaining time period or down to the final 2/32 inch of tread depth.
You will also find a 30-day buy and try guarantee whereby you can refund or exchange the tires if you are not completely satisfied.
---