Best Trunk Organizers
Clean up your cargo area and secure your load with these car and SUV trunk organizers.
Unsecured loads can be dangerous on the road, even inside your vehicle. Clutter and mess can cause issues if it's not secured and can even become a projectile in the event of hard braking and swerving. There's also the issue of the disconcerting noises loose luggage makes as it bangs about in the back of your ride, not to mention the unsightly mess that's hard-to-find things in.
The best car trunk organizers are robust, rigid, and sized to fit a variety of items. You should consider versions that are washable, and that you can easily store away when not in use. Waterproof bottoms help contain spills, making them great ways to cart around spare windshield washer fluid and coolant. Some organizers even double as temporary coolers for those long road trips or picnics.
No matter what size vehicle you have, or how much you carry around with you, there's a trunk organizer in this list to suit your needs.
---
1. Editor's Pick: Autoark Multipurpose Trunk Organizer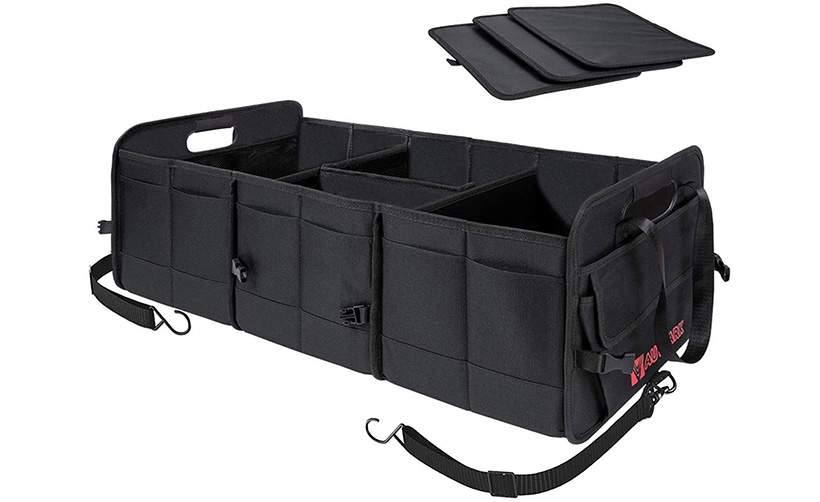 This multi-purpose cargo organizer from Autoark features 17 compartments, stiff flooring and walls, and a convenient folding design that doubles as a tote bag.
Users love the 600D Oxford polyester for its durability and robust design, with stiff, triple-layer base plates that give it both water proofing and up to 80 lbs of weight capacity.
There are four robust ABS plastic buckles, two that allow you to use only half the size capacity if you need it, and two that lock the unit to only 2" high for storage. Unfortunately, there is no cover, but on the plus side the two large carrying handles allow you to use the carrier as a triangle tote bag outside of the car. Those handles also feature thick padded handholds for comfort.
There are 17 pockets including the three main compartments (that can be split into as many as five sections), the 12 side pockets, and two large side pockets with covers.
Two safety straps supplied with metal hooks help secure it in place, as do the non-slip strips on the bottom. There are no tie-down points.
Key Specs
Dimensions (expanded): 30 x 12.8 x 11 inches
Dimensions (folded): 2 x 12.8 x 11 inches
Largest compartment: 10 x 12.8"x 11 inches
Total compartments: 17
Pros:
Cons:
No tie-down grommets
No cover
---
2. Best Heavy Duty: Trunk Crate Pro Collapsible Trunk Organizer
The Trunk Crate Pro cargo organizer is built for security and durability with heavy-duty materials and robust straps to help hold it in place in your trunk.
This is one of the smaller options you'll find on our list, and one of the most expensive, but users rave about the durability of this unit. Thick polyester, three-layer base plates, and reinforced metal grommets all help make this a robust and durable unit. We also like the tie-down straps included, which clip to the ABS plastic quick-release clasps and secure your trunk organizer in your cargo area.
The inside is lined with Velcro strips that allow you to customize where the multiple dividers go and help hold taller, narrower items like water bottles in place. The unit also folds up into a triangle tote bag and can carry up to 75 lbs in weight.
There are 11 compartments in total including the expandable side pockets and mesh pockets, with a high level of customization available courtesy of the two divider panels. The only thing missing is a cover.
Trunk Crate Pro backs this product with a lifetime manufacturer's warranty.
Key Specs:
Dimensions (expanded): 23.6 x 15 x 12 inches
Dimensions (folded): 2.5 x 15 x 12 inches
Largest compartment: 11.8 x 12.8 x 11 inches
Total compartments: 11
Pros:
Easy to secure
Rugged design
Cons:
---
3. Most Versatile: Tuff Viking Convertible Trunk Organizer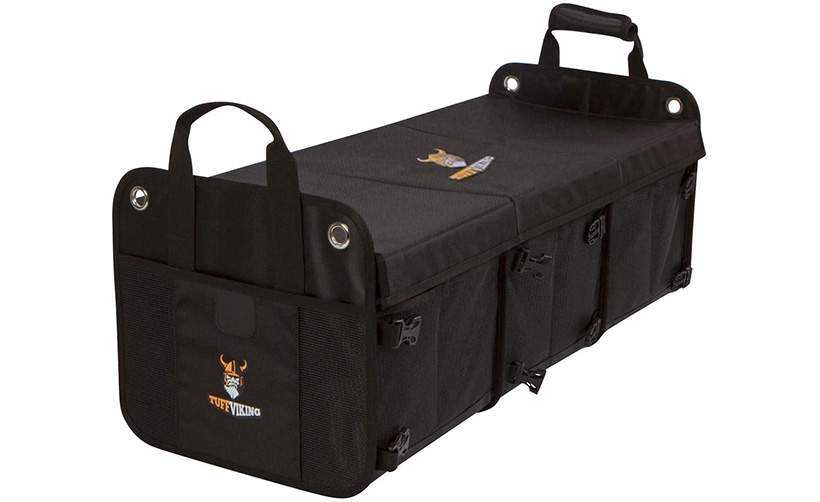 Tuff Viking's three-in one trunk organizer gives users the ability to customize their organizer however they want or need.
This unit really shines for drivers who need multiple cargo solutions depending on the day. It separates into three distinct boxes, or joins altogether for one large rig, complete with a foldable top and multiple tie-down points.
Made from 1680D Oxford polyester with reinforced double-thread stitching, this is a rugged unit that should last for eons. The interior is coated in umbrella-style waterproof fabric, making it easy to clean as well as containing any fluids that might otherwise spill into your trunk. Non-slip grip pads on the bottom help hold it in place, so too do the included v-straps. There are four large metal grommets in the top corners that you can also use as tie-offs.
With up to six interior compartments thanks to three dividers, three large mesh pockets, six small ones, and two expandable pockets on the sides, there's a total of 20 available compartments to store you gear. You can also use this system as a green grocery bag at the store.
We love this unit for its great versatility and robust design. Downsides are bulk when folded down and the cost.
Key Specs:
Dimensions (expanded): 34 x 14 x 13.5 inches
Dimensions (folded): 4.75 x 14 x 14 inches
Largest compartment: 11 x 14 x 13.5 inches
Total compartments: 14
Pros:
Highly versatile
Quality construction
Cons:
---
4. Best for Large Items: MIU COLOR Car Trunk Organizer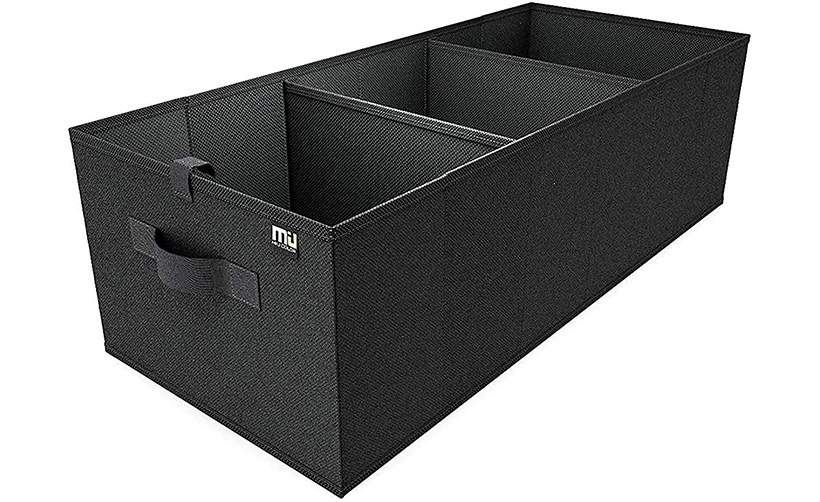 The MIU COLOR car trunk organizer is a simple and elegant solution, perfect for keeping large items safely inside your car or SUV.
With a whopping 70L capacity from the 31.5 x 9.9 x 13.8" tub, you can safely hold items that other organizers simply can't accept. You can also use the included removable dividers to split the unit into three equal sections, though sadly the hook and look (Velcro) strips are vertical, not horizontal so you can't customize the placement of the dividers.
This is a low-cost and ultra-simple design that makes up for its lack of features with a sturdy and rigid build quality. There are indents in the longer side walls that allow it to be collapsed into a smaller square, and the unit folds almost completely flat when done.
There are no tie downs and no cover, which is the only real blight on this otherwise great build. We love this unit for its ultra low cost and elegant design, as well as unmatched usable volume.
Key Specs:
Dimensions (expanded): 31.5 x 9.9 x 13.8 inches
Dimensions (folded): 1.5 x 9.9 x 13.8 inches
Largest compartment: 31.5 x 9.9 x 13.8 inches
Total compartments: 3
Pros:
Large internal capacity
Value
Cons:
No tie downs or extra pockets
Not waterproof
---
5. Best Hanging Organizer: SURDOCA Car Trunk Organizer
The hanging cargo organizer from SURDOCA is ideal for wagons, hatches, or SUVs where storage area is at a premium.
Its low-profile design allows you to easily organize tools, emergency equipment, or other smaller items while still leaving most of your trunk free for larger stuff. The unit clips onto the three headrests on the back row of seating and drops down. The back features Velcro strips that are designed to stick to the seat back and hold it in place.
This is the third generation of the company's design and features two wide, covered pockets, two smaller full fabric pockets, and four large mesh pockets for a total of eight.
Material is 600D polyester and the straps are a solid inch wide which makes this a sturdy and well-built organizer. The entire setup is machine washable.
At this price you can easily buy a hanging organizer for smaller items and have both room and cash left over for a regular floor organizer as well.
Key Specs:
Dimensions (expanded): 35.43 x 18.11 x 1.65 inches
Dimensions (folded): N/A
Largest compartment: 8 x 9.45 x 2 inches
Total compartments: 8
Pros:
Easy to install
Eight pockets
Cons:
Not for large items
Not waterproof
---
6. Best Premium Option: MARKSIGN Deluxe Trunk and Backseat Organizer
MARKSIGN offers a versatile and stylish option for drivers who want something a little more upscale for the cargo area of their luxury car or SUV.
The high-quality design is accented by vivid color accents, and features a cooler bag, an umbrella pouch, a larger covered compartment, and two smaller compartments in three modules. Each module can be detached with a premium YKK zipper, which also means you can take the cooler bag outside the vehicle on its own.
The unit hangs from the headrests of your ride with strips of static loop material on the back, helping hold it against the seat back. We love the 600D polyester material with reinforced stitching and the cardboard inner that gives you a sturdy and rigid pocket for your gear. The pockets are generously sized but limited by their design when it comes larger items. Like other recommendations, this unit hangs on the seat back to free up your cargo area for bigger things, while still neatly containing your smaller stuff.
The only real downside to this offering is the lack of expandability in the pockets, and the fact the covers make it hard to access your items one handed from the rear of the vehicle. Otherwise, this is an elegant, usable, and well-designed solution for your car.
Key Specs:
Dimensions (expanded): 42 x 13 x 5 inches
Dimensions (folded): N/A
Largest compartment: 14 x 11 x 5 inches
Total compartments: 5
Pros:
Cons:
Not for large items
Hard to access
---
7. Best for Picnics: SIMNIAM Car Trunk Organizer with Cooler Bag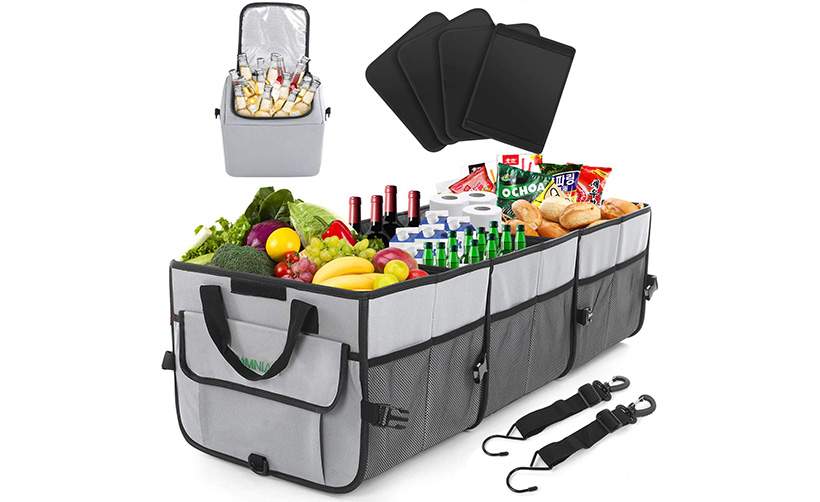 With a massive 92L total capacity, you can feed an army from this car truck organizer/cooler from SIMNIAM.
SIMNIAM's cargo organizer is designed with dual-purpose usability in mind, and the waterproof, insulated liner and zip-closed cover make it ideal for picnics or road trips.
At just over 36 x 14 x 11" you get massive capacity for storing items, as well as up to 17 different storage pockets. Three inside, 12 mesh pockets on the outside, and two large, covered pockets on either end. SIMNIAM also supplies a separate insulated carry bag with this kit.
There are D-ring loops on the outsides and two carabiner-equipped straps for securing the unit in place in your trunk. The whole setup collapses to one small tote bag, or you can collapse one or two sections for a smaller organizer when you need it. Fabric is 1680D polyester that is waterproof, washable, and tear-proof, making this not only one of the most usable items on our list but one of the most durable too.
Cost is in the higher end of midrange compared to others here, but that cost is justified by its versatility and durability.
Key Specs:
Dimensions (expanded): 36.2 x 14.2 x 11 inches
Dimensions (folded): 2.8 x 14.2 x 11 inches
Largest compartment: 11.8 x 14.2 x 11 inches
Total compartments: 17
Pros:
Can double as a cooler
Robust design
Cons:
---
8: Best Value: MaidMAX Trunk Organizer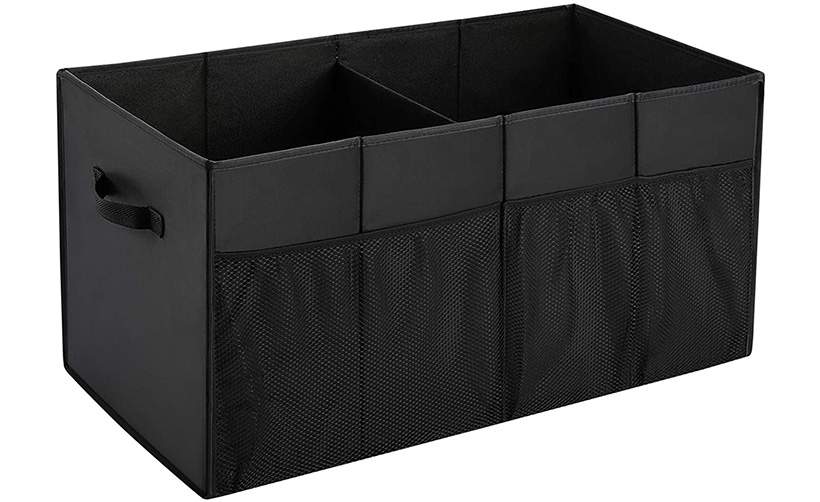 MaidMAX offers a low-cost and simple cargo organizer for drivers who just need to tidy their car trunk and don't need all the bells and whistles.
As one of the least expensive option on our list, MaidMAX's rigid organizer features two large compartments and eight mesh pockets to help hold a range of automotive tools and equipment. The walls are built of hard cardboard wrapped in polyester with mesh pockets, and there are two sturdy handles on the sides. It will hold up to 33 lbs of gear.
The material isn't waterproof and there are no tie downs or anchors, it's also not collapsible. What it is though, is a well-priced and effective trunk organizer that does what it is supposed to—tidies up your cargo space. The two equally divided compartments are generously sized for things like balls or large jugs of windshield washer fluid, and the mesh pockets will secure things like tools or battery packs.
Choose this option if you're after a simple solution that won't break the bank.
Key Specs:
Dimensions (expanded): 25.5 x 13.5 x 13 inches
Dimensions (folded): N/A
Largest compartment: 12.5 x 13.5 x 13 inches
Total compartments: 10
Pros:
Cons:
Not waterproof
No special features
---
Why You Need a Cargo Organizer
A car or SUV trunk organizer can improve safety, make your gear survive longer, and even improve the resale value of your ride! Imagine the small cost of an organizer versus the cost of replacing a tool or electronic gadget that flies around and becomes damaged, or against replacing sporting equipment that becomes damaged?
These organizers also help protect the interior of your car from accidental dents, dings, and scratches, which helps make it more attractive when it comes time to sell. The bottom line? A cargo organizer is a practical solution with benefits not only in keeping your gear in place and easy to find, but in protecting you and your car from damage.
Even still, you'll need to secure heavy items with straps and be careful how you organize the miscellaneous tools and junk in your trunk. Pick a system sized right for your ride and you'll always keep a neat and tidy cargo hold.
Main photo credit: victoras / Shutterstock.com