Michelin Primacy MXV4 Tire Review & Rating
The Michelin Primacy MXV4 touring all-season tire is designed for drivers of all types of coupes, sedans, minivans, crossovers and other vehicles. Utilizing the latest in tire technology, Michelin has developed a tire built to provide comfort, all-season traction and a long tread life.
The symmetric tread design sports what Michelin calls Active 2-D Sipes, which alternately lock together and open as road conditions warrant to give additional biting edges that grip the road. The result is better traction in all types of weather conditions, whether it be rain, snow or slush.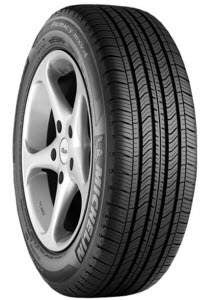 Another area that this tire excels in is comfort and quietness. Michelin incorporates Comfort Control Technology, which uses a computer optimized design to create less vibration and road noise in the tire at all speed levels. It works very well and is an area that is mentioned by other drivers as a real plus in reviews. 
Tread wear is enhanced through Michelin's MaxTouch Construction, which increases the tread contact patch for a longer and more even tread life, as well as better overall handling.
Inside the tire are two steel belts that are spirally wrapped with polyamide to give the tire added strength and stability at higher speeds, while also providing more comfort at the same time.
The Michelin MXV4 comes in a wide array of sizes and a 60,000 mile tread life warranty.
Pros
Dry and wet surface grip and handling are superb

Stability and steering response is among best in its class

Tread life is excellent

Tires ride comfortably and have virtually no road noise

Outstanding value for the money
Cons
Rare as it is, you'll be hard-pressed to find any issues with this tire
Overall Thoughts
The Michelin Primacy MXV4 is one of our number one choices in premium all-season touring tires. Traction and handling on dry or wet surfaces, including snow, is excellent. The ride is very comfortable and road noise is virtually non-existent.
Perhaps even more impressive is the tread life, which often exceeds the 60,000 mile warranty on this model. Overall, Michelin has produced an outstanding tire that is hard to beat.
Click Here To Find Lowest Price
What Vehicles Will The Primacy MXV4 Fit?
Fits these vehicles and many others:
Acura MDX, 3.0CL

Buick Rendezvous, Lesabre

Cadiallac Seville, Eldorado

Chevrolet HHR, Impala, Malibu

Dodge Charger, Stratus, Magnum

Ford Fusion, Taurus

Honda Accord, Civic

Hyundai Sonata, Santa Fe

Kia Sorento

Lexus ES330, ES350, LS430

Mazda6, MPV

Mercedes C-Class

Nissan Altima, Quest, Maxima

Pontiac Grand Prix, Grand Am

Toyota Camry, Prius, Solara, Avalon, Corolla

Volkswagen Jetta, Golf, Passat
Tire Sizes
15″
185/65R-15 88H RRBL
195/60R-15 88H RRBL
195/60R-15 88V RRBL
195/65R-15 91H RRBL
205/60R-15 91H RRBL
205/65R-15 94V RRBL
205/65R-15 94H RRBL
215/60R-15 94H RRBL
225/60R-15 96H RRBL
16″
205/55R-16 91H RRBL
205/55R-16 91V RRBL
205/60R-16 92H RRBL
205/60R-16 92V RRBL
205/65R-16 95H RRBL
215/55R-16 93H RRBL
215/55R-16 93V RRBL
215/60R-16 95V RRBL
P215/60R16 94H NIS B
225/60R-16 98H RRBL
225/60R-16 98V RRBL
225/65R-16 100H RRBL
235/60R-16 100H RRBL
17″
215/50R-17 91H RRBL
215/50R17 XL 95V BSW
P215/55-17 93VTOY B
215/55R-17 94H RRBL
225/55R-17 97V RRBL
225/55R-17 97H RRBL
235/55R-17 99H RRBL
P235/60R-17 100T TOY
P235/65R17 103T HON
18″
225/55R-18 98H RRBL
225/60R-18 100H RRBL
P235/60R-18 102T HON
245/45R-18 96V RRBL
19″
235/50R-19 99V BSW
20″
245/45R20 99V LIN B
Price Range
Prices on the Primacy MXV4 range from approximately $110 and up. You may also find occasional rebates, discounts, coupons and special offers on this tire.
Click Here To Find The Current Lowest Price On All Michelin MXV4 Tire Sizes
Warranty
Michelin stands behind the Primacy MXV4 with a 6-year or 60,000 mile tread warranty. Note: The mileage is cut in half if the rear tires are a different size than the front. Tire uniformity is guaranteed for one-year or the first 2/32 inch of tread wear.
Materials and workmanship are backed for 6-years and include free replacement during the first year or first 25% of wear. Michelin then prorates out the amount for the remaining time period or until there is 2/32 inch of tread depth on the tire.
You will also find a 3-year flat tire changing warranty and Michelin's 30-day satisfaction guarantee.