Yokohama Geolandar G96B Tire Review & Rating
The Yokohama Geolandar G95B sees most of its use as original equipment on the Toyota 4Runner. However, this all-season tire is also available as a replacement model for drivers that use a P245/60R20 fitment on their SUV, light truck or crossover.
An all-season environmentally-friendly tread compound and asymmetric tread pattern provide the traction necessary in year-round conditions. Handling stability is enhanced due in part to the tire's lateral shoulder slots, and the steering response is quicker than what you find on many similar all-season tires. This is an area frequently mentioned in other driver reviews as well.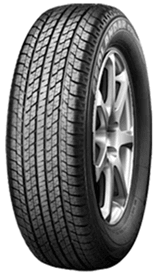 Four wide circumferential grooves effectively channel away rain water from under the footprint and reduce the risk of hydroplaning. The tread pattern Yokohama uses on the G96B further aids in gaining traction on snow covered road surfaces.
Inside the tire are two steel belts with a polyester cord body that add to strength and durability, which is arguably this tires biggest plus. Yokohama includes a limited tread warranty on this model as well.
Pros
Dry and wet traction
Comfortable ride
Longer than expected treadlife
Cons
A little extra road noise as tires wear down
Overall Thoughts
While most O.E. tires leave a lot to be desired when it comes to real world driving performance, the Yokohama G96B is somewhat of a pleasant surprise. We've heard from numerous Toyota 4Runner owners who have stated how impressed they have been with this tire, especially the treadlife which is excellent.
Driving on dry or wet pavement is sure and confident for the G96B as all-season tires go. The ride is comfortable and quiet, although you might hear a little more noise as the tire wears down.
Overall, while we nearly always recommend replacing your old worn out tires with better replacement options, this Yokohama G96B is an exception. Sure, this tire is not among the best in class, but for an O.E. tire it does a much better than expected job.
Click Here For Current Yokohama Coupons
Click Here To Find Current Prices
What Vehicles Will The Yokohama Geolandar G96B Fit?
(This is not a complete list of ALL vehicles this tire will fit)
Tire Sizes
20″
P245/60R20 107H SL BSW
Price Range
Yokohama Geolandar G96B prices range from approximately $295 and up. You may also find occasional rebates, discount prices, coupons and special offers on this tire.
Click Here To Find The Current Prices On All Yokohama Geolandar G96B Sizes
Warranty
Yokohama provides a limited tread warranty on the G96B. Tire uniformity is guaranteed for the first 2/32 inch of wear. Materials and workmanship are warranted for 5 years and include free replacement during the first year or first 2/32 inch of wear. A prorated amount is then given for the remaining time period or down to the final 2/32 inch of tread depth.
---