Westlake SU318 Tire Review & Rating
Built for today's trucks and SUV's, the Westlake SU318 is billed as a versatile and durable all-season tire that features a quiet and comfortable touring ride quality. It's M+S rated tread design is built to provide increased traction and handling in all types of driving conditions such as dry roads, rainy wet roads, and light snow covered roads.
Westlake has included four wide circumferential grooves in the tread design that deliver enhanced grip, lateral traction and overall handling on wet road surfaces.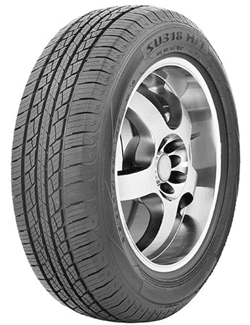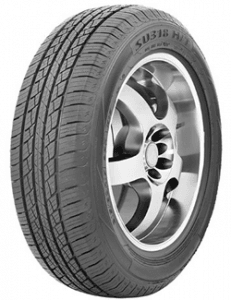 An advanced Silica Tech technology and sipes around the tread give the SU318 added handling when it comes to not rain soaked pavement, but on light snow covered roads as well.
Westlake hasn't forgotten about ride comfort on the SU318 either. The tread design and steel bead wire helps eliminate most of the unwanted road noise and improves overall ride comfort, which is an area that we've heard other drivers mention in reviews.
The Westlake SU318 tire is available in over 30 different sizes that range from 15-20 inches and come with either a T, H or V-speed rating.
Pros
More than capable traction and handling on dry/wet/light snow roads
Quiet riding tire
Respectable tread wear
Budget-friendly price
Cons
Added road noise as tires wears down
Overall Thoughts
The all-season Westlake SU318 succeeds at what it was designed for… filling everyday driving needs in a variety of different weather conditions. It delivers very good traction and handling on dry or wet pavement, as well as on lighter amounts of snow. The ride is comfortable for the most part, although perhaps not on the level of models like the Michelin Defender LTX M/S, Yokohama YK-HTX and a few other tires.
A couple areas of concern would be a little added noise as the tires wears down, which is common for all-season tires, and the grip on ice and hard-packed snow. Traction falls off in rougher winter conditions since this is not a dedicated winter tire.
Overall, the SU318 offers performance that is not that far below what you'll find on many premium brand tires in its class. We give it a middle of the class ranking. If you're on a tight budget and needing a dependable basic all-season tire for your truck or SUV, this tire is not a bad option.
What Vehicles Will The Westlake SU318 Fit?
(This is not a complete list of ALL vehicles this tire will fit)
Chevrolet TrailBlazer, Silverado, Suburban, Colorado
Dodge Dakota, Durango, Ram, Nitro
Ford Explorer, F-150, Ranger, Escape
GMC Envoy, Jimmy, Sierra, Suburban, Canyon, Terrain
Honda Element, CR-V
Hyundai Santa Fe
Kia Sorento, Sportage
Mercury Mountaineer
Nissan Pathfinder, Frontier
Suzuki Equator, Grand Vitara
Toyota 4Runner, Highlander
Tire Sizes
15″
215/75R15 100T BSW
225/75R15 102T BSW
235/75R15 105T BSW
265/75R15 112T BSW
225/70R15 100T BSW
235/70R15 103T BSW
265/70R15 112T BSW
16″
225/75R16 104T BSW
235/75R16 108T BSW
245/75R16 111T BSW
265/75R16 116T BSW
215/70R16 100T BSW
225/70R16 103T BSW
235/70R16 106T BSW
245/70R16 111T BSW
255/70R16 111T BSW
265/70R16 112T BSW
275/70R16 114T BSW
255/65R16 109T BSW
17″
245/70R17 110T BSW
255/70R17 112T BSW
265/70R17 115T BSW
215/65R17 99T BSW
225/65R17 102T BSW
235/65R17 104T BSW
245/65R17 107T BSW
255/65R17 110H BSW
265/65R17 112T BSW
275/65R17 115T BSW
285/65R17 116H BSW
215/60R17 96H BSW
225/60R17 99T BSW
235/60R17 102T BSW
255/60R17 110V BSW
265/60R17 108T BSW
275/60R17 110T BSW
18″
225/60R18 100H BSW
235/60R18 103V BSW
255/60R18 112V BSW
265/60R18 114V BSW
285/60R18 116H BSW
235/55R18 100V BSW
255/55R18 109V BSW
19″
255/50R19 107V BSW
275/45R19 108V BSW
20″
275/55R20 117V BSW
275/40R20 106V BSW
Price Range
Westlake SU318 prices range from approximately $62 and up. You may also find occasional rebates, discount prices, coupons and special offers on this tire.
Warranty
Warranty information unavailable at time of review.
---