Uniroyal Tiger Paw GTZ All Season Tire Review & Rating
Built for ultra-high performance all-season use on sports cars, coupes and sedans, the Uniroyal Tiger Paw GTZ All Season is equipped with the latest technology to provide solid performance throughout the year.
The tires come with an enhanced tread compound which is also combined with a solid center rib and a unique Uniroyal non-directional claw tread design to offer steady traction in dry, wet and wintry conditions.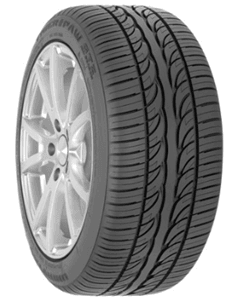 Ride comfort is enhanced through the tire's pyramidal steel belts, a heavy gauge inner liner as well as insulating belt edge strips that work together to help absorb shocks and vibrations while keeping road noise to a minimum and offering a smooth and comfortable ride.
The DuraShield Construction technology also creates increased stability on all types of road surfaces and allows for more responsive steering, better tread life and a dependable driving experience. Sizes are available from 15-20 inches, and speed ratings of V and W.
Pros
Reliable dry handling and braking performance

Comfortable ride

Above average treadlife

Good value for the money
Cons
Winter traction

Some road noise at times
Overall Thoughts
The Uniroyal GTZ All Season manages to combine high quality and ultra-performance within a budget price. The tires handle great in normal wet and dry conditions, as well as provide excellent dry braking performance. Winter weather traction is iffy as you might expect from a UHP tire. Anything over a few inches of snow is likely going to cause handling problems.
There is a bit of road noise every now and again, however nothing that would be distracting or damaging to the overall quality of the ride. They absorb vibrations and shocks well, so driving on them is as comfortable as you are likely to get for the price.
Even though there is no mileage warranty with the tires you can expect to get upwards of 40k miles out of them which trumps the likes of many of the models from other tire makers in this category. Overall, the GTZ All Season is pretty impressive and ranks in the upper half of its class.
What Vehicles Will The Tiger Paw GTZ All Season Fit?
(This is not a complete list of ALL vehicles this tire will fit)
Audi A4, A8, S6

BMW 3-Series, 5-Series, X5

Buick Rendezvous, Lucerne

Cadillac CTS, STS

Chevrolet Cruze, Cobalt, Malibu, Impala, Camaro

Dodge Charger, Journey

Ford Fusion, Focus, Taurus, Flex, Edge, Mustang

Honda Accord, Civic, CR-V, Ridgeline

Hyundai Santa Fe, Sonata, Tuscon

Mazda 3, 6, CX-7, CX-9

Mercedes-Benz C-Class, E-Class

Nissan Altima, Maxima

Pontiac G6, Grand Am

Subaru Forester, Outback

Toyota Camry, Corolla, RAV4

Volkswagen Golf, Jetta, Passat
Tire Sizes
15″
195/55R15 85V BSW
16″
205/50ZR16 87W BSW
225/50ZR16 92W BSW
245/50ZR16 97W BSW
205/55ZR16 91W BSW
215/55ZR16 93W BSW
225/55ZR16 95W BSW
17″
205/40ZR17/XL 84W BSW
245/40ZR17 91W BSW
275/40ZR17 98W BSW
205/45ZR17 84W BSW
215/45ZR17/XL 91W BSW
225/45ZR17/XL 94W BSW
235/45ZR17 94W BSW
245/45ZR17 95W BSW
205/50ZR17 89W BSW
215/50ZR17 91W BSW
225/50ZR17 94W BSW
235/50ZR17 96W BSW
225/55ZR17 97W BSW
235/55ZR17 99W BSW
18″
225/40ZR18/XL 92W BSW
235/40ZR18 91W BSW
245/40ZR18 93W BSW
275/40ZR18 99W BSW
215/45ZR18/XL 93W BSW
225/45ZR18/XL 95W BSW
235/45ZR18/XL 98W BSW
245/45ZR18 96W BSW
235/50ZR18 97W BSW
19″
245/40ZR19/XL 98W BSW
20″
245/45ZR20 99W BSW
Price Range
Uniroyal Tiger Paw GTZ All Season prices range from approximately $78 and up. You may also find occasional rebates, discount prices, coupons and special offers on this tire.
Warranty
Uniroyal provides a limited tread warranty on the GTZ All Season. Tire uniformity is guaranteed for one-year or the first 2/32 inch of wear.
Materials and workmanship are warranted for 6-years and include free replacement during the first year or first 2/32 inch of wear. A prorated amount is given during the remaining time period or down to the final 2/32 inch of tread depth.
---