Getting Your Car Ready for Spring: Top 15 Best Car Cleaning Products
Winter is gone and spring has come, which means it's time to detail your car and restore that shine. The winter months can be incredibly harsh to your car's surface and paint finish, as well as other parts of your car, such as its wheels and tires. While you could pay a professional detailing company hundreds of dollars to get your car looking like it should, you could also invest in some products so you could routinely maintain its finish on your own. In this article, we'll take a look at 15 essential car cleaning products you need to detail your car from bumper to bumper.
Best of all, you'll have these products lying around in your garage for the next time you want to give your car a nice, thorough cleaning.
Table of Contents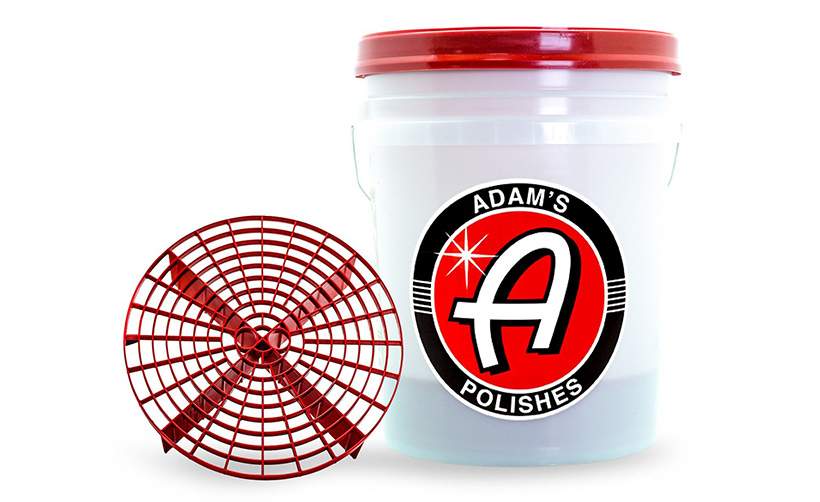 A proper car wash starts with a proper car wash bucket with a grit guard. Sure, you could put your car wash soap and water in any other type of container, but without a grit guard you're just mixing dirt and sediment back onto your wash mitt. A grit guard will separate the dirt and debris from your mitt, by keeping all that dirt at the bottom of your bucket. Adam's Grit Guard Wash Bucket with Lid is made in the U.S. and features a 4-finned design grit guard. What's also great about this bucket is that it comes with a Gamma Seal, which ensures dirt and debris stays out of the bucket when it's not in use. This is a 5-gallon bucket that will help deliver a scratch-free wash.
---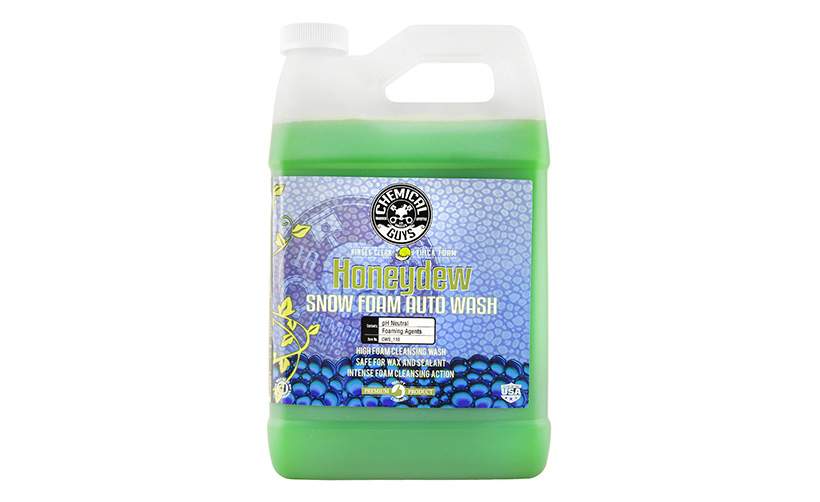 There are plenty of car wash soaps on the market and really, you can't go wrong with any product from a reputable brand. If we had to recommend one however, it would be Chemical Guys' Honeydew Snow Foam Auto Wash. Designed to eliminate dirt, grime, and environmental contaminants, this wash is safe on all vehicle surfaces including paint, rubber, vinyl, glass, and plastics. It is a pH-neutral formula that will lift dirt and grime away from the paint and leaves a nice and fresh honeydew smell. Simply mix one cap of this solution with 5 gallons of water and you can get to washing.
This soap is also safe for wax and sealants, so it won't strip away your protective layer.
---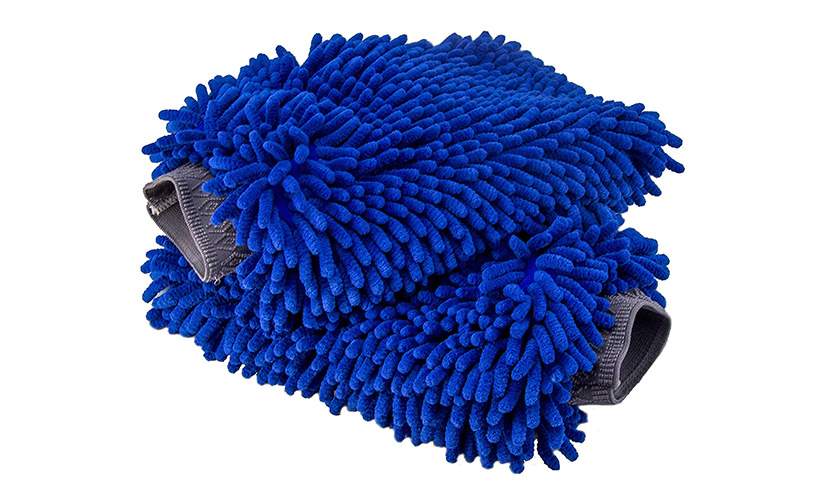 Mitts not only make the car washing process easier, but safer by helping deliver a scratch-free wash. These wash mitts are available in regular size and extra large, and can also be purchased as a single unit (extra large size only). Featuring double-sided chenille microfiber, these mitts are safe on paint and other delicate surfaces, while giving you a lint-free, scratch-free shine. The extra thick microfiber is much more absorbent than sheepskin, and these mitts are machine washable so they'll last you a long time. Since they are sold as a two-pack, you could use one for the body of your car, and another for the wheels and tires.
---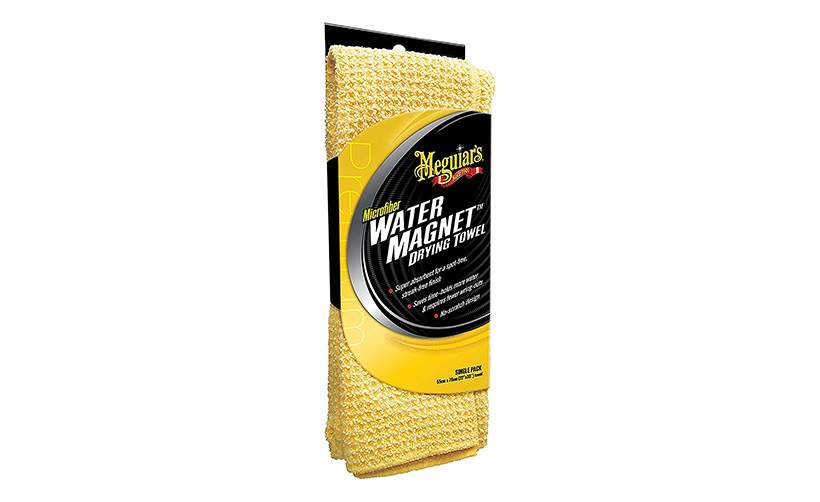 Your car isn't properly washed unless you dry it without leaving any water spots. This is one of the most popular drying towels available and it comes from Meguiar's, a well-trusted brand in the car care industry. This Water Magnet Microfiber Drying Towel measures 22″ by 30″ and features a waffle weave texture. Compared to terry towels, it can absorb up to two times the water, which means less wring-outs. It promises to deliver a streak-free wipe and it's machine washable so it'll last you quite a while.
---
You are at a tire review site after all—how could we ignore a proper tire detailer? TriNova's Tire Shine Spray will give your tires that slick finish you need to complete your wash, getting rid of that faded and dusty 'ol tire look. Not only does this spray leave behind a nice shine on your rubber, it features an advanced coating to protect your tires from other deteriorating signs of aging. It also repels dirt and grime, helping your tires look newer, longer.
Made in the U.S., users love this tire spray because it lasts longer than other formulas on the market.
---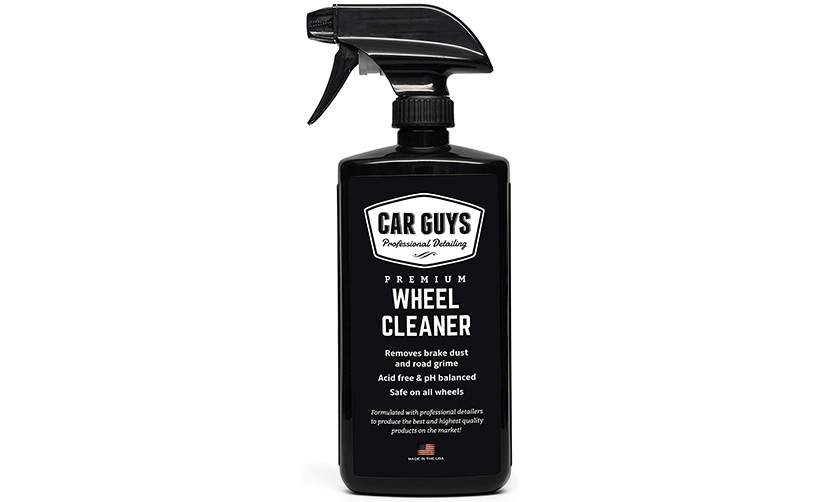 Slick tires need clean wheels for a complete package, which means you should invest into a quality wheel cleaner. Car Guys' Premium Wheel Cleaner is an environmentally friendly formula, acid free and pH balanced so it's safe to use on all wheels. Designed to remove brake dust and road grime, this product is also made in the U.S. and will help keep your wheels looking brand new and spotless. It doesn't matter if your wheels are alloy, aluminum, anodized, chrome, painted, polished, clear coated, or even plasti-dipped, this wheel cleaner will keep them shiny for weeks to come.
---
Not everyone has the time to wash their car every couple weeks, which is where a bottle of quick detailer comes in handy. Keep your car looking clean all throughout spring and for the coming seasons with Meguiar's Ultimate Quik Detailer. This spray detailer safely and quickly removes dust and surface contaminants between washes, while strengthening wax protection and enhancing shine, color, and gloss. It's also equipped with hydrophobic polymer technology, which pushes water right off the surface to help minimize water spots. It's clear coat safe and ideal for all paint types with a pH neutral formula, so it won't strip or remove any layer of wax or protectant you may have on the surface of your paint.
---
If your car took a took a real rough beating during the winter, you may want to give it a thorough detail using a clay bar. Mothers California Gold Clay Bar System is a great kit to get rid of any embedded contaminants from your car's paint, such as metal, tree sap, airborne environmental deposits, and even paint overspray. Safe to use on all automotive paint finishes, a clay bar kit will clean, smooth, and restore your paint's shine like nothing else on the market.
This clay bar isn't too aggressive, just firm enough to pick up all the bad stuff. It's also great for touch ups or maintenance use in between heavy detailing sessions. This clay bar can also be used on plastic trim and glass, along with matte-finished plastics that are free of coatings.
---
If you've given your car a nice wash and clay bar detail and want to protect it from the coming spring months, you'll want to give it a nice layer of wax. Chemical Guys offers its Butter Wet Wax, which is a 100% carnauba-based wax designed to leave a deep, wet look on any paintwork. It's one of the easiest waxes to use and can be applied by hand or with a machine on all types of paint. The newly improved formula also offers more protection against UVA and UVB rays, making sure your vehicle is protected during day-to-day operation.
---
A cheap investment that you could even use around the house, this car vacuum from ThisWorx features a powerful 106w motor and strong metal turbine to pick up all sorts of dirt and debris from inside your cabin. With a 16-foot power cord, this vacuum uses your cigarette lighter receptacle for power making it easy to reach all four corners of your interior. It features a transparent trash container so you know when it's full and needs to be emptied. This car vacuum can be used for both wet and dry dirt.
It also comes with several accessories to make vacuuming your interior easier, as well as a carrying bag and an extra HEPA filter.
---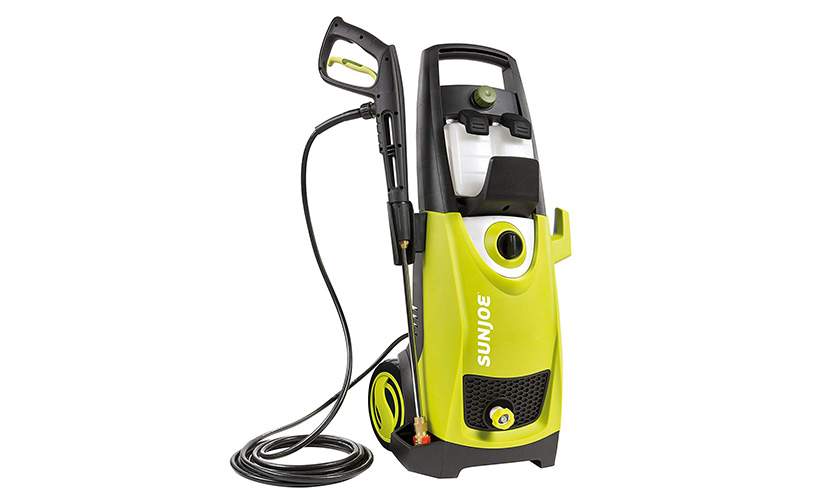 Not everybody needs a pressure washer, but if you're really passionate about car detailing, you'll want to invest into one. Sun Joe's SPX3000 Pressure Washer is a very popular option, featuring a powerful 14.5-amp, 1800-watt motor. It comes with 5 quick-connect spray tips and features dual detergent tanks that you can use to conveniently carry and store different types of detergent. This pressure washer generates up to 2030 PSI of water and 1.76 GPM of water flow for maximum cleaning power.
Each pressure washer includes a 20-foot high pressure hose, 35-foot power cord, garden hose adapter, and a Total Stop System (TSS) trigger that automatically shuts off the pump when the trigger is not engaged. Sun Joe provides a full 2-year warranty with this pressure washer.
---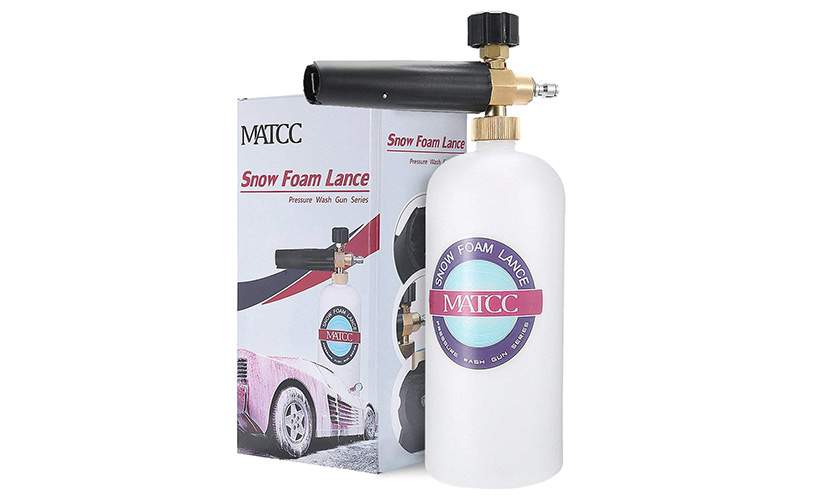 If you've invested into a pressure washer, you'll want to get yourself a foam cannon as well. It may seem like many of the options out there are all the same—it is a bottle after all—there are some cannons that are better quality than others. You'll want a product that won't break after a couple uses, and MATCC's Adjustable Foam Cannon is exactly one of those foam cannons. It uses a 1/4″ quick disconnect fitting and the core is made from quality brass, while the main body is solid brass. You can adjust the spray nozzle to control how much water is mixed and its large capacity will easily get you through multiple car washes.
---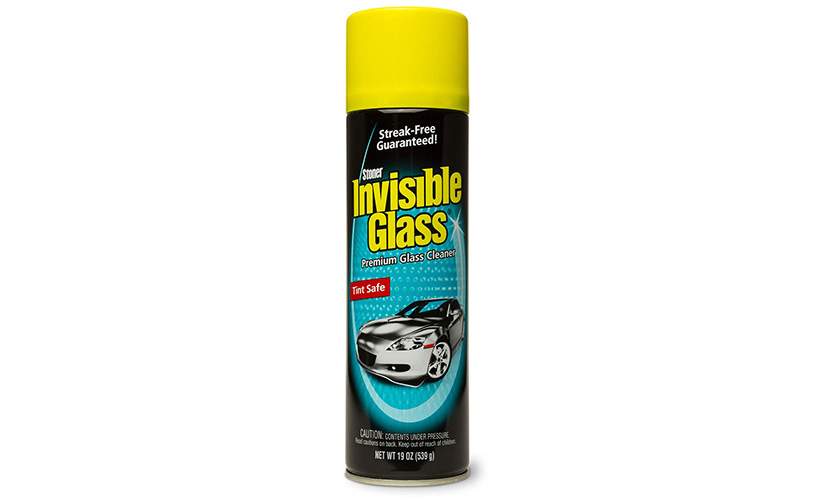 Give all the glass on your car a thorough cleaning inside and out with Stoner's Invisible Glass. This premium glass cleaner is one of the most popular glass cleaners in the world, featuring a clear dry formula that won't leave any streaks or drips. This unique foam cleanser scrubs deep to remove road grease and grime, bugs, dirt, bird droppings, salt, mud, and more from your windshield and other glass on your car. It's safe to use on tinted and non-tinted windows.
---
You don't just need buffing/applicator pads for waxing or polishing your car. These microfiber pads from Viking Car Care can be used for various other things, such as applying tire detailer or cleaning tight, hard-to-reach areas of your car. These pads are available with microfiber or cotton terry material, measuring 5 inches in diameter. There are also rectangular ones if you prefer that over round applicator pads.
Machine washable and reusable, these pads are great for touching up your exterior or interior, evenly distributing waxes, polishes, protectants, and dressings.
---
If you've gotten the exterior of your car looking and shining like it's brand new, don't forget to pay some attention to your interior. It is, after all, where you spend most of the time with your car. Car Guys offers a Premium Super Cleaner that is a versatile and effective multi-surface cleaner. It's safe to use on exterior and interior fabric, carpet, leather, vinyl, plastic, rubber, finished wood trim, metals, and more. In other words, just invest in a single bottle of this and you'll be able to wipe away nearly every surface of your cabin.
Featuring the newest advancements in nano-technology, this cleaner will effectively lift away dirt and grime at the molecular level. Keep in mind that this is strictly a cleaner, so it doesn't contain any sort of UV protectant or shine. No residue or gloss is left behind when using this product, which many car owners prefer. Just don't use this on glass or any delicate instrument panel!
---
---
We are committed to finding, researching, and recommending the best products. We earn commissions from purchases you make using the retail links in our product reviews. Learn more about how this works.