Our Quietest Tires of All Time
Drivers that commute long distances frequently demand a comfortable driving experience to beat the monotony they feel. For many drivers, having a quiet riding tire is one of the most important areas they look for in a new tire. They also require stability, devoid of the vehicle bouncing and swaying as that would negatively impact their comfort.
After all, not many of us enjoy hearing our tires hum and scream out loud all the way home from a hard day's work, or driving down the highway on a family vacation. Drivers bothered by the noise output of their tires should purchase quietest tires that are available in the market if they want a quiet and comfortable driving experience.
That said, here's our list of the 2019 Top 10 Quietest Tires to give you some help in choosing your best tires. List appears in no particular order.
---
1 – Bridgestone Turanza Serenity Plus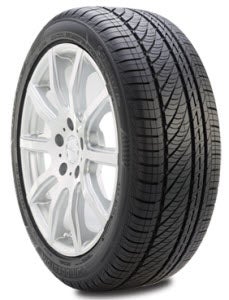 The Bridgestone Turanza is designed with special silica infused NanoPro-tech compound that is able to increase the traction and handling on wet and snow covered roads. The tire has also been designed keeping in mind lower rolling resistance, making it more fuel efficient.
The Serenity Plus builds on the original Serenity and provides an even higher level of performance. Bridgestone utilizes what they call Resonance Noise Attenuated Silencer Grooves in the tread that reduce pattern noise and trap it inside the tread elements. Despite the long terminology, the results are excellent. The tire is one of the more quiet touring tires sold today.
Key Features
NanoPro-Tech rubber compound to increase traction
Specially designed grooves that reduce noise output
Biting edges for increased traction in snow
Pros
Excellent traction on dry roads with precise steering responsiveness
Comfortable and stable driving experience
Great performance on wet roads
Cons
Vehicle performance in snow is average
Click Here For A Complete Review
2 – Continental PureContact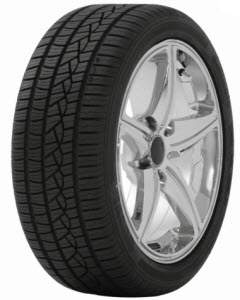 PureContact from Continental is the company's newest touring all-season model that is one of the most quiet tires in any class. The Continental PureContact effectively provides passenger cars the necessary traction and steering responsiveness to tackle city streets and highways.
With the latest in tire technology and materials, the Pure Contact features a computer-optimized tread pattern that not only reduces road noise, but also provides excellent traction and year-round performance. The tire further uses the Eco Plus technology for increased tread life along with fuel efficiency, making it a great option for drivers. 
Key Features
Eco Plus technology provides increased tread life and fuel efficiency
ComfortRide technology increases cushioning resulting in less impact vibrations
Twin steel belts for increased tire durability
Pros
Excellent performance on dry roads and highways
Cornering ability at speeds is impressive
Braking ability on light snow and wet roads is great
Comfortable driving experience
Cons
Heavy snow performance could be improved
Click Here For A Complete Review
3 – Goodyear Assurance ComforTred Touring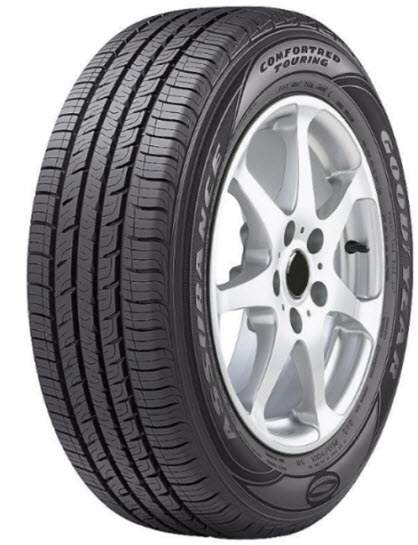 The Goodyear Assurance ComforTred Touring, is a premium tire with an asymmetric pattern, grooves, and shoulder blocks that work together to create excellent grip on dry roads.
Providing both comfort and a quiet ride, this Goodyear Assurance ComforTred Touring tire is one of the most popular and best-selling models on the market today. It's all because Goodyear has created a unique shock absorbent rubber layer between the tread and the steel belts. It not only cushions the ride, but it insulates you from the noise and vibrations of driving over bumps, expansion joints and other common road obstructions.  Goodyear has designed this tire with a sturdier sidewall, to absorb more impact and easily negotiate corners at high speeds.
Key Features
Asymmetric tread pattern to increase handling and traction
ComfortEdge sidewalls that absorb impact and improve handling
20% more cushioning to make for a comfortable driving experience
Pros
Traction is excellent on dry and wet roads
Excellent ride comfort and stability
Inexpensive
Cons
Traction on slush is poor
Click Here For A Complete Review
4 – Michelin Premier LTX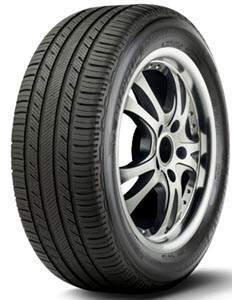 The Michelin Premier LTX is perfect for truck drivers and SUV owners who enjoy a quiet and stable drive. The tires provide great handling and traction as well as crisp steering control. The Premier LTX is one of the quietest tires available in the market.
Sporting the type of smooth and quiet ride that Michelin is well-known for, the Premier LTX is arguably the best model in their entire truck/SUV lineup. Since its release in the second half of 2015, this tire has quickly become a top seller in the touring all-season category. For ride comfort and safety it's hard to beat this Michelin model.
Key Features
Silica based tread compound increases traction
EverGrip technology provides increased braking ability
Rain grooves expand with tire wear
Pros
Fantastic grip and steering responsiveness on dry roads
Excellent performance on wet roads
Braking on dry and wet roads is great
Cons
Tire durability is an issue
Snow performance is below average
Click Here For A Complete Review
5 – BridgestoneEcopia EP20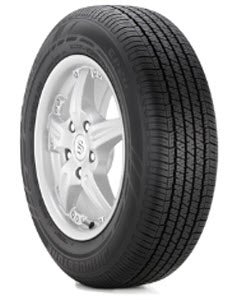 Designed  for smaller vehicles, the Bridgestone Ecopia EP20 is another model their tire lineup that prides itself in providing a quiet and comfortable ride. Aside from having a lower rolling resistance and fuel efficient design, the tread is optimized to reduce road noise, which it does very well.
The Bridgestone Ecopia EP20, with its unassuming tread pattern, is an inexpensive, quiet tire. It offers exceptional traction on dry and wet roads, with the ability to corner at high speeds.
Key Features
Special tread compound increases fuel efficiency
Ribbed design that increased braking ability
Pros
Good handling on dry roads
Fuel efficient
Inexpensive
Low noise output
Cons
Heavy snow performance is terrible
Click Here For A Complete Review
6 – Michelin Defender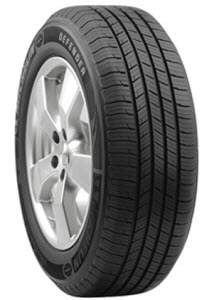 As a new tire in 2012, the Michelin Defender is making its mark as an all-around high performing all-season tire. One very nice benefit you'll also find with this tire is how quiet the ride is. Michelin has tuned the tread pattern to optimize ride comfort and quietness. You'll also like the 90,000 mile tread guarantee that is also included.
The Michelin Defender has high amounts of silica infused in the tread to increase the traction on wet roads. The tire features biting edges along with siping to increase your vehicle's traction on snow and ice.
Key Features
Intellisipe technology increases traction on snow
Comfort Control technology that increase stability and comfort
Evertread compound that provides wet traction throughout the life of the tire
Pros
Excellent performance on dry and wet roads
Pleasant driving experience; minimal noise and stability
Treads are sturdy and durable
Cons
Traction and responsiveness on heavy snow and slushy roads is poor
Click Here For A Complete Review
7 – Hankook Optimo H727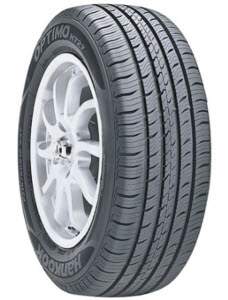 Hankook makes the list with its Optimo H727. With excellent touring all-season traction, this is also a tire that provides a very quiet ride quality. The tread design features the latest in tire technology with its Carbon Compounding and Footprint Shape Optimization. Along with tapered lateral slots, the result is a tread that is engineered to eliminate the distracting road noise.
Designed for sedans, minivans, and coupes, the Hankook Optimo H727 is a tire that offers great handling and crisp steering responsiveness. This is an inexpensive tire which offers great value for money whilst being one of the quietest tires available in the market.
Key Features
All-season tread compound to increase traction
Asymmetric tread design to reduce noise output
Four circumferential grooves to expel water
Pros
Performance on dry roads is exceptional
Braking and steering responsiveness on wet roads is excellent
100,000 mile warranty
Maintains grip on snowy roads
Cons
Tread life has been reported as a common issue.
Click Here For A Complete Review
8 – Bridgestone Dueler H/L 422 Ecopia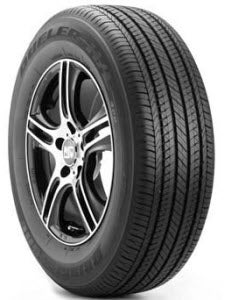 Built to provide exceptional year round traction, increased fuel efficiency and a comfortable ride, the Bridgestone Dueler H/L 422 Ecopia is also making its mark as one of the most quiet truck and SUV tires sold today. Using the latest tire technology, this is a tire that consistently receives rave reviews from other drivers for its quiet ride capabilities.
The Bridgestone Dueler H/L 422 Ecopia offers an aggressive and highly attractive tread design perfect for SUVs and crossovers. The tire has been designed with special compounds that lower rolling resistance, while the four circumferential grooves expel water to maintain wet traction.
Key Features
Ecopia compound to reduce rolling resistance
Four grooves designed to resist hydroplaning
Sidewalls designed with Bridgestone Fuel Saver compound
Pros
Excellent traction on dry and wet roads
Comfortable and stable driving experience
Attractive tread design
Cons
Poor handling in heavy snow
Tire is not durable
Click Here For A Complete Review
9 – Continental CrossContact LX20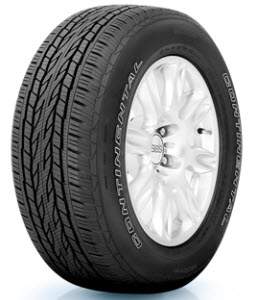 Continental is known for having quiet and comfortable riding tires, and the CrossContact LX20 is no different. Utilizing Smooth Response Technology, the LX20's intermediate tread blocks and continuous center ribs provide reduced road noise and increased riding comfort. It's an effective combination that makes this tire an exceptional choice.
Continental CrossContact offers great value for money; as the silane gel infused tread compound provides great traction as well as fuel efficiency. This is one of quietest tires available in the market that performs well in all weather conditions.
Key Features
Four circumferential grooves increase wet traction
Polyester casing to provide comfort
EcoPlus technology to improve handling and remain fuel efficient
Pros
Impressive handling and cornering on dry and wet roads
Crips steering responsiveness
Very comfortable driving experience
Cons
Snow performance is average
Treads wear out quickly
Click Here For A Complete Review
10 – Firestone Destination LE 2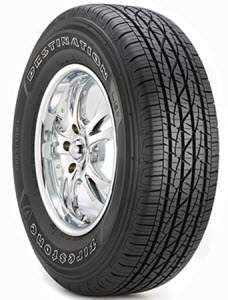 The Firestone Destination LE 2 provides crossover and SUV drivers increased traction and handling on dry and wet roads. The tread has been designed with grooves and sturdy shoulder blocks that allow the vehicle to easily negotiate sharp corners with responsive steering.
While you may not expect to find a Firestone on this list, the Destination LE 2 may actually offer the most quiet ride of any tire in its class. Optimized Noise Sequencing is behind the noise reduction you'll find on this model. An overwhelming majority of drivers agree, this is not only a well-performing tire on the road, it's also one of the most quiet as well.
Key Features
Sipes and grooves improve traction
Noise sequencing to reduce noise output
Shoulder blocks improve tread life and dry performance
Pros
Excellent traction on dry roads and highways
Wet braking and cornering is excellent
Pleasant driving experience with low noise and vibrations
Cons
Performance on heavy snow is average
Tread life could be improved
Click Here For A Complete Review
Why buy Quiet Tires?
Drivers can become irritated by tires that have poor impact absorbing properties, which will cause occupants to feel vibrations and loud tire squeals. To remedy this annoyance, drivers should look to purchase the quietest tires that are available in the market.
Tire manufacturers aim to provide drivers and passengers alike, comfort and stability through tires with special tread compounds and tough sidewalls. These features enhance the durability of the tire and also minimize the vibrations felt by the occupants of the vehicle.
Quietest Tire FAQs
How Do I Choose A Quiet Tire?
There are a few things to look for when selecting a quiet tire. Among them are circumferential ribs with straight grooves. They reduce noise as air flows freely out of the tire without getting trapped inside the grooves.
Can The Quietest Tires Get Louder Over Time?
With increasing wear, tires tend to get noisier. The tread of the tire wears away, and the variable pitch of the tire that used to reduce the noise leveled, which adds to the noise. The tire's elements can also start squirming under the weight of the car. If the noise becomes unbearable, you may need to have your tires changed.
How Can You Check Whether A Tire Is Quiet Or Not?
Only when you drive your car with the tires on can you be certain of how noisy a tire is. But some things tell you if the tire will be quiet. The softer rubber composition is one of them. Apart from that, different tread block shapes can also create different pitched road noises that "cancel out," so you get a quiet ride.
Are There Other Things I Can Do To My Vehicles To Make The Tires Quieter?
Drive slower so that the tires don't make that much noise. Also, keep them inflated to the recommended pressures at all times to reduce the noise. A good way to do that is to take some time out each morning to check your tire pressure with a digital pump.
What Does An Out Of Balance Tire Sound Like?
Unbalanced tires are uneven and also wear much faster than their balanced counterparts. They tend to provide poor gas mileage. When your front wheels are unbalanced, you will feel the vibration in your seats, the steering wheel and the floorboard when you're going at faster speeds.
How Do I Know If My Tires Need Rotation?
Wheel rotation becomes necessary when you see uneven wear on your tires. Uneven wear may cause vehicle vibration at sustained speeds of 45 mph and higher. You may see that one of the tires is wearing more than the others, and only one of the tires has less air than all the others. This means the weight of your car is being distributed unevenly. If you see this happening, it's time to rotate your tires.
---