Top 10 Lowest Priced Tires
Looking for the lowest priced tires for your car? We've listed below our choices for the 2018 Top 10 Lowest Priced tires on the market today. All ten are made to fit one of the most common tire fitments of 205/55R16.
One quick note on this list. All of these tires have lower prices, but are not cheap tires in the sense of poor quality. It makes no sense to mount a new no-name tire that will save you $10, only to have the tread separate or blow out after 1,000 miles. Not only will it cost you more money, but it can also become a potentially dangerous situation out on the highway. List appears in no particular order.
---
Kumho Solus KR21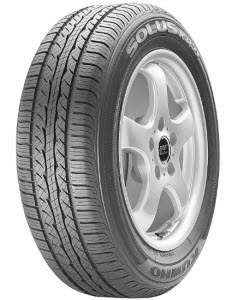 Designed for coupes, sedans, minivans, crossovers and SUV's, the KR21 sports excellent traction on dry and wet roads, as well as decent grip on snow. Cornering is stable and predictable, while the ride is smooth and comfortable. Kumho includes an 85,000 mile tread warranty.
Click Here For A Complete Review
Sumitomo Touring LS
Although Sumitomo may not be a brand that first comes to your mind in new tires, the Touring LS is one of the better low-cost tires on the market today. It delivers traction and handling that rival bigger name brands, while providing for a longer lasting treadlife. That's evidenced by the 85K mile tread warranty that goes with it.
Click Here For A Complete Review
General G-Max AS-03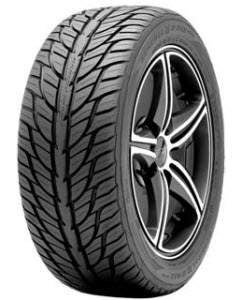 For a low-priced higher performing all-season tire, the G-Max AS-03 is also one of the better tires in its class. It sports impressive handling and cornering grip, a comfortable ride and it delivers very good winter traction. There's also a 40K mile tread warranty that goes with it.
Click Here For A Complete Review
Fuzion Touring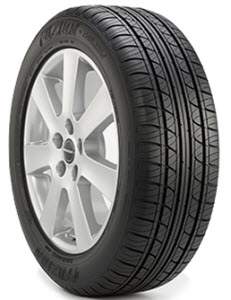 All-season touring performance and a quiet ride highlight what you can expect from the Fuzion Touring. This tire does pretty well in winter weather and overall traction and handling is good. Treadwear is better than average, and it comes with a 55,000 mile warranty.
Click Here For A complete Review
GT Radial Champiro VP1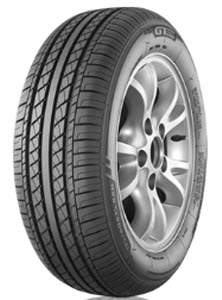 The VP1 from GT Radial combines a lower price with a tire that offers higher performance and lower rolling resistance that could save you some money on gas over time. All-season traction is very good on this tire, and a 40,000 mile warranty comes with it.
Click Here For A Complete Review
Kumho Ecsta PA31
Kumho has several tires that are lower priced for the budget conscious driver, but there Ecsta PA31 is a newer tire that is one of the cheapest high performance all-season tires sold today. It sports very good dry and wet traction and braking to go along with a quicker steering response. The ride is comfortable both in town and on the highway, and Kumho backs it up with a 50K mile tread guarantee.
Click Here For A Complete Review
General Altimax RT43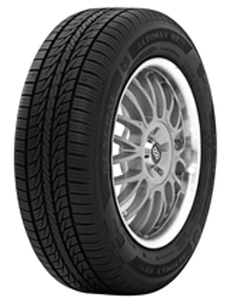 Not only is the General RT43 priced lower than most any all-season tire, but it is arguably one of the best in the entire class. You'll notice the traction on dry, wet and light winter road conditions is excellent, and General's twin-cushion tread compound provides for a smooth and comfortable driving experience. A 75K mile tread warranty is also part of the package. Dollar for dollar the RT43 is our top choice for a basic all-season tire.
Click Here For A Complete Review
Ohtsu FP6000 A/S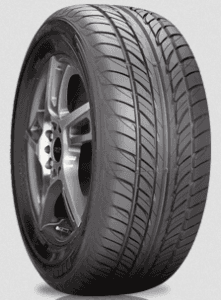 If you're looking to spend the least amount possible on a set of all-season tires, the Ohtsu FP6000 may be exactly what you're looking for. We haven't found another new tire with a lower price that we would drive on. It offers dependable traction and handling along with a comfortable ride. There's even a 35K mile tread warranty on this tire. For basic driving needs it does the job.
Click Here For A Complete Review
Westlake SA07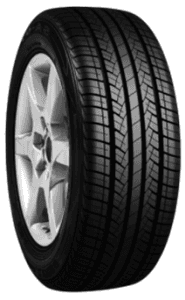 Beyond its lower price point, the Westlake SA07 also offers pretty good dry and wet traction to go with a ride that is comfortable for a high performance all-season tire. Comparable to the performance of other tires like the Riken Raptor ZR or Sumitomo HTR Z, this model costs a bit less.
Click Here For A Complete Review
Starfire RS-C 2.0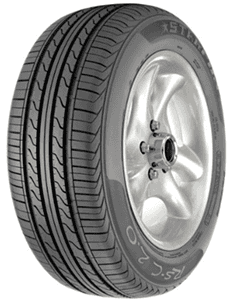 As a division of Cooper, Starfire tires are known for their overall good quality and lower price point, and the RS-C 2.0 is no different. What may surprise you though is the very capable dry/wet traction along with the smooth and comfortable ride. Good performance at a budget-friendly price is what you'll find with this model.