Super Swamper M16 Tire Review & Rating
The Super Swamper M16 from Interco is designed to be an in-between all-terrain and mud tire so to speak. The rugged tread appearance and solid off-road performance is further enhanced by providing competent on-road drivability.
A tough all-terrain tread compound combines with an asymmetric and unique tread pattern that gives this tire very good grip on all types of terrain. This model provides traction on dirt, mud, gravel, rock and more. In addition, they clean out better than average and the side lugs can really throw the dirt.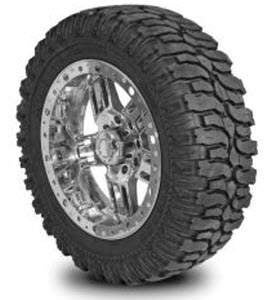 Highway performance will surprise many truck owners. With this type of aggressive tread pattern you would think these would be very loud to say the least. Actually, they are more quiet than many mud tires, and the dry and wet pavement traction is equally as impressive.
The tire features a 10-ply tread and 2-ply sidewall construction, while tread depth is 20/32. Sizes are available from 15-24 inches.
Pros
Excellent off-road performance

Better than average highway drivability

Aggressive good looks

Tires are quieter than many other MT's
Cons
Snow and ice traction could be better

Tread life may be shorter for some
Overall Thoughts
We really like this Super Swamper tire. It's comparable to Nitto in a way, except we feel it performs a little better and costs a bit less. The look of the tire really catches your eye.
Traction in all types of terrain is excellent. The only area we could see improving upon is in deeper snow and ice. It will get you where you want to go, but you'll just have to use extra caution.
Many drivers have mentioned being surprised at how well the tires ride on the highway and how quiet they are, and we agree. That said, the M16 is more at home in off-road conditions.
Interco has done a nice job with this model. Overall, we can definitely recommend this tire for anyone who wants the performance of an all-terrain and mud tire, yet still desires some dependable drivability on-road.
Tire Sizes
15″
31X10.50R15LT M16-35R BLK
33×13.00R15LT M16-20R BLK
33×10.50R15LT M16-39R BLK
37×13.50R15LT M16-50 BLK
16″
31X10.50R16LT M16-37R BLK
33X10.50R16LT M16-41R BLK
LT295/75R16 M16-27R BLK
33×13.00R16LT M16-21R BLK
35×12.50R16LT M16-25R BLK
37×13.50R16LT M16-52 BLK
17″
31X10.50R17LT M16-43R BLK
LT295/70R17 M16-07R BLK
33×13.00R17LT M16-23R BLK
33X10.50R17LT M16-45R BLK
35×12.50R17LT M16-29R BLK
37×13.50R17LT M16-54 BLK
18″
LT285/65R18 M16-09R BLK
35×12.50R18LT M16-31R BLK
37×13.50R18LT M16-56 BLK
20″
35×12.50R20LT M16-33R BLK
37×13.50R20LT M16-58 BLK
40X14.50R20LT M16-59 BLK
22″
37×13.50R22LT M16-60 BLK
40X14.50R22LT M16-61 BLK
24″
37×13.50R24LT M16-62 BLK
40X14.50R24LT M16-63 BLK
Price Range
Interco Super Swamper M16 prices range from approximately $247 and up. You may also find occasional rebates, discount prices, coupons and special offers on this tire.
Warranty
Super Swamper provides a limited tread warranty on the M16.
---