Sumitomo Ice Edge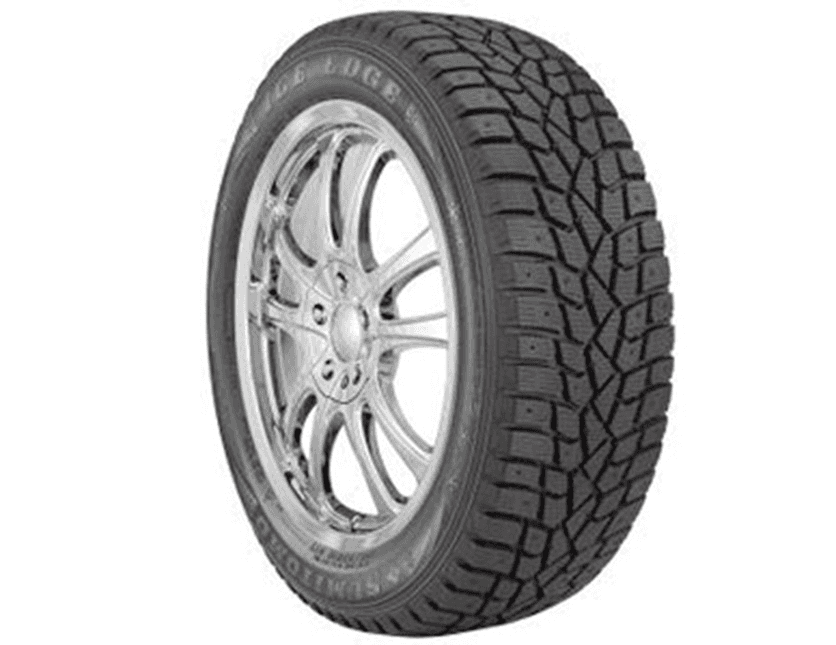 Winter tires are specially designed to give you added grip for icy roads. They are made for the kind of conditions that would seeregular tires skid around dangerously.
Today, we will discuss the importance of winter tires and review our pick for the season: the Sumitomo Ice Edge.
Read on to get the complete lowdown on the technologically superior tire that will offer you style, control, and peace of mind when driving in frosty conditions.
Shop now at Amazon.com
The Importance Of Using Winter Tires
Winter tires employ an extra-flexible rubber to weather cold temperatures, as regular rubber tends to harden up in low temperatures, almost acting like plastic.
Also, tires designed for icy roads feature a tread design with larger gaps than regular tires. This is to avoid snow build-up and additional traction.
Winter tires also tend to have deep grooves, to spit out any snow or water accumulation.
Many snow tires are designed to allow for studs to be put in. Stud-able tires are not considered legal because, for only a few winter months, they tend to wear roads out considerably. Unstuddable tires feature numerous sipes.
Shopping for winter tires can be a chore if you do not know what to look for. If you're looking for an all-rounder, an excellent option is the Sumitomo Ice Edge.
Sumitomo Ice Edge: Specifications
Sumitomo Tires is a part of the larger Sumitomo group, a Japanese conglomerate based in Tokyo, which has been around since 1919. The company is time tested and receives excellent reviews.
The Ice Edge is no exception to the standards that Sumitomo has held itself to. This series of tires are specifically designed for mild to harsh wintery conditions.
The Ice Edge features a unique 3D Sipe technology;this allows the tire to have a strong grip on slippery road surfaces, especially melting ice or slushy roads.
Ice Edge tires also feature a soft silica tread compound that helps maintain grip in slush. The smooth silica tread is also complemented with a base compound that is very hard. The silica helps in gripping surfaces, and the triangular tread completes the 3DSipe technology.
The sidewall of this tire is incredibly tough and is supported by a bead apex; this makes the tire durable for a long time. A bead apex complementsthe durability of the tire and makes it a well-rounded choice, on-paper, while not costing much.
Aquaplaning is one of the biggest complaints drivers have when driving through water or snow; it refers to water building-up infront of the tire rather than being displaced by it.This tire features high hydroplaning resistance, also known as aquaplaning resistance.
Pros
Provides excellent traction and grip in low temperatures
Added hydroplaning resistance
3D Sipe Technology
Sturdy sidewalls with bead apex complement
Triangular serrated tread
Quiet tires
Perform well in a variety of road conditions; snow, slush, ice
Cons
Weak in areas of dry conditions
Tends to wear quicker
Drive not as smooth as some other variants in the market
Sumitomo Ice Edge: Comprehensive Review
After trying out these tires for ourselves, we have come to a few conclusions:
Technical
The Sumimoto Ice Edge provides excellent traction for winter conditions. The tread keeps the slush out and prevents any slipping. The triangular serrated tread proves to be extra handy in this regard.
Drivers can venture out into severe winter without worrying about the tires giving away.
The tires are designed keeping durability in mind; it's evident even while driving in pretty tough conditions, the Ice Edgecan hold its own.
The 3DSipe technology optimizes the traction on snow-covered roads. These tires can manoeuver through thick snow, but sometimes if the snow gets deep, they do show some difficulty moving smoothly.
The Ice Edge boasts an advanced tread compound that is suited for better performance in winter temperatures.
Comfort
The major take-awayfrom our test run of theSumitomo Ice Edge was the comfort level.
They delivered a comfortable ride on those smooth expressways as well as cobblestone inner-city roads. Even when the road got bumpy with potholes or pebbles in the way,the experience was still comfortable.
Performance And Feel
In terms of weight, the Ice Edgeis relatively heavy compared to some other models. This tire is not compact as some of the newer tires in the market.
Also, we felt our vehicle sat a bit higher than usual with these tires. For those not used to this, it can be daunting in the beginning.
The studs are most suitable in 12" and 13" sizes. The studs are not included and must be added separately, proving to be a hassle for some.
The top-rated speed is marked up to 118 mph, which is slightly overstated. The stability and smoothness of drive diminish at rates less than this number.
General Overview
One factor that takes away from the Ice Edge's merit is that this tire is relatively older than newer variants on the market.
Sumitomo released the Ice Edge in 2017. There are a lot of newer snow tires on the market now with more innovation and better specifications. Though, as they say, old is gold.
The price is quite reasonable, compared to some of the other variants. Most winter tires with the same features will burn a hole in your pocket.
Also, you will get good value for the price on this tire;because of its superior durability, you will likely not need to change your tire for a long time.
What Vehicles Will The Sumimoto Ice Edge Fit?
Subaru: Outback
Nissan:Patrol, Skybird
BMW: 5 series, 3 series
Ford: Mustang, Ranger
Tire Size
14"
175/70R14(88T)
185/65R14(86T)
15"
215/70R15(98T)
175/65R15(84T)
185/65R15(88T)
195/65R15(91T)
205/65R15(94T)
185/60R15(84T)
195/60R15(88T)
185/55R15(82T)
16"
215/70R16(100T)
225/70R16(103T)
235/70R16(106T)
245/70R16(107T)
265/70R16(112T)
205/65R16(95T)
215/65R16(98T)
225/65R16(100T)
235/65R16(103T)
205/60R16(92T)
215/60R16(95T)
225/60R16(98T)
235/60R16(100T)
195/55R16(87T)
205/55R16(91T)
215/55R16(97T)
17"
215/65R17(99T)
225/65R17(102T)
235/65R17(108T)
245/65R17(107T)
215/60R17(96T)
225/60R17(99T)
235/60R17(102T)
215/55R17(94T)
225/55R17(97T)
235/55R17(99T)
205/50R17(93T)
215/50R17(91T)
225/50R17(94T)
215/45R17(91T)
225/45R17(94T)
18"
235/65R18(106T)
225/60R18(100T)
235/60R18(107T)
245/60R18(105T)
265/60R18(110T)
225/55R18(98T)
235/55R18(100T)
255/55R18(109T)
235/50R18(97T)
225/45R18(91T)
245/45R18(100T)
19"
235/55R19(105T)
245/55R19(103T)
245/45R19(98T)
20"
245/50R20(102T)
265/50R20(107T)
Price Range
These tires still won't be as heavy on your wallet as some othervariants on the market. However, do keep in mind that winter tires are more expensive than normal ones, so they still are on the expensive side.
You can get a set of four tires for much less than other options on the market. They will cost you somewhere between $75 to $180.
Warranty
The warranty applies if the tire is not worn down to 1.6 mm, which can be determined by looking at the indicators on the tread grooves.
This warranty only applies to tires of radial passenger cars and light truck/SUV tires of the radial category.
Conclusion
Ofcourse, there are tires on the market that may be cheaper but not as good. There will also be better and more advanced tires without the compatibility or feel of the Ice Edge.
In our experience, the Sumitomo Ice Edge represents one of the better value purchases you can make when looking for a winter tire. Coupled with the exceptional comfort it provides, the Ice Edge is an all-rounder of a winter tire!
Shop now at Amazon.com