Sumitomo HTR Z II Tire Review & Rating
The HTR Z II is Sumitomo's 2nd generation (High Technology Radials) high performance summer driving tire. Engineered to provide excellent dry and wet traction, as well as glue-like cornering abilities, the HTR is designed for drivers of all types of sport coupes and sedans who are looking not only for higher performance, but a budget-friendly price to go along with it.
A high performance micro carbon and silica tread compound combines with a unique looking directional tread pattern to provide enhanced dry pavement traction. The aggressive tread pattern utilizes shorter and wider shoulder block stabilizers that are developed to increase cornering grip and steering response, in additional to more even treadwear.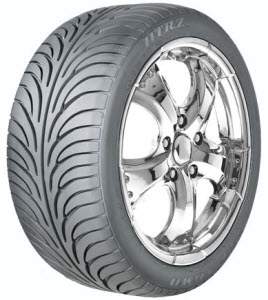 The tire's deep circumferential rain groove is distinct and provides excellent hydroplane resistance. Multi-direction rain grooves further increase wet surface handling and performance by channeling away water from the tire, while improving steering response as well.
Variable-width lateral grooves and Sumitomo's tread pitch sequencing work together to reduce outside road noise. Inside the tire you will find two high density steel belts that use Jointless Nylon Band technology for added strength and durability, as well as enhanced ride comfort. A built-inflange guard helps to protect wheels from curb damage. Sumitomo offers the HTRZ II in 16-20 inch sizes.
Pros
Dry and wet traction is very good

Outstanding cornering performance and overall stability

Steering is responsive and provides excellent feedback

Comfortable riding tire

Value and performance for the money
Cons
Road noise as tire wears down

Not for winter driving
Overall Thoughts
Without a doubt, the HTR Z II provides very good performance for the money when it comes to cheap tires. You can expect excellent dry pavement traction and cornering stability, as well as better than average wet surface handling. The steering is tight and very responsive on this model.
Ride comfort is good, but that is not a big factor for a tire in this class. Naturally, this tire should not be used in cold temps or winter weather conditions. Tread wear is good, but that is also subjective to your driving habits. Overall, Sumitomo has a solid performing tire that ranks in the middle of this class. We like it and recommend it as a low-cost option in high performance tires.
What Vehicles Will The HTR Z II Fit?
Fits these vehicles and many others:
Acura RSX, TL, Integra

BMW 740i, M3, 540iA, 325Ci, 550i

Cadillac Deville DTS

Chevrolet Camaro, Corvette, Cobalt, Impala

Ford Mustang, Focus

Honda Prelude, Civic, Fit, Accord, S2000

Kia Spectra

Mazda5, Mazda3, Miata, Protege

Mercedes-Benz E430, C230, C43, E55

Nissan Maxima, Altima, 300ZX

Pontiac GTO, Trans Am, Grand Prix

Porsche Boxster, 911

Scion xB

Subaru Legacy, Impreza WRX

Toyota MR2, Celica GTS

Volkswagen Rabbit, Jetta, GTi, Passat

Volvo S60, S40, C70
Tire Sizes
16″
205/45ZR16 83W BW
205/50ZR16 87W BW
225/60ZR16 98W BW
235/60ZR16 100W BW
17″
205/40ZR17 80W BW
205/50ZR17 89W BW
215/40ZR17 83W BW
215/45ZR17 87W BW
225/45ZR17 90W BW
235/40ZR17 90W BW
235/45ZR17 93W BW
245/40ZR17 91W BW
245/45ZR17 95W BW
255/40ZR17 94W BW
255/45ZR17 98W BW
275/40ZR17 93W BW
18″
225/40ZR18 88W BW
235/40ZR18 91W BW
245/40ZR18 93W BW
255/45ZR18 99W BW
265/35ZR18 93W BW
275/35ZR18 95W BW
275/40ZR18 99W BW
285/30ZR18 93W BW
285/35ZR18 97W BW
19″
235/35ZR19 91W BW
20″
255/35ZR20 93W BW
Price Range
Prices on the HTR II range from approximately $64 and up. You may also find occasional rebates, discounts, coupons and special offers on this tire.
Warranty
Sumitomo provides a limited tread warranty on the HTR Z 2. Tire uniformity is guaranteed for the first 1/32 inch of wear. Materials and workmanship are warranted for 6-years and include free replacement during those 6 years or down to the final 2/32 inch of tread depth.
---
Share this review