Sumitomo HTR T4 Tire Review & Rating
The HTR T4 from Sumitomo is the company's budget-friendly touring all-season tire. Engineered for drivers of coupes, sedans, minivans and crossovers, the HTR T4, (which stands for High Technology Radials – T-Speed Rated – 4-Season) sports year round traction with a longer lasting treadlife and more comfortable ride quality.
An all-season carbon black tread compound and symmetric tread pattern that is super computer designed, provide predictable all-season traction and handling as well as a longer tread life. The tire's continuous center rib and notched shoulders deliver enhanced stability and steering response. They also provide increased braking and acceleration on dry or wet roads.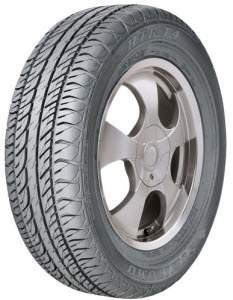 Four circumferential grooves channel away water in wet weather to enhance traction and reduce the risk of hydroplaning. Club shaped sipes lead into wider lateral grooves to further improve water drainage and overall performance. Multi-siped tread blocks provide biting edges for grip on snow covered road surfaces.
Inside the tire you will find two steel belts that are strengthened by Sumitomo's JNB technology. This unique jointless nylon band technology adds spirally wrapped nylon that adds strength and durability throughout the speed range. A polyester cord body increases ride comfort and gives the tire a more smooth ride. This model also comes with a 75,000 mile tread guarantee, and is available in 13-16 inch sizes.
Pros
Excellent dry traction and cornering

Steering is responsive and predictable

Comfortable riding tire

Value priced and comes with a 75,000 mile tread warranty
Cons
Wet and winter traction and handling

Tires are a bit noisy as they wear down
Overall Thoughts
The HTR is a very good middle of the pack performing tire in the touring all-season class. Dry traction and cornering performance is excellent on this tire. The steering is responsive and provides good overall feel. You can expect a comfortable ride, although the tire gives a little more road noise as it ages.
Our biggest issue with this model is traction on wet road surfaces, as well as winter handling. This has been discussed by other drivers as well. The tires tend to slip a bit easier than we'd like. Overall, this tire still provides value for its low budget-friendly price. While there are other tires in this class that offer higher performance, the HTR is not a bad option by any means.
What Vehicles Will The HTR T4 Fit?
Fits these vehicles and many others:
Buick Lesabre, Regal, Century

Chevrolet Monte Carlo, Venture, Impala

Chrysler PT Cruiser

Dodge Neon

Ford Taurus, Windstar, Aspire, Mustang, Escort, Contour

Honda Civic

Hyundai Tucson, Elantra

Infiniti J30

Mitsubishi Galant

Nissan Maxima, Altima

Pontiac Grand Prix, Vibe, Firebird, Grand Am

Saab 9-3

Saturn Ion

Subaru Forester, Impreza, Legacy

Toyota Corolla, Camry, Prius, Tercel

Volkswagen Jetta, Beetle

Volvo S40
Tire Sizes
13″
P165/70R13 78T BW
P175/70R13 82T BW
P185/70R13 85T BW
14″
P175/65R14 81T BW
P175/70R14 84T BW
P185/60R14 82T BW
P185/65R14 85T BW
P185/70R14 87T BW
P195/60R14 85T BW
P195/70R14 90T BW
P205/70R14 93T BW
P215/70R14 96T BW
15″
P205/70R15 95T BW
P215/70R15 97T BW
P195/65R15 89T BW
P205/65R15 92T BW
P215/65R15 95T BW
P195/60R15 87T BW
P205/60R15 90T BW
P215/60R15 93T BW
16″
P215/60R16 94T BW
P225/60R16 97T BW
P205/55R16 89T BW
Price Range
Prices on the HTR T4 range from approximately $51 and up. You may also find occasional rebates, discounts, coupons and special offers on this tire.
Warranty
Sumitomo provides a 6-year or 75,000 mile tread warranty on this model. However, if the rear tire size is different from the front there is no treadlife guarantee.
Tire uniformity is warranted for the first 1/32 inch of wear. Materials and workmanship are covered for 6-years and include free replacement during those 6-years or down to the final 2/32 inch of tread depth.
---
Share this review