Sumitomo Encounter AT Review
When adventure calls, you need a tire which can provide the go anywhere, do anything capability. General all-terrain tires feature aggressive, large tread blocks to grip loose ground like mud and sand, but softer compounds for less noise on the road and better wet traction. Sumitomo Encounter AT are an entry level all-terrain tire that should offer competitive performance at great value.
Sumitomo is a long-standing tire company which can trace its roots back hundreds of years. Based in Japan, these quality tires have been a big player in the industry for decades. Encounter AT tires are designed to provide the traction causal and off-road enthusiasts look for. Large tread patterns are constructed from a specialized compound. 3D sipes and lateral grooving give the tires biting edges for slippery surfaces. Large grooves through the middle of the tire keep channel water from under the tire and should provide some resistance to hydroplaning. Sidewall tread is designed to keep stones and rocks from becoming caught up in the tread.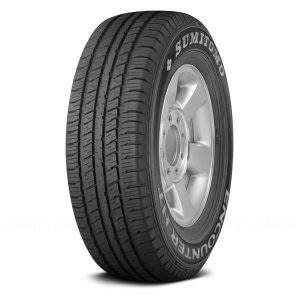 Pros:
Budget conscious all-terrain tire with competitive performance

Great wet weather control.
Three peak snow mountain symbol for winter traction.
Cons:
Lots of road noise on paved roads at speed.
Click Here To Find Lowest Prices On All Sumitomo Encounter AT Prices
Performance
As a tire which focus is on all-terrain capability, it's a bit different than pure mud or off-roading tires. The tread pattern is not as deep or as harsh as pure mudding tires, which should work to help reduce the noise they generate on highways. Striking a balance between pure off-road capability and everyday driving, Encounter AT tires can offer good value. Molded into a symmetrical tread pattern with deep tread grooves. The tire should resist wear and provide a more comfortable ride in part because of this tread design. When a tire surface wears evenly, it can reduce the bumps or warping which may cause an early end to useful life.
Four large grooves run the circumference of the tire. These deep channels between large tread blocks create good drainage for water to be cleared from the bottom of the tire. Water is also forced out the sides through lateral grooving, while tire rubber bites down on hard pavement. When rubber contact is maintained on hard surfaces, the tire can keep grip and resist some of the affects of hydroplaning. Three tread strips form the inner blocking, creating a wide, continuous footprint on the road. These patter designs should help reduce the noise generated by the tires when on paved surfaces and can provide extra grip on loose surfaces like mud, sand or gravel.
Built into the large tread blocks which line either shoulder are specially designed 3D sipes. These small, zig zag shaped grooves give the tread extra flexibility. They act as extra grab points for treads, pinching down onto loose surfaces like snow, mud or sand. This can result in better traction on a variety of softer or off-road surfaces. The tread of Encounter AT tires has been tested and meets the requirements for the three peak mountain snow flake symbol. While not a true winter tire, it should provide some good light snow and cold weather traction. Shaped treads are staggered along the tire shoulder. These can help keep stones and other objects from getting stuck between tread blocks.
Internal construction has features nylon wrapped steel belts, reinforcing the structure of the tire. When the terrain is less than ideal, strengthened tires should maintain their shape as the weight of the vehicle is transferred. Keeping rigid sidewalls can also improve general ride quality, particularly when under the heavy load of towing or payloads.
Tire sizes available
Sumitomo Encounter AT tires are available for a wide range of light trucks and SUVs which rims from 15" to 20". Here is a list of some sizes currently available:
225/75R16E
235/70R16T
235/70R17T
235/75R15T
235/75R17T
235/80R17E
235/85R16E
245/65R17T
245/70R16T
245/70R17E
245/70R17T
245/75R16E
245/75R16T
245/75R17E
255/65R17T
255/70R16T
255/70R17T
255/70R18T
265/60R18T
265/60R20E
265/65R17T
265/65R18T
265/70R16T
265/70R18E
265/70R18T
265/75R16E
265/75R16T
275/55R20T
275/60R20T
275/65R18E
275/65R18T
275/65R20E
275/70R18E
285/55R20E
285/60R20E
285/65R18E
285/70R17E
285/70R17T
285/75R16E
305/55R20E
31-1050R15C
315/70R17E
325/60R20D
325/65R18E
35-1250R20E
Warranty
It's not common to find some of the coverage provided by Sumitomo for Encounter AT tires. Treadlife is guaranteed for 60,000 miles or four years. Tires are replaced fully for the first 2/32" of wear and prorated until the tread has 2/32" remaining. Uniformity is guaranteed for the first 2/32" of wear. Manufactures defect is covered for six years from the date of manufacture or five years from purchase. First 2/32" is fully covered, with replacement prorated until 2/32" remaining. Sumitomo also provides a basic road hazard warranty for the first 12 months or 2/32".
Customer reviews
The value offered by Sumitomo Encounter AT tires has made them a popular one with customers. Many are surprised by the quality of ride and the performance they provide. In some cases, tires were used through all four seasons and a variety of weather. Owners reported them working well in these conditions. Other report the tires behave well in wet and very wet conditions, as deep tread provide good resistance to hydroplaning even at speed. There were some wear issues reported for customers, but they were early in the tire's life and replaced under warranty. Generally speaking, owners were very happy with the tire and recommend them. Many will be repeat customers.
Conclusion
Drivers with light trucks and SUVs with an interest in some off-roading may need a tire which is capable in a variety of terrains. Encounter AT tires should provide good traction in wet and dry. 3D sipe technology can help the tire bite down, which should improve braking performance and provide traction on snow, wet roads, sand and other terrain. Tested and qualified to receive the three mountain peaks snow flake symbol, these tires can provide good traction in many extreme snow conditions. Symmetrical tread design and circumferential grooves clear standing water from under the tire, which may provide confident grip. As a feature packed all-terrain tire, Encounter AT may live up to the go-anywhere, through anything expectations customers might have from all-terrain tires.
Click Here To Find Lowest Prices On All Sumitomo Encounter AT Prices