Radar Rivera GT10 Tire Review & Rating
The Radar Rivera GT10 basic all season tire focuses on providing reliable traction and grip in year-round conditions for drivers of SUV's, CUV's and light truck. In addition, for budget-minded drivers, this tire is designed to save you a considerable amount of money.
Sporting a symmetrical tread design that is molded from an advanced, high-quality tread compound, the Rivera GT10 maintains excellent traction and grip in different types of weather conditions.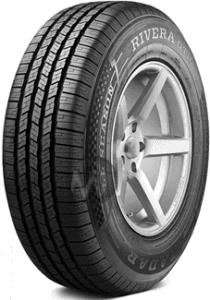 The tires' wide circumferential grooves and multi-sipe design add to wet traction and reduces the chances of hydroplaning on wet road surfaces. These sipes also provide extra grip on slush and light snow covered pavement, although this is not a strength for this model.
These features also combine to produce a tire that wears evenly, while also giving it a quieter, smoother and more comfortable ride quality.
Radar offers a wide range of 15-20 inch LT and non-LT sizes, with S and T-speed ratings available. A 45K mile treadwear warranty is also included on all sizes.
Pros
Good wet and dry traction, grip and handling
Quiet, smooth ride
Low cost
Cons
Overall Thoughts
The Radar Rivera GT10 All Season tire is a middle of the pack performing touring all-season tire. It offers dependable dry and wet traction to go with good handling and stability on the highway. In addition, ride quality is not bad at all on this tire, and treadlife has shown to be better than most light truck budget all-season tires.
On the negative side, the GT10 struggles during the winter when there is snow or ice on the road. However, this is a common issue for most any all-season tire.
Overall, the Radar Rivera GT10 is not a bad option for drivers looking for affordable tire that performs well throughout the year. However, if your budget permits, you may want to opt for a stronger performing tire like the Michelin Defender LTX M/S, Yokohama YK-HTX or Pirelli Scorpion Verde All Season Plus among others.
What Vehicles Will The Radar Rivera GT10 Fit?
(This is not a complete list of ALL vehicles this tire will fit)
Chevrolet Tahoe, Trailblazer, Suburban, Avalanche, Silverado
Dodge Durango, Ram, Dakota
Ford Expedition, Explorer, F-150, Ranger
GMC Yukon, Sierra, Acadia, Envoy
Honda Ridgeline, CR-V
Jeep Grand Cherokee
Mercury Mountaineer
Mitsubishi Outlander
Nissan Pathfinder, Titan, Frontier
Toyota 4Runner, Highlander, Sequoia, Tundra, Rav4, Tacoma
Tire Sizes
15″
235/75R15 108T XL BW
31X10.50R15LT 109S BW
16″
235/70R16 104T BW
245/70R16 106S BW
245/75R16 109S BW
255/70R16 109S BW
265/70R16 111S BW
265/75R16 114S BW
LT215/85R16 115/112Q BW
LT225/75R16 115/112Q BW
LT235/85R16 120/116Q BW
LT245/75R16 120/116Q BW
LT265/75R16 123/120S BW
LT285/75R16 126/123S BW
17″
225/65R17 102T BW
245/65R17 105T BW
245/70R17 108S BW
265/65R17 110S BW
265/70R17 113S BW
LT245/75R17 121/118Q BW
LT265/70R17 121/118Q BW
18″
LT275/70R18 125/122S BW
20″
275/55R20 117S XL BW
Price Range
Radar Rivera GT10 prices range from approximately $79 and up. You may also find occasional rebates, discount prices, coupons and special offers on this tire.
Warranty
Radar provides a 45,000 mile tread warranty on the Rivera GT10.
---