Pirelli Scorpion Zero Asimmetrico Tire Review & Rating
Developed exclusively for high performance sport trucks, SUV's and crossovers, the Scorpion Zero Asimmetrico from Pirelli is designed to provide precise handling and control in year round conditions, including light snow. Basically, Pirelli has taken the same elements from a high performance summer tire and built them into a sport truck application.
A unique all-season tread compound is combined with an asymmetric tread pattern toprovide enhanced grip and traction on dry or wet road surfaces. Notched outer shoulder ribs and larger tread blocks provide high performance cornering power and give added steering response and feel. You'll find yourself feeling in control at all times throughout the speed range. Pirelli's Z-shaped tread blocks further increase grip as well.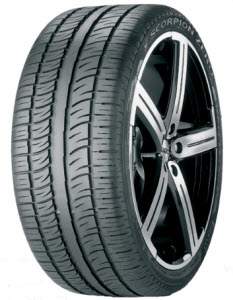 When the roads turn wet or lightly snow covered, Pirelli's four wide circumferential grooves and multiple sipes around the tread enhance traction and handling by expelling water from under the tire and reducing the risk of hydroplaning.
The tire's solid center rib not only adds more stability at higher speeds and better braking performance, but it also helps to eliminate road noise to improve ride quality.
Inside the tire you'll find two steel belts with spirally wrapped nylon to give added strength and reinforcement. Together they provide increased durability at higher speeds and promote more even treadwear. The Zero Asimmetrico is available in a wide range of tire speed ratings and sizes ranging up to 30 inches.
Outstanding dry pavement traction and cornering performance

Wet handling and grip are very good

Smooth comfortable ride

Tire is available in sizes up to 30 inches
Cons
Would like to see a little better treadlife
Overall Thoughts
For straight line acceleration, cornering power and braking performance, this Pirelli Asimmetrico ranks as one of the top tires in this class. The steering response and control on dry/wet pavement is outstanding. Although this is a sport tire, ride comfort is not that bad as well.
The biggest area we have found concern in would be the treadlife. For some drivers it has been an issue, but for others it has not. It really depends a great deal on your driving style. Naturally, traction on deep snow or ice is not going to be on the level of a winter tire, but it will handle lesser amounts pretty well.
Overall, if a high performance all-season truck/SUV tire is what you are seeking, this Pirelli model is a very good option.
Click Here For Current Pirelli Coupons
Click Here To Find Current Price
What Vehicles Will The Pirelli Asimmetrico Fit?
(This is not a complete list of ALL vehicles this tire will fit)
BMW X3, X5

Cadillac Escalade

Chevrolet Tahoe, Suburban, Silverado

Dodge Ram, Dakota, Durango

Ford F-150, Edge

GMC Envoy, Yukon, Sierra

Infiniti FX45

Jeep Grand Cherokee

Land Rover Range Rover

Mercedes Benz ML320, GLK350

Nissan Titan

Porsche Cayenne

Toyota Tundra

Volkswagen Tiguan, Touareg

Volvo XC90, XC60, XC70
Tire Sizes
17″
235/55R-17 99V B VOL
235/60R17 102V MBZ B
235/65R17 104H VOL B
255/55R17 104V MBZ B
18″
235/50R-18 97V VOL B
235/50R18 97H VW B
235/60R18 103H VOL B
285/50ZR-18 109W BLK
19″
235/45R19 XL 99V B
235/55R19 XL 105V LR
255/50ZR19 107Y XL B
255/50R19 103W B MBZ
285/45ZR-19 107W BLK
20″
235/45R20XL 100H MBZ
255/45R20XL 105V VOL
265/45R20XL 108H B
275/40R20 XL 106H VW
275/40R20 XL 106Y LR
275/45R20XL 110H AUD
22″
265/35ZR22 102W XL B
P265/40R22XL105W FRD
P275/45R22XL112V FRD
285/35ZR22 106W XL B
P285/45R22 XL 114V B
295/30ZR22 103W XL B
305/35ZR22 110W XL B
305/40ZR22 114W XL B
23″
305/35ZR23 111W XL B
24″
285/35R-24 XL 108W B
295/40R-24 XL 114W B
305/35ZR24 112W XL B
26″
295/25R26 XL 102W B
295/30R26 XL 107W B
305/30ZR26 109V E XL
315/40R-26 XL 120V B
28″
295/25R28 XL 103V B
325/35ZR28 120V XL B
30″
315/30ZR30 114V XL B
Price Range
Prices on the Pirelli Asimmetrico range from approximately $188 and up. You may also find occasional rebates, discounts, coupons and special offers on this tire.
Click Here To Find The Current Prices On All Pirelli Scorpion Zero Asimmetrico Sizes
Warranty
There is a first year or first 2/32 inch of wear guarantee on the tire's uniformity. Materials and workmanship are warranted for an unlimited time period and include free replacement during the first year or first 2/32 inch of wear. A prorated amount is then given down to the final 2/32 inch of tread depth.
---