Pirelli P4 Four Seasons Plus Tire Review & Rating
The Pirelli P4 Four Seasons Plus is fairly obvious in its intent: it is a tire dedicated to providing maximum performance and efficiency throughout all four seasons.
Designed specifically for the drivers of coupes, sedans, and minivans, P4 Four Seasons + tires are designed to provide superior traction on dry, wet, and wintry roads. Performing consistently and reliably across all four seasons is typically quite a lot to ask of your tires. However, Pirelli insists that its optimization of the tread design makes all of this possible.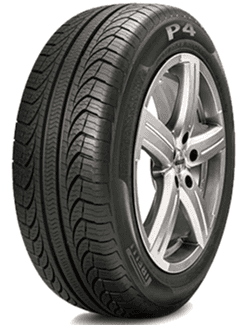 Pirelli utilizes a silica-rich tread compound in the makeup of this model to go along with their new and innovative technology. The goal of which is to reduce the rolling resistance while also increasing bad-weather traction that you would expect from an otherwise fully dedicated snow tire.
The tire's molded symmetric pattern and continuous center rib around the tread provide enhanced handling and stability, both around town and at highway speeds. This tread design gives the tire a little more on-center feel as well.
Pirelli has added two central, longitudinal grooves in the tire that are designed to expel water in all weather conditions. An independent tread and shoulder block design also improves handling response on both wet and dry road conditions.
Of course, Pirelli hasn't forgotten ride comfort on the P4 Four Seasons Plus. A completely redesigned casing profile to go with twin steel belts that are spirally wrapped with nylon help in delivering a more comfortable and quiet ride. This setup also gives the tire added strength and durability. Pirelli backs this tire with a 90K mile tread warranty.
Pros
Consistent all-season traction and handling

Smooth and comfortable ride without all the road noise

Treadwear
Cons
Overall Thoughts
It's obvious that Pirelli has set out to improve on the original P4 Four Seasons design, and for the most part they have succeeded. Due to their unique engineering and design, the tires deliver consistent traction and handling in all road conditions. What's more, the ride is smooth and comfortable as you would expect from Pirelli.
While winter drivability is better than you'll find on many touring all-season tires, it still lacks the type of performance you get from a dedicated winter tire. We've also heard from a couple of drivers that the tires have a tendency to collect smaller rocks in the tread grooves, although to be fair this seems to be an isolated issue. The other thing we've noticed is that finding this tire can be a little more difficult depending on the size you need.
Overall, Pirelli's P4 Four Seasons Plus tires perform as advertised, both in performance and comfort.
What Vehicles Will The Pirelli P4 Four Seasons Plus Fit?
(This is not a complete list of ALL vehicles this tire will fit)
Acura ILX, TSX, RDX

Audi A4, A6, A3, TT

BMW 128i, 325Ci, 328i, 530i, X1, X3, X5

Buick Verano, LaCrosse

Chevy Cobalt, Sonic, Cruze, Malibu, Impala

Chrysler PT Cruiser, Sebring, 200

Dodge Avenger, Dart, Grand Caravan

Ford Focus, Fusion

Honda Civic, Accord, Odyssey

Hyundai Elantra, Sonata, Genesis, Accent

Infiniti I30, Q45, Q50

Kia Forte, Soul

Lincoln MKZ

Mazda3, Mazda5

Mitsubishi Gallant

Nissan Leaf, Sentra, Maxima, Altima

Scion xB

Subaru Legacy, Matrix

Toyota Corolla, Camry, Sienna

Volkswagen Beetle, Jetta, Golf, Passat

Volvo S80
Tire Sizes
14″
P195/70R14 90T BSW
P185/65R14 86T BSW
P175/65R14 82T BWS
15″
P215/60R15 94T BSW
P215/65R15 96T BSW
P215/70R15 97T BSW
P215/70R15 98T BSW
P205/60R15 91T BSW
205/65R15 99T BSW
P205/65R15 94H BSW
P205/65R15 94T BSW
P205/70R15 95T BSW
P205/70R15 96T BSW
P195/60R15 88H BSW
P195/60R15 88T BSW
P195/65R15 91H BSW
P195/65R15 91T BSW
P185/60R15 84T BSW
P185/65R15 88T BSW
16″
235/65R16 103T BSW
P225/60R16 98T BSW
225/65R16 100T BSW
215/55R16 97H BSW
215/60R16 95V BSW
P215/60R16 95H BSW
P215/60R16 95T BSW
P215/65R16 98T BSW
205/55R16 91H BSW
P205/55R16 91T BSW
205/60R16 92H BSW
205/60R16 92T BSW
205/60R16 92V BSW
P205/60R16 92T BSW
P205/65R16 94T BSW
17″
225/50R17 94T BSW
225/50R17 94V BSW
P225/50R17 94T BSW
P225/55R17 97T BSW
P225/60R17 99T BSW
215/50R17 95V BSW
215/55R17 94V BSW
P215/60R17 96T BSW
P215/65R17 99T BSW
18″
P215/55R18 95T BSW
Price Range
Pirelli P4 Four Seasons Plus prices range from approximately $89 and up. You may also find occasional rebates, discount prices, coupons and special offers on this tire.
Warranty
The P4 Four Seasons Plus comes with a 90,000 mile treadlife warranty. Mileage is reduced by half if you use a different size on rear than front. A one-year or first 2/32 inch of wear guarantee on the tire's uniformity is also included.
Materials and workmanship are warranted for an unlimited number of years and includes first year or first 2/32 inch of wear free replacement. A prorated amount is given down to the final 2/32 inch of tread depth.
---