Pathfinder Sport S A/T Tire Review & Rating
As an off-shoot of Kumho, the Pathfinder Sport S A/T is exclusive to Discount Tire. This all-terrain tire is built to provide dependable on-road traction, handling and comfort, while also delivering good performance in light to medium off-road conditions.
The Pathfinder Sport utilizes a stronger tri-polymer tread compound that resists cuts and punctures with a computer-optimized tread pattern. This tread design is less aggressive than what you find in tires like the BFG T/A KO2 or General AT2 among others. That's ok because this model is not built to compete with the more heavy-duty off-road performers.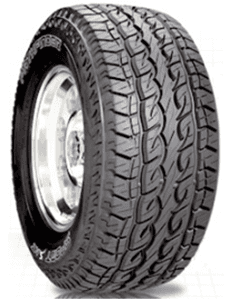 Inner tread block ridges and tapered grooves around the tread help with grip in lighter off-road trail conditions, as well as clearing out small rocks and other debris from the grooves. Despite the somewhat less aggressive looks, this tire does quite well in dirt, grass, small rocks, gravel and other light terrain.
A continuous center rib enhances stability at highway speeds, while the addition of hundreds of sipes around the tread increase traction on wet or snow covered roads. It's important to note that the Pathfinder Sport carries the Severe Service emblem, meaning it provides the same level of winter handling as you'll find with dedicated winter tires, which is a major plus for this model.
Riding on this tire at highway speeds is much quieter than you might think. In addition, the ride is smooth and gives very good on-center feel. Finally, the tread compound and optimized pattern further improve overall tread life on this model.
Pathfinder offers a wide range of sizes ranging from 15-20 inches. It's also backed with a 60K mile tread warranty on P-metric sizes.
Pros
Light off-road terrain traction

Highway performance

Treadlife

Lower price
Cons
Not ideal in heavy-duty off-roading conditions
Overall Thoughts
If a less-aggressive AT tire is what you need for those weekend camping/fishing trips, yet you wish to maintain solid highway performance in dry, wet or winter conditions, the Pathfinder Sport S all terrain tire is for you. While it may not "wow" you with its off-road capabilities in rock climbing or deep mud bogging, it is more than adequate for light-duty use.
Driving on the highway you'll find this tire delivers excellent traction and handling. Road noise is minimal and the ride is smooth and comfortable among AT tires. What's more is that treadlife has shown to be long lasting, which is evidenced from many customer reviews on the tire.
Since the Sport S AT carries the severe service emblem, traction in snow, slush and ice is on par with dedicated winter tires. Unless you're trying to navigate a raging blizzard, you should not have any difficulty getting around town in winter weather.
Overall, with its solid performance and lower budget-friendly price point, we like this Pathfinder all-terrain tire.

Click Here For Current Pathfinder Coupons
Click Here To Find Current Prices
What Vehicles Will The Pathfinder Sport S AT Fit?
(This is not a complete list of ALL vehicles this tire will fit)
Chevrolet Silverado, Tahoe

Dodge Durango

Ford Explorer, F-150

GMC Sierra 1500

Hummer HT3

Jeep Commander, Grand Cherokee, Wrangler

Nissan Frontier, Titan, X-Terra

Ram 1500

Toyota Highlander, FJ Cruiser, 4Runner
Tire Sizes
15″
LT235 /75 R15 104S C1 OWL
P 235 /75 R15 108S XL OWL
30 /9.50 R15 104S C1 OWL
31 /10.50R15 109S C1 OWL
16″
LT225 /75 R16 115Q E1 OWL
235 /70 R16 106T SL OWL
LT235 /85 R16 120Q E1 OWL
245 /70 R16 111S XL OWL
LT245 /75 R16 120Q E1 OWL
P 245 /75 R16 109S SL BSW
P 255 /70 R16 109S SL OWL
P 265 /70 R16 111S SL BSW
265 /75 R16 116T SL OWL
LT285 /75 R16 126R E1 OWL
17″
245 /65 R17 111T XL OWL
P 245 /70 R17 108S SL BSW
P 265 /65 R17 110S SL BSW
P 265 /70 R17 113S SL BSW
P 285 /70 R17 117S SL BSW
18″
P 265 /70 R18 114S SL OWL
P 275 /65 R18 114S SL OWL
LT275 /70 R18 125S E1 OWL
285 /60 R18 120T XL BSW
20″
P 275 /60 R20 114S SL BSW
Price Range
Pathfinder Sport S A/T prices range from approximately $85 and up. You may also find occasional rebates, discount prices, coupons and special offers on this tire.
Click Here To Find The Current Prices On All
Warranty
Pathfinder provides a 60,000 mile tread warranty on all P-metric sizes of the Sport S AT. Tire uniformity is guaranteed for the first year or first 2/32 inch of wear.
Materials and workmanship are warranted for 6-years and include free replacement during the first year or first 2/32 inch of wear. A prorated amount is given for the remaining time period or down to the final 2/32 inch of tread depth.
---