Ohtsu FP7000 Tire Review & Rating
As part of the Falken Tire Corp umbrella, the Ohtsu FP7000 is the company's first performance touring tire model in the U.S. Designed to provide year round traction with more aggressive handling capabilities as well as a smooth and stable ride quality, the FP7000 is also priced to fit drivers on a tighter budget.
An all-season tread compound and non-directional tread pattern combine with larger outside shoulder blocks to deliver increased traction and cornering grip on dry road surfaces, something that is a major plus for this model. Steering response is quicker due in part to the continuous center rib, and brake performance is also improved with the tread design.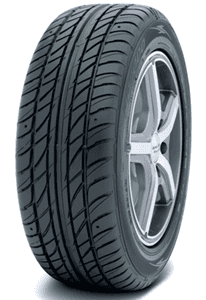 High volume circumferential grooves and lateral grooves enhance wet handling and reduce hydroplaning on wet pavement. Ohtsu's variable shoulder tread block design reduces unwanted tread noise and increases ride comfort.
Inside the tire are two steel belts and a high tension carcass that adds strength and stability to the tire at higher speeds, while also extending tread life. The FP7000 comes in a variety of 14-18 inch sizes, and speed ratings up to a W.
Pros
Excellent dry and wet traction

Quick steering response

Cornering grip and tire stability

Good value for the lower cost
Cons
Winter weather performance
Overall Thoughts
The performance levels on the FP7000 may surprise you if you have never heard of this tire before now. It delivers solid dry and wet traction, with excellent cornering and stability for a low cost tire. The steering is quick and leaves you feeling in total control at all different speeds.
Naturally, winter traction is not all that impressive but pretty much to be expected with an all-season tire. It handles itself well in lighter amounts of snow, but deep snow and ice can be another story.
Overall, while this tire is not on the level of some of the higher performing Michelin or Pirelli models among others, it does a very good job in most all areas. And the lower price point makes it an attraction option for those looking for new tires.
What Vehicles Will The FP7000 Fit?
(This is not a complete list of ALL vehicles this tire will fit)
Acura Integra

Chevrolet Aveo, Cobalt, Cavalier, Malibu, HHR, Camaro

Dodge Neon, Charger, Challenger, Stratus

Ford Focus, Escort, Contour, Taurus, Mustang, Fusion

Honda Civic, Accord

Hyundai Elantra, Accent

Kia Rio, Spectra, Optima

Mazda Miata, Protege, Mazda 5

Mitsubishi Lancer

Nissan Sentra, Cube, 240SX, Altima, Maxima

Pontiac Grand Am, Grand Prix, Firebird, Vibe, G6

Saturn SC2, L200, Ion

Scion tC

Suzuki Reno

Toyota Paseo, MR2, Corolla, Celica GT, Yaris, Camry, Avalon

Volkswagen Golf, Passat
Tire Sizes
14″
185/60R14 82H BSW
185/65R14 86H BSW
195/60R14 86H BSW
15″
185/65R15 88H BSW
195/55R15 85V BSW
195/60R15 88H BSW
195/65R15 91H BSW
205/50R15 86H BSW
205/60R15 91H BSW
205/65R15 94H BSW
215/60R15 94H BSW
215/65R15 96H BSW
225/60R15 96H BSW
16″
205/50R16/XL 91V BSW
205/55R16 91V BSW
205/60R16 92V BSW
215/55R16 93V BSW
215/60R16 95H BSW
215/65R16 98H BSW
225/50R16 92H BSW
225/55R16 95V BSW
225/60R16 98H BSW
235/60R16 100H BSW
245/50R16 97H BSW
17″
205/40R17/XL 84W BSW
205/50R17/XL 93W BSW
215/40R17/XL 87W BSW
215/45R17 87W BSW
215/50R17 91V BSW
215/55R17 94V BSW
225/45R17 94W BSW
225/50R17 94V BSW
225/55R17 97V BSW
235/45R17 97W BSW
235/50R17 96V BSW
245/45R17 99W BSW
18″
225/40R18/XL 92W BSW
225/45R18 91W BSW
225/60R18/XL 100H BSW
235/50ZR18 97W BSW
235/55R18/XL 100V BSW
245/40R18 93W BSW
245/45R18/XL 96W BSW
255/45R18/XL 99W BSW
Price Range
Ohtsu FP7000 prices range from approximately $49 and up. You may also find occasional rebates, discount prices, coupons and special offers on this tire.
Warranty
Ohtsu provides a limited tread warranty on the FP7000, which is backed by Falken. Tire uniformity is guaranteed for the first 2/32 inch of wear. Materials and workmanship are warranted down to the final 2/32 inch of tread depth.
---