Ohtsu FP0612 A/S Tire Review & Rating
The Ohtsu FP0612 A/S is designed to deliver high performance all-season traction and handling with touring tire ride comfort. Built for drivers of all types of sport coupes, sedans and sporty crossovers, the FP0612 AS also features a very low budget-friendly price point.
An all-season tread compound is molded into an asymmetric tread pattern that is created to give this model higher performance when it comes to dry and wet traction, as well as handling response and stability. This is a real plus for this tire. The larger tread blocks provide for increased cornering grip and give the tire increased stability at higher speeds.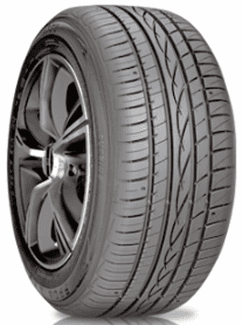 Four wide circumferential grooves around the tread aid in evacuating water from under the tire for enhanced wet grip. Angled grooves work to increase traction on snow, slush and icy road surfaces.
For a low cost tire, the FP0612 A/S delivers pretty good ride comfort due in part to the tire's high angled tread grooves and tread design. This has also been mentioned in numerous reviews from other drivers of this tire as well.
Inside the tire are dual steel belts with a polyester cord body that add to treadlife and longer durability. Ohtsu offers sizes ranging from 14-18 inches, and are available with H, V and W-speed ratings. A 40K mile tread warranty is included as part of the package. It should be noted that the FP0612 A/S is available exclusively through Discount Tire.
Pros
Above average dry/wet traction
Handling and cornering grip is very good
Ride quality
Value for the lower cost
Cons
Traction on ice and hard-packed snow
Treadlife may be an issue for spirited drivers
Overall Thoughts
The FP0612 A/S really surprised us with the performance you get for the lower price. Dry and wet traction is actually similar to what you would get on models from Bridgestone, Continental and other top name brands. The tire's steering response and cornering grip is sure and confident, whether driving around town or while passing other vehicles on the highway.
Ride comfort is another nice plus for this tire. While not on the level of a Michelin or Pirelli, you'll find the ride to be much smoother and more comfortable than you would think. We've also heard from several drivers that this particular tire is extremely easy to balance out.
Our main areas of concern would be performance on ice and hard-packed snow. As with most every all-season tire you are likely going to encounter issues with braking and acceleration. It's pretty much expected. The other issue we've heard from a few drivers is a shorter than expected tread life, although this has not been a concern for us.
Overall, this Ohtsu tire is one of the better low-cost tires in its class. It delivers solid performance and the price is excellent for anyone looking to save a lot of money on new tires. We highly recommend it.
Click Here To Find Current Prices
What Vehicles Will The Ohtsu FP0612 Fit?
(This is not a complete list of ALL vehicles this tire will fit)
Acura RSX, TSX, CSX
Audi A3
BMW 3, 5 Series
Chevrolet Camaro, Cobalt, Sonic
Chrysler PT Cruiser, 300
Dodge Avenger, Charger
Ford Mustang, Focus
Honda Civic, Accord
Hyundai Elantra
Jeep Compass, Patriot
Kia Optima, Soul
Lexus IS 250, 350
Mazda6
Nissan 370Z, Sentra, Altima
Scion tC
Subaru Impreza
Toyota Corolla, Camry, Prius
Volkswagen Beetle, Golf
Tire Sizes
14″
185 /60 R14 82H SL BSW
185 /65 R14 86H SL BSW
195 /60 R14 86H SL BSW
15″
175 /65 R15 84H SL BSW
195 /65 R15 91H SL BSW
215 /60 R15 94H SL BSW
225 /60 R15 96H SL BSW
16″
205 /60 R16 92H SL BSW
205 /65 R16 95H SL BSW
225 /50 R16 92H SL BSW
225 /55 R16 95V SL BSW
235 /65 R16 103H SL BSW
17″
205 /50 R17 93W XL BSW
215 /50 R17 91V SL BSW
215 /55 R17 94W SL BSW
215 /60 R17 96H SL BSW
215 /65 R17 99H SL BSW
225 /50 R17 94V SL BSW
225 /55 R17 101W XL BSW
225 /60 R17 99H SL BSW
235 /55 R17 99W SL BSW
18″
225 /45 R18 91W SL BSW
225 /50 R18 95W SL BSW
Price Range
Ohtsu FP0612 A/S prices range from approximately $34 and up. You may also find occasional rebates, discount prices, coupons and special offers on this tire.
Click Here To Find The Current Prices On All Ohtsu FP0612 A/S Sizes
Warranty
Ohtsu provides a 40,000 mile tread warranty on the FP0612 A/S.
---