Nokian eNtyre C/S Tire Review & Rating
Set for an early 2018 release, the Nokian eNtyre C/S all-season tire is designed specifically for drivers of crossovers and SUV's in the North American marketplace. With a focus on performance, comfort and durability, the eNtyre C/S is engineered with safety and year-round traction and handling in mind.
Nokian uses their unique Clinch Rubber compound that delivers enhanced rolling resistance and added flexibility for improved durability. The tires' asymmetric tread pattern features a center rib and one of a kind 3D-lockpattern that works to strengthen the blocks for increased performance.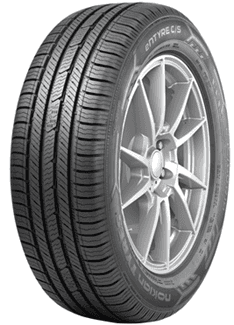 Stiffer shoulder blocks and reinforced aramid sidewalls not only up the cornering and handling stability, but add to this models' durability and puncture resistance. It's worth noting that Nokian has created deeper than standard tread grooves for a longer life.
Four wide circumferential grooves, which are polished for increased water evacuation on wet soaked pavement, and numerous lateral sipes around the tread aid in wet traction and handling. In addition, Nokian has added soft soil and snow grip enhancers that are designed to provide added grip when driving in mud or deeper snow.
Nokian has also included what they term as Driving Safety Indicators on this tire, which lets drivers see the depth of the main grooves in percentages. It's a quick and easy way to know how much tread is left and when it is time to look for a replacement.
When it comes to reducing unwanted road noise, the Nokian C/S sports Silent Groove and Silent Sidewall technology. Without going into technical details, this new technology is specifically designed to reduce tread growl on rougher pavement, as well as vibrations.
Nokian offers a range of 16-22 inch sizes with either a T or H-speed rating. All sizes include a 65K mile tread warranty.
We will provide a full review on this latest Nokian all-season tire as soon as it becomes available.
What Vehicles Will The Nokian C/S Fit?
(Please note that this is not a complete list of all vehicles this tire will fit.)
Acura MDX, RDX
Buick Raninier, Enclave
Cadillac SRX, Escalade
Chevrolet Equinox, Traverse, Tahoe
Dodge Journey, Durango, Nitro
Ford Escape, Explorer, Expedition, Excursion
GMC Acadia, Envoy, Yukon
Honda CR-V, Pilot
Jeep Liberty, Grand Cherokee
Kia Sedona
Lexus RX400h
Mazda CX-5, CX-7, CX-9, Tribute
Nissan Pathfinder, Armada
Saturn Vue
Subaru Outback
Toyota Highlander, 4Runner, Venza, RAV4
Volvo XC90
Tire Sizes
16″
215/65R16 98H BSW
215/70R16 100H BSW
265/75R16 116T BSW
17″
215/60R17 96T BSW
215/65R17 99T BSW
225/60R17 99T BSW
225/65R17 102H BSW
235/55R17 99H BSW
235/60R17 102T BSW
235/65R17 104T BSW
245/65R17 107T BSW
18″
215/55R18 95H BSW
225/55R18 98H BSW
225/60R18 100H BSW
235/50R18 97H BSW
235/55R18 100H BSW
235/60R18 103H BSW
235/65R18 106H BSW
245/60R18 105H BSW
255/65R18 111T BSW
265/60R18 110H BSW
19″
225/55R19 99H BSW
235/55R19 101H BSW
245/55R19 103H BSW
255/60R19 109H BSW
20″
235/55R20 102H BSW
245/50R20 102H BSW
255/45R20 105H XL BSW
255/50R20 105H BSW
265/50R20 107T BSW
Warranty
Nokian provides a 65,000 mile tread warranty on the eNtyre C/S. Materials and workmanship are backed for 5 years.
---