Nokian Entyre 2.0 Tire Review & Rating
Although arguably well known for their winter tire lineup, the Nokian Entyre 2.0 touring all-season tire is set to change that. Built for drivers of coupes, sedans, minivans and crossovers, the Entyre 2.0 is designed to provide superb year-round traction and handling to go with a smooth comfortable ride.
Nokian uses an all-new high modulus tread compound with silica along with a comfort base compound that has been created to give this tire a smoother, comfortable and sportier ride quality. In fact, this new tread compound helps the tire deliver ultra-high performance tire like handling on dry pavement.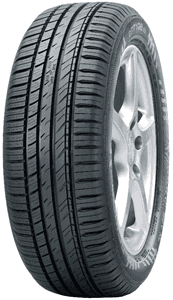 When the roads get wet, the Entyre 2.0 is up to the task with its unique lateral grooves that are made to store more water between the tire and the road surface, while accelerating the flow from the main tread grooves. Nokian has also polished the main grooves which further enhances water flow and helps in preventing hydroplaning.
Ride comfort and safety are also high on the list of pluses for this latest model. Silent sidewall technology combines with a silent groove design to provide the type of ride comfort you find on the best premium touring all-season tires currently on the market. Not only is the ride more comfortable, but noise levels are noticeably reduced as well. It's an area that is immediately noticeable when first driving on this tire.
Nokian's driving safety indicators quickly let you know at a glance how much tread depth is left, as well as a water drop symbol which disappears over time so that you know when the tread depth reaches less than four millimeters, meaning you can expect lower wet performance.
Sizes are available ranging from 15-19 inches, and come with speed ratings of T, H and V. The tire is backed by either a 60K or 80K mile tread warranty.
Pros
Excellent dry and wet traction/braking/handling

Performance on snow is far above average

Ride is smooth and comfortable

Treadlife
Cons
Up the wet handling just a bit
Overall Thoughts
We'll just say upfront that the new Entyre 2.0 delivers impressive all-around performance for a touring all-season tire. Several publications like Consumer Reports and others agree on this as well.
It's hard to argue with the excellent dry traction you'll find, and winter performance is simply the best, or equal to the best, of any other all-season tire sold today. No surprise here since Nokian is well-known for their winter lineup. Our only very minor issue we've found with this model is the handling on damp or lightly wet pavement. That said, handling in rainy conditions, including hydroplane resistance, is very good.
What makes this tire rate as high it does is not just traction and handling, but it's overall level of ride comfort it provides. It's smooth and comfortable with very little in the way of road noise. All in all, this new model offers the type of performance you would find in other tires like the Continental PureContact and Pirelli Cinturato P7 All Season Plus. Highly recommended for drivers who want a premium touring tire.
What Vehicles Will The Nokian Entyre 2.0 Fit?
(This is not a complete list of ALL vehicles this tire will fit)

Acura TL, CL

BMW 135i, 330i, 530i

Chevrolet Cobalt, Malibu, Cruze, Impala, Sonic LTZ

Dodge Neon, Grand Caravan, Nitro

Ford Focus, Mustang GT, Taurus, Fusion

Honda Civic, CR-V, Insight, Accord, Odyssey

Hyundai Genesis, Sonata

Infiniti G35x

Kia Optima, Rondo

Lincoln MKZ

Mazda6, 929, Mazda3

Mercedes-Benz E320

Nissan Altima, Maxima, Versa, Leaf, Cube

Pontiac Vibe, Grand Am, Grand Prix, G5

Subaru Legacy, Impreza Outback

Toyota Camry, Prius, RAV4, Avalon, Solara, Sienna

Volkswagen Jetta, Passat, Touareg
Tire Sizes
15″
185/60R15 88T BSW
185/65R15 92H BSW
195/60R15 92H BSW
195/65R15 95H BSW
205/65R15 99H BSW
16″
195/50R16 88V BSW
205/55R16 94H BSW
205/60R16 96H BSW
205/65R16 99H BSW
215/55R16 97H BSW
215/60R16 99H BSW
215/65R16 102T BSW
215/70R16 100H BSW
225/60R16 102H BSW
225/65R16 104H BSW
225/70R16 107T BSW
235/60R16 104H BSW
235/70R16 109T BSW
17″
205/50R17 93V BSW
215/45R17 91V BSW
215/50R17 95V BSW
215/55R17 98V BSW
215/60R17 100T BSW
215/65R17 103T BSW
225/45R17 94V BSW
225/50R17 98V BSW
225/55R17 101V BSW
225/60R17 103T BSW
225/65R17 106T BSW
235/45R17 97V BSW
235/55R17 103V BSW
235/60R17 106H BSW
235/65R17 108H BSW
18″
225/40R18 92V BSW
225/45R18 95V BSW
225/55R18 102V BSW
225/60R18 104H BSW
235/45R18 98V BSW
235/50R18 101V BSW
235/55R18 104V BSW
235/60R18 107V BSW
245/40R18 97V BSW
245/45R18 100V BSW
255/65R18 115T BSW
19″
235/55R19 105V BSW
255/60R19 113H BSW
Price Range
Nokian Entyre 2.0 prices range from approximately $95 and up. You may also find occasional rebates, discount prices, coupons and special offers on this tire.
Warranty
Nokian provides either a 60,000 or 80,000 mile tread warranty on the Entyre 2.0 depending on the tire's speed rating. Materials and workmanship are backed for 5 years.
---