Nitto Terra Grappler G2 Tire Review & Rating
The new Nitto Terra Grappler G2 takes the better aspects of the original Terra Grappler, adds in their latest tire technology, and comes out with a tire that is built to balance the needs of drivers looking for both on and off-road performance. Whether it's daily commuting, pulling heavy loads, driving in rural areas or on back country terrain, the G2 has been created with the type of versatility that most drivers look for in an all-terrain tire.
An all-new tread compound has been designed for the G2 that not only increases off-road toughness, but helps to extend the tread life. The tread pattern is similar to the original and has full-depth sipes for added traction on wet road surfaces, as well as driving on snow and ice even as the tire begins wearing down. This new combination delivers excellent performance for the most part.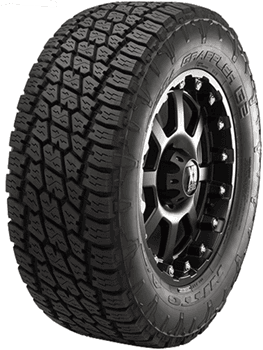 Staggered shoulder lugs deliver added bite when going through dirt, mud, sand and other terrain, while also adding increased puncture resistance against rocks and other debris. Nitto has created unique coupling joints that connect the outer tread blocks to the center blocks. This makes the tread blocks more rigid for better traction, control and stability over all types of surfaces.
Noise has always been an issue that separates many of today's all-terrain tires from being ones that offer a pleasant driving experience to one that is less than desirable. Nitto has addressed road noise with their computerized variable pitch tread block design that greatly reduces annoying road noise at highway speeds. We have to say that it does its job because noise is not really an issue you'll be concerned with here.
Nitto has created two different distinct sidewall designs on this tire. One is similar to the original Terra Grappler design with the thunderbolt pattern, while the other is a more aggressive looking blade pattern that features sidewall lugs running from the shoulder down to the sidewall.
The tire also sports a load range E 10-ply rating, making it ideal for pulling trailers or other heavier loads. Nitto has currently released the G2 in 20 different sizes, with 35 more coming in Jan, 2015.
Pros
Increased tread life

Impressive on-road street manners

Off-road and snow traction is very good
Cons
Not the best on the toughest of off-road terrain
Overall Thoughts
Since its release some 13 years ago, the original Terra Grappler has been a formidable and popular all-terrain tire. This new version is destined to become even more popular due to its excellent performance.
The tire does everything right on the streets and highways. Dry, wet and winter traction is among the best in class, and ride comfort is pretty darn good as well. Driving off road on gravel, dirt, light mud and other light terrain is a big plus for this tire. It's only in deep mud, going over larger rocks and driving on exceptionally tough terrain that you may find problematic. Then again, this is not an MT tire.
If you're like the vast majority of drivers who spend their time driving on-road, pulling trailers and campers, or traveling on occasional weekend excursions off the beaten path, then this tire is an excellent choice. It can safely be said that Nitto has definitely managed to upgrade their original and not disappoint with the G2.
What Vehicles Will The Terra Grappler G2 Fit?
(This is not a complete list of ALL vehicles this tire will fit)
Chevrolet Suburban, Silverado, Avalanche, Tahoe

Dodge Ram, Dakota, Durango

Ford F-150, F-250, Explorer, Expedition, Bronco

GMC Sierra, K2500

Hummer H3

Jeep Wrangler, Grand Cherokee

Land Rover Discovery, Range Rover

Lexus GX

Nissan Titan

Toyota Landcruiser, Tacoma, 4Runner, Tundra
Tire Sizes
17″
LT235/80R17 E 120/117R
245/65R17 111T XL
LT245/70R17 E 119/116R
LT245/75R17 E 121/118R
265/65R17 116T XL
265/70R17 115T
LT265/70R17 E 121S
LT285/70R17 E 121/118S
285/70R17 116T
LT285/75R17 E 121/118R
LT295/70R17 E 121/118R
LT305/70R17 E 121/118R
LT315/70R17 E 121/118R
35×12.50R17LT E 121R
37×12.50R17LT D 124R
18″
255/55R18 109H XL
265/60R18 114T XL
LT265/65R18 E 122/119R
265/65R18 116T XL
265/70R18 116T
LT265/70R18 E 124/121R
LT275/65R18 E 123/120S
275/65R18 116T XL
LT275/70R18 E 125/122S
LT285/60R18 E 122/119S
285/60R18 120S XL
LT285/65R18 E 125/122R
LT285/75R18 E 129/126R
LT295/70R18 E 129/126Q
305/60R18 116S XL
LT305/65R18 E 124/121R
LT325/60R18 E 124/121S
LT325/65R18 E 127R
35×12.50R18LT E 123R
37×12.50R18LT E 128R
20″
265/50R20 111S XL
LT265/60R20 E 121/118S
275/55R20 117T XL
275/60R20 116S XL
LT275/65R20 E 126/123S
285/50R20 116S XL
LT285/55R20 E 122/119S
LT285/65R20 E 127/124S
LT295/60R20 E 126/123Q
LT295/65R20 E 129/126S
305/50R20 120S XL
305/55R20 116S XL
LT305/55R20 E 121/118S
LT325/60R20 E 126/123S
35×11.50R20LT E 124R
35×12.50R20LT E 121R
37×12.50R20LT E 126R
22″
285/45R22 114H XL
LT285/50R22 E 121/118R
LT285/55R22 E 124/121R
305/45R22 118S XL
LT325/50R22 E 122S
Price Range
Nitto Terra Grappler G2 prices range from approximately $149 and up. You may also find occasional rebates, discount prices, coupons and special offers on this tire.
Warranty
Nitto provides a 65,000 mile tread warranty on P-metric sizes, and 50,000 miles on LT and other models. Tire uniformity is guaranteed for the first 1/32 inch of wear.
Materials and workmanship are backed for 5 years and call for a free replacement tire during the first 25% of wear. Nitto Tires follows that up with a prorated amount until 2/32 inches of remaining depth.
---