Nitto Terra Grappler AT Tire Review & Rating
If you do a lot of on-road driving, yet want a tire that also provides weekend off-road driving performance, then the Terra Grappler AT from Nitto may be the tire you're looking for. Built for drivers of pickups, SUV's and crossovers, this tire is engineered to perform well on all types of road surfaces and in all terrains.
The all-terrain, all-season tread compound is molded into an aggressive looking tread design that features high-density siping for enhanced traction on wet or slush covered surfaces. Biting edges around the shoulders add more grip when driving in the snow or off-road in the dirt, gravel or mud.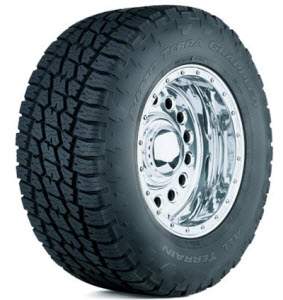 Off-road performance is increased due to the balanced void ratio and unique treadblock coupling joints that are strategically placed between the tread. They help eliminate flex and provide added traction.
Inside the tire are twin steel belts and twin spirally wound nylon cap plies that give the tire a larger contact patch, and increased strength and durability. They also add more stability when driving at highway speeds. Road noise is not as pronounced with this tire as you will find with many competitor tires in this category.
Excellent traction on dry, wet or snow covered road surfaces

Handles well on light off-road terrain

Steering response is above average

Very comfortable on the highway despite being an AT tire
Cons
Expect a little extra road noise due to the AT tread design

Tires may pack up in deep mud or dirt
Overall Thoughts
This is yet another quality tire in the Nitto lineup. The Terra Grappler provides excellent performance on the highway with its quick steering response and handling. The ride is surprisingly comfortable for an AT tire as well.
Off-road, this tire does very well on light terrain. Heavy mud, sand and deep dirt is a different story. The tread can pack up and leave you spinning your wheels. Road noise has been an issue for some, but honestly, this is an aggressive all-terrain tire and a little extra hum or road noise is to be expected. That said, this tire is a good option for drivers who do a lot of on-road driving, while also having the ability to take it off-road for those weekend fishing, boating and camping trips.
Click Here For Current Nitto Coupons
Click Here To Find Current Price
What Vehicles Will The Terra Grappler Fit?
(This is not a complete list of ALL vehicles this tire will fit)
Chevrolet Suburban, Silverado, Avalanche, Tahoe

Dodge Ram, Dakota, Durango

Ford F-150, F-250, Explorer, Expedition, Bronco

GMC Sierra, K2500

Hummer H3

Jeep Wrangler, Grand Cherokee

Land Rover Discovery, Range Rover

Lexus GX

Nissan Titan

Toyota Landcruiser, Tacoma, 4Runner, Tundra
Tire Sizes
16″
265/70R-16 112S BLK
LT265/75R16D1 119Q B
LT265/75R16E1 123Q B
LT285/75R16E1 126Q B
LT285/75R16D1 122Q B
LT295/75R16D1 123Q B
LT305/70R16E2 124Q B
LT315/75R16D2 121Q B
17″
LT235/80R17E1 120R B
P245/65R-17 105T BLK
P265/65R-17 110S BLK
LT265/70R17E1 121R B
P265/70R-17 113S B
P285/70R-17 117S B
LT285/70R17E1 126R B
LT285/75R17E1 121Q B
LT295/70R17D1 123R B
LT305/70R17E2 125R B
LT325/70R17D2 122R B
37X12.50R17D2 124R B
18″
255/55R-18 XL 109S B
255/60R-18 XL 112S B
P265/70R-18 114S BLK
LT275/65R18E1 123R B
275/65R18XL 120S FRD
LT275/70R18E1 125S B
LT285/60R18E1 123S B
285/60R-18 XL 120S B
LT285/65R18E1 125R B
LT295/70R18E1 129Q B
305/60R-18 120S B
LT325/60R18D2 119S B
LT325/65R18D2 121R B
LT355/65R18D2 125R B
20″
265/50R-20 XL 111S B
275/55R-20 117S XL B
P275/60R-20 114S B
LT275/65R20E1 126R B
285/50R-20 116S XL B
LT285/55R20E1 122R B
LT295/60R20E1 126Q B
305/50R-20 XL 120S B
LT305/55R20E2 121S B
LT355/60R20D2 125R B
22″
285/45R-22 114S XL B
LT285/50R22E1 121R B
LT285/55R22E1 124R B
305/40R-22 114S XL B
LT325/50R22E2 122R B
Price Range
Prices on the Terra Grappler AT range from approximately $164 and up. You may also find occasional rebates, discounts, coupons and special offers on this tire.
Click Here To Find The Current Prices On All Nitto Terra Grappler AT Tire Sizes
Warranty
Nitto provides for a 1/32 inch of wear guarantee on the tire's uniformity.
Materials and workmanship are backed for 5 years and include first year or first 2/32 inch of wear free replacement. A prorated amount is given for the remaining period or to the last 2/32 inch of tread depth.
---