Nitto NT NeoGen ZR Tire Review & Rating
Nitto has given owners of sport coupes and sub-compacts a lower-cost high performance all-season option in the NT NeoGen ZR. Featuring a new silica compound and an asymmetric tread design, the ZR is engineered to provide year round traction and handling that you can depend on.
Wet traction and grip are enhanced not only from the tread compound, but also due to the circumferential and slanted grooves around the inside shoulder and center of the tire. They work together to expel more water from under the footprint, which results in added stability and increased hydroplane resistance.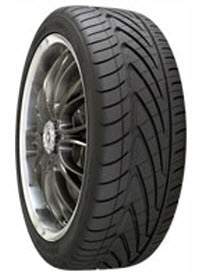 Dry surface traction and cornering grip receive a boost from the low void-ratio outside shoulder blocks that Nitto has added. These blocks create better handling and increased steering response in the corners. Stiffer sidewalls reduce tread flex and give the tire a longer treadlife.
Nitto has added unique tread replacement bars on this tire that immediately show you if it is time to replace the tires. The tread has been designed in such a way as to continue providing traction and cornering until the very end of its life.
Inside the tire you will find twin steel belts reinforced with a nylon cap for added strength and stability at higher speeds. Although this is a high-performance tire it rides quite comfortably around town or on the highway.
Pros
Very good all-season traction including light snow

Cornering grip is well above average in this class as is steering response and control

Tires ride comfortably for being high performance

Better than expected treadlife
Cons
Tires tend to get noisy as they wear out
Overall Thoughts
The Nitto NeoGen ZR performs very well on dry or wet surfaces. It gives you a feeling of constantly being in control regardless of road conditions. Cornering is very good, as you would expect from Nitto. Compared to other brands such as the Bridgestone Pole Position, this tire will save you around $200 on a full set, so value for the money is excellent. Overall, Nitto has done a good job with this tire.
Click Here For Current Nitto Coupons
Click Here To Find Current Price
What Vehicles Will The NeoGen ZR Fit?
(This is not a complete list of ALL vehicles this tire will fit)
Audi TT, S4, RSX

BMW 328i, 325i

Cadillac CTS

Chevrolet Cobalt, Cavalier

Dodge Neon SXT

Honda Civic, Prelude

Lexus LS 400, ES 300

Mazda Protege, 6, RX-7, Miata, 3

Mini Cooper

Mitsubishi Eclipse

Nissan 240SX, 350Z

Scion TC, XB

Subaru Impreza WRX

Toyota Celica GT, MR2

Volkswagen Golf, GTI, Jetta III
Tire Sizes
17″
205/40ZR-17 XL 84W B
205/45ZR-17 XL 88W B
215/40ZR-17 XL 87W B
215/45ZR-17 XL 91W B
225/45ZR-17 XL 94W B
225/50ZR-17 XL 98W B
235/50ZR17 XL 100W B
18″
205/40ZR-18XL 85W BK
215/35ZR-18 XL 84W B
215/40ZR-18 XL 89W B
225/40ZR-18XL 92W
235/40ZR-18 XL 95W B
245/40ZR-18 XL 97W B
19″
215/35ZR-19XL 85W BK
245/35ZR-19 XL 93W B
275/35ZR19 XL 100W B
20″
225/30ZR20XL 85W BLK
225/35ZR-20 90W XL B
235/30ZR-20 XL 88W B
245/30R20 XL 90W BLK
305/25ZR-20 97W XL B
22″
235/30ZR-22 90W XL B
Price Range
Prices on the NT NeoGen range from approximately $90 and up. You may also find occasional rebates, discounts, coupons and special offers on this tire.
Click Here To Find The Current Prices On All Nitto NT NeoGen ZR Tire Sizes
Warranty
There is no mileage treadlife warranty on this model. There is a 6-months or first 2/32 inch of wear guarantee on the tire's uniformity.
Materials and workmanship are warranted for 6-years and include free tire replacement during the first year or first 2/32 inch of wear. A prorated amount is given for the remaining time period or down to the final 2/32 inch of tread depth.
---