Nitto Motivo Tire Review & Rating
Introduced in late 2011, the Nitto Motivo is the company's latest ultra-high performance all-season tire designed for drivers of sport coupes, luxury sedans and Crossovers. Nitto is known for developing high performance street and track tires, and the Motivo is engineered with that in mind.
A silica enhanced tread compound and Nitto's advance tire technology give the tire a much longer lifespan. In fact, the 60,000 mile tread warranty is the longest among any model in this class.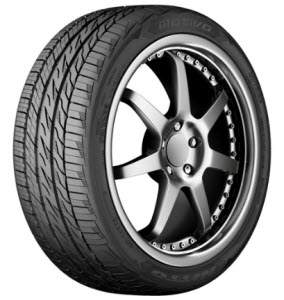 Dry traction and grip are enhanced through larger optimized outer tread blocks. A continuous center rib provides increased steering response, and better straight line stability.
When the roads turn wet, the Motivo utilizes its angled tread blocks, four wide circumferential grooves and unique 3-D sipes to move the water and slush from under the tread, resulting in increased traction and hydroplane resistance. Additional "Fin" sipes provide for added biting edges to move the tire through snow and other winter weather conditions.
One thing you will notice when riding on this tire is the level of riding comfort it provides. The tire is very quiet for a performance tread design, and rides very comfortably as well. Much of that can be attributed to the asymmetric tread pattern that is arranged to minimize noise.
Inside the tire are twin steel belts spirally wrapped with nylon to increase stability and ride performance. They also help improve overall tread life. Finally, Nitto claims it has priced the Motivo lower than similar tires in its class, and when comparing sizes to other leading tires, it appears they have done just that.
Dry and wet traction and handling are excellent

Tire grips the corners as good as many summer performance tires

Ride comfort is very good and road noise is minimal

Winter handling is exceptional for a UHP tire

Attractive tread design that has a 60,000 mile treadlife warranty
Cons
Would like to see just a bit more wet braking performance
Overall Thoughts
For high performance all-season tires, the Nitto Motivo holds its own amongst the better tires in this class. The grip in the corners is as good as some summer performance models, and all-season handling is excellent.
What may surprise you is the level of riding comfort and how quiet the tire is since it carries a 500 treadwear rating, but as many drivers have made mention, this model doesn't have the stiffness you might expect. Add in the 60,000 mile warranty and this tire is a nice choice.
Click Here For Current Nitto Coupons
Click Here To Find Current Prices
What Vehicles Will The Motivo Fit?
(This is not a complete list of ALL vehicles this tire will fit)
Acura TSX, TL, RL

Audi A3, A4, A6, A8

BMW 328i, 335i, 525i, 750i, M3, Z4

Cadillac CTS, DTS, STS

Chevrolet Camaro, HHR, Malibu, Corvette

Chrysler 300, PT Cruiser, Sebring

Dodge Challenger, Caravan, Stratus

Ford Mustang, Focus, Taurus

Infinity G Series, M Series

Lexus GS350, IS250

Mazda RX-8

Nissan 370Z

Subaru Forester, Impreza

Toyota Camry, Avalon, Matrix

Volkswagen Passat, Golf
Tire Sizes
17″
205/50ZR17 XL 93W BLK
215/45ZR17 XL 91W BLK
215/50ZR17 XL 95W BLK
215/55ZR17 XL 98W BLK
225/45ZR17 XL 94W BLK
225/50ZR17 XL 98W BLK
225/55ZR17 XL 101W BLK
235/45ZR17 XL 97W BLK
235/55ZR17 XL 103W BLK
245/40ZR17 XL 95W BLK
245/45ZR17 XL 99W BLK
245/45ZR17 95W BLK
245/50ZR17 99W BLK
255/40ZR17 XL 98W BLK
275/40ZR17 98W BLK
18″
225/40ZR18 XL 92W BLK
225/45ZR18 XL 95Y BLK
225/50ZR18 XL 99Y BLK
235/40ZR18 XL 95W BLK
235/45ZR18 XL 98W BLK
235/50ZR18 XL 101W BLK
235/55ZR18 XL 104W BLK
245/40ZR18 XL 97Y BLK
245/45ZR18 XL 100Y BLK
245/55ZR18 103W BLK
255/35ZR18 XL 94W BLK
255/40ZR18 XL 99W BLK
255/45ZR18 XL 103W BLK
255/55ZR18 XL 109W BLK
275/35ZR18 XL 99Y BLK
19″
225/40ZR19 XL 93Y BLK
225/45ZR19 XL 96Y BLK
235/35ZR19 XL 91W BLK
245/40ZR19 XL 98Y BLK
245/50ZR19 XL 105W BLK
255/35ZR19 XL 96Y BLK
255/50ZR19 XL 107W BLK
255/55ZR19 XL 111W BLK
275/30ZR19 XL 96W BLK
275/35ZR19 XL 100Y BLK
275/45ZR19 XL 108Y BLK
275/55ZR19 111W BLK
20″
245/35ZR20 XL 95W BLK
245/40ZR20 XL 99Y BLK
245/45ZR20 XL 103Y BLK
255/35ZR20 XL 97W BLK
255/45ZR20 XL 105Y BLK
275/30ZR20 XL 97W BLK
275/35ZR20 XL 102Y BLK
275/40ZR20 XL 106Y BLK
315/35ZR20 XL 110Y BLK
Price Range
Nitto Motivo prices range from $114 and up. You may also find occasional rebates, discount prices, coupons and special offers on this tire.
Click Here To Find The Current Prices On All Nitto Motivo Sizes
Warranty
Nitto covers the Motivo with a 5-year or 60,000 mile tread warranty.
Materials and workmanship are backed for 5 years and call for a free replacement tire in 25% of wear. Nitto Tires follows that up with a prorated amount until 2/32 inches of remaining depth.
---