Nankang SV-2 Tire Review & Rating
The uniquely designed Nankang SV-2 summer/snow tire is described as a winter-optimized all-weather tire that combines the best of winter traction with added summer performance. Built for drivers of sport coupes, sedans, minivans and smaller crossovers, the SV-2 makes it possible to have the grip of a winter tire, yet also have the ability to drive it year round in summer conditions.
Nankang has created a special high-tech tread compound that has been optimized for both winter and summer performance. It's no joke, as this model sports the tire industry's three-peak mountain/snowflake emblem that designates it meets the standards for driving in severe winter weather road conditions.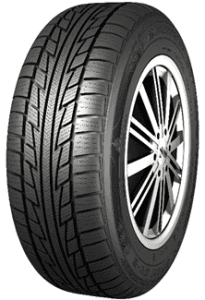 The SV-2 utilizes 3-D sipes around the tread to go with a directional tread pattern and serrated grooves for increased traction on snow and ice. It works well on this tire as braking, acceleration and all-around traction on snow, slush, hard-packed snow and ice is very good. Surprisingly good. We would argue that winter traction is nearly as good as some of the top name brand winter tires.
When the weather turns warmer, the all-season capabilities of this tire become front and center, and they do not disappoint for the most part. The tire's two circumferential grooves, sipes and lateral grooves all help deliver dependable dry and wet grip on the street or highway.
You'll find that Nankang has increased the contact patch for added handling and braking, an area this tire could do a bit better in. The softer sidewall may be more noticeable to spirited drivers, but this tire is not advertised as a UHP model.
Sizes are available ranging from 13-19 inches, and the tires feature either an H or V-speed rating. It carries a 520AA UTQG rating, which means treadlife should be pretty good, which is exactly what we've heard from many driver reviews of this tire. Nankang includes a 40K mile tread warranty.
Pros
Excellent snow and slush traction/braking/acceleration
Quiet and comfortable ride
Above average treadlife
Exceptional value and performance for the money
Cons
Wet traction and braking in summer conditions
Cornering grip for spirited drivers
Overall Thoughts
Although the SV-2 is arguably not a tire for everyone with its unique design and style, it certainly has found a way to stand out from the crowd so to speak. Beyond that, this tire just flat out performs well in winter conditions. As a winter tire alone, it delivers solid performance for a much lower cost than more well-known winter specific brands.
Driving on this tire at other times of the year is like driving on your average all-season tire. It doesn't do anything special, and softer sidewalls tend to diminish cornering performance for those who like to push their tires hard.
The ride on the SV2 is pretty comfortable, and road noise is quite low, especially for a cheaper tire and one that also offers this type of winter traction. Nankang has done a very good overall job with this model. It's a nice option for drivers simply looking for a tire to handle basic everyday driving needs in all four seasons.
What Vehicles Will The Nankang SV-2 Fit?
(This is not a complete list of ALL vehicles this tire will fit)
Audi A4, S4
Buick Century, LeSabre, Encore, Park Avenue, Regal, Lucerne
Chevrolet Malibu, Astro, Blazer, Impala, Monte Carlo, Cobalt
Chrysler Town & Country, Concorde, Voyager
Dodge Grand Caravan, Caliber, Charger, Avenger
Ford Taurus, Freestar, Windstar, Focus, Fusion
Honda Accord, CR-V, Civic
Hyundai Elantra, Tucson
Kia Amanti, Sportage
Lexus ES300, LS430
Lincoln Town Car
Mazda MPV, Tribute, 3, CX-7
Mercury Grand Marquis, Monterey, Villager
Mitsubishi Diamante
Nissan Leaf, Altima, Sentra
Pontiac Bonneville
Saab 9-5
Suzuki Grand Vitara, XL-7
Toyota Camry, Avalon, Solara, RAV4, Sienna, Corolla, Celica
Volkswagen Golf, Jetta
Volvo S70, V70
Tire Sizes
13″
175/70R13 82T BSW
14″
175/65R14 86H BSW
185/65R14 90H BSW
185/60R14 82H BSW
15″
185/65R15 92H BSW
195/65R15 95H BSW
205/65R15 99H BSW
185/60R15 88H BSW
195/60R15 92H BSW
195/55R15 89H BSW
195/50R15 86H BSW
16″
215/65R16 102H BSW
205/60R16 96H BSW
215/60R16 99H BSW
225/60R16 98H BSW
235/60R16 104H BSW
205/55R16 94H BSW
215/55R16 97H BSW
225/55R16 99H BSW
195/50R16 88H BSW
205/50R16 91H BSW
205/45R16 87H BSW
17″
235/65R17 108V BSW
215/55R17 98V BSW
225/55R17 101V BSW
235/55R17 103V BSW
205/50R17 93V BSW
225/50R17 98V BSW
205/45R17 88V BSW
215/45R17 91V BSW
225/45R17 94V BSW
235/45R17 97V BSW
245/45R17 99V BSW
205/40R17 84V BSW
215/40R17 87V BSW
18″
235/60R18 107V BSW
225/55R18 98V BSW
255/55R18 109V BSW
235/50R18 101V BSW
225/45R18 95V BSW
235/45R18 98V BSW
245/45R18 100V BSW
215/40R18 89V BSW
225/40R18 92V BSW
235/40R18 95V BSW
245/40R18 97V BSW
255/35R18 94V BSW
19″
255/50R19 107V BSW
Price Range
Nankang SV-2 prices range from approximately $54 and up. You may also find occasional rebates, discount prices, coupons and special offers on this tire.
Warranty
Nankang provides a 5-year or 40,000 mile tread warranty on the SV-2 summersnow. Tire uniformity is guaranteed for the first year or first 2/32 inch of wear.
Materials and workmanship are warranted for 5-years and include free replacement during the first year or first 2/32 inch of wear. A prorated amount is given for the remaining time period or down to the final 2/32 inch of tread depth.
---