Nankang SP-7 Performance X/P Tire Review & Rating
Developed for drivers of SUV's, crossovers and light sport pickups, the Nankang SP-7 Performance X/P is built for those looking for higher performance at a value price.
The symmetrical tread design features a special dry zone and a wider contact patch for enhanced handling and cornering abilities on dry road surfaces. It also reduces braking distance and provides additional stability. This model also comes in either an H, V or W-speed rating for added performance at higher speeds.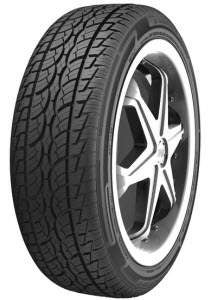 Angled tread blocks and multiple sipes around the tread provide improved handling and grip in wet road conditions. Dual circumferential grooves evacuate water from under the tread and provide for added hydroplane resistance.
The tread compound Nankang uses is designed to not only reduce road noise, but to also lower the rolling resistance of the tire, which results in improved fuel efficiency. Sizes are available ranging from 15-24 inches, and Nankang includes a 40K mile tread warranty as well.

Pros
Dry and wet surface traction is very good

Excellent cornering grip

Steering response is above average

Very low price and good treadlife makes this tire a solid value for the money
Cons
Would like to see a little less road noise
Overall Thoughts
The SP-7 from Nankang offers very good performance on either dry or wet roads. Higher speed cornering is fun on this tire, and the steering response is quick. Road noise is a little more pronounced, but nothing that makes it overly annoying.
Ride comfort is fine. What really makes this a nice value is the cheaper price. Similar models from Goodyear, Michelin and other big name tire brands would cost nearly twice as much as this tire, which is why we say it provides solid value for the money.
Click Here To Find Current Prices
What Vehicles Will The Nankang SP-7 Fit?
(This is not a complete list of ALL vehicles this tire will fit)

Chevrolet Silverado, Tahoe, Avalanche, Suburban, Traverse

Dodge Durango, Ram, Dakota

Ford Expedition, F-150, F-250, F-350, Explorer

GMC Yukon, Sierra

Honda Pilot

Hyundai Veracruz, Santa Fe

Isuzu Rodeo, Trooper

Jeep Grand Cherokee

Mercedes-Benz Sprinter

Nissan Murano, Titan, Pathfinder, Armada, Xterra

Toyota Sequoia, Tundra, 4Runner, Tacoma
Tire Sizes
15″
255/60R15 102H OBL
275/60R15 107H OBL
16″
265/70R16 112S OBL
275/60R16 109H OBL
235/70R17 111H BSW
225/65R17 102V OBL
255/65R17 110H OBL
265/65R17 112H OBL
225/60R17 99H OBL
255/60R17 110V OBL
18″
225/65R18 103H OBL
245/60R18 105H OBL
225/55R18 98V OBL
235/55R18 104V OBL
225/50R18 95V OBL
19″
255/55R19 111V OBL
275/55R19 111V OBL
255/50ZR19 107W OBL
285/45ZR19 111W OBL
20″
275/60R20 119H OBL
275/55R20 117H OBL
285/50R20 116V OBL
305/50R20 120H OBL
275/45R20 110H OBL
295/45R20 114H OBL
275/40R20 106H OBL
295/40ZR20 110Y OBL
22″
285/45R22 114V OBL
305/45R22 118V OBL
285/40R22 110V OBL
305/40R22 114V OBL
265/35R22 102V OBL
295/35R22 108V OBL
255/30R22 95V OBL
295/30ZR22 103Y OBL
24″
285/40R24 112V OBL
295/40R24 114V OBL
295/35R24 110V OBL
305/35R24 112V OBL
Price Range
Prices on the SP-7 range from approximately $64 and up. You may also find occasional rebates, discounts, coupons and special offers on this tire.
Click Here To Find The Current Prices On All Nankang SP-7 Performance X/P Sizes
Warranty
There is no mileage tread guarantee on this Nankang tire. However, you will find a tire uniformity warranty for the first 10% of treadwear. Materials and workmanship are warranted for a prorated amount down to the final 2/32 inch of tread depth.
---