Michelin Pilot Sport PS3 Tire Review & Rating
Built for serious driving enthusiasts, the Michelin Pilot Sport PS3 delivers some of the highest traction and cornering grip you'll find in a summer driving tire. Used as original equipment some of the world's most prestigious vehicles like the Mercedes-Benz E63 AMG and Audi A5, the Sport 3 uses Michelin's latest in race technology.
A new Green Power Compound and EnergySaver Construction are designed to provide a lower rolling resistance for improved fuel efficiency, as well as increased wet handling and longer treadlife.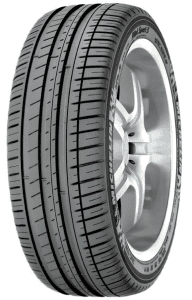 Dry traction and cornering grip is where this tire excels. An asymmetric tread pattern sports larger outside shoulder blocks and a continuous center rib for added cornering performance and more precise steering response, something that is mentioned in review after review from other drivers.
Wet handling is another area that Michelin has paid particular attention to. The tread features Anti SurfSystem technology that optimizes its profile and tread grooves for enhanced wet pavement performance and increased hydroplane resistance. It further reduces braking distances on wet roads, while allowing the vehicle to take curves without sliding the rear around.
Inside the tire you will find two steel belts that are polyamide reinforced for added strength and stability at higher speeds. A polyester cord body enhances ride comfort and durability. Michelin has 16-20 inch sizes available, and all sizes come with a Y-speed rating. A 20,000 mile tread warranty is also included.
Pros
Exceptional dry and wet traction

Cornering grip is outstanding

Steering is quick and responsive

Ride comfort is among best in class
Cons
Tread life may be shorter for some drivers
Overall Thoughts
For an ultra-high performance tire, Michelin has an excellent performer in its lineup. This Pilot Sport 3 tire does everything you ask it to do and then some. Handling and cornering grip is exceptional as the tires heat up. Keep in mind this is a summer tire and not built for colder temperatures.
The steering is quick and precise, and wet traction is outstanding. It holds the corners at higher speeds on wet roads much better than we've found on many other tires in this class. It's not easy to break the tire loose on dry pavement unless you're trying to.
Treadlife has been the biggest issue for some drivers. It seems to be less than the PS2, so you might want to keep that in mind. That said, Michelin does provide a 20,000 mile tread warranty which is pretty good for this type of tire.
Overall, while we like the PS2 and Super Sport ahead of this model, the Pilot Sport PS3 is definitely an excellent choice in new tires if treadwear is not a big issue for you.
Click Here For Current Michelin Coupons
Click Here To Find Current Prices
What Vehicles Will The Michelin PS3 Fit?
(This is not a complete list of ALL vehicles this tire will fit)

Audi S4, A6, A4, TT

BMW 335i, M3, 330Ci, M5, 525i, 740i

Chevrolet Camaro, Corvette

Ford Focus, Mustang

Honda Civic, Fit

Lexus GS300, GS430

Mercedes-Benz E63 AMG, E320, CLS550

Mini Cooper S

Mitsubishi Lancer Evolution, 3000GT, 350Z

Pontiac G8, GTO, Trans Am

Porsche Boxster

Saab 9-3, 9-5

Toyota Yaris, Solara, Supra

Volkswagen Passat
Tire Sizes
16″
205/45ZR16/XL 87W BSW
205/50R16 87V BSW
17″
215/45R17/XL 91W BSW
235/45ZR17/XL 97Y BSW
18″
285/35ZR18/XL (101Y) BSW MO1
235/40ZR18/XL 95Y BSW MO
235/40ZR18/XL 95W BSW
245/40R18 93Y BSW AO
245/40ZR18/XL 97Y BSW AO
255/40ZR18/XL (99Y) BSW MO1
19″
255/35ZR19/XL 96Y BSW AO
275/40ZR19 101Y BSW MO
245/45ZR19/XL 102Y BSW MO
20″
285/35ZR20/XL (104Y) BSW MO
255/40ZR20/XL (101Y) BSW MO
Price Range
Michelin Pilot Sport PS3 prices range from approximately $260 and up. You may also find occasional rebates, discount prices, coupons and special offers on this tire.
Click Here To Find The Current Prices On All Michelin Pilot Sport PS3 Sizes
Warranty
Michelin provides a 6-year or 20,000 mile warranty on the PS3. Mileage is reduced by half if different sizes are on rear than on front. Tire uniformity is guaranteed for one-year or the first 2/32 inch of wear.
Materials and workmanship are warranted for 6-years and include free replacement during the first year or first 2/32 inch of wear. A prorated amount is given for the remaining time period or down to the final 2/32 inch of tread depth.
You will also find a 3-year flat tire changing service and a 30-day customer satisfaction guarantee as well.
---