Michelin Pilot Sport A/S 3+ Tire Review & Rating
As the latest addition to their high performance all-season lineup, the Michelin Pilot Sport A/S 3+ is arguably their best yet. Released in March 2016, this new UHP all-season tire is built for drivers of sports cars, coupes and sedans who are looking to get more dry and wet traction, cornering grip and performance from their tires.
Michelin uses a Helio+ compound that is also infused with higher amounts of silica, which is matched up to an aggressive asymmetric tread pattern, which was inspired by the best-selling Pilot Super Sport summer tire, for enhanced year-round dry and wet traction and handling. Michelin's Variable Contact Patch 3.0 technology reduces heat distortion and combines with the tread design for increased cornering grip and responsiveness throughout the speed range. This is a major strength for the AS 3 Plus. If you're a spirited driver, you will enjoy the handling and grip this tire provides.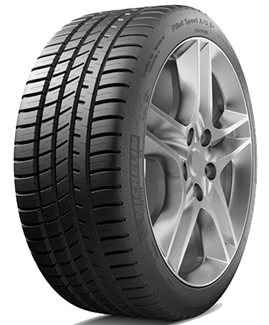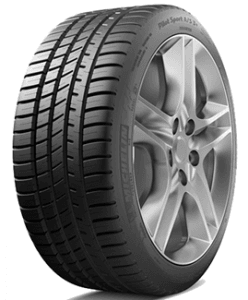 Michelin uses extreme amounts of silica in the tread compound that are matched up to larger circumferential grooves and variable thickness sipes, which result in outstanding wet traction, braking and acceleration.
In fact, Michelin claims in their testing that this model has proven to stop shorter on dry or wet road surfaces than other leading tires such as the Continental DWS06, Bridgestone RE970AS Pole Position, Goodyear F1 Asymmetric All-Season and several other leading tires. That says a lot right there about the kind of traction you can expect to find.
The Helio+ Compound that is used and the unique biting edges in the tread grooves aid in delivering 28% better snow traction than the older Pilot Sport A/S3. This is a noticeable improvement that gives this tire similar winter performance as you find on the Continental DWS06.
Michelin offers a wide range of 16-20 inch sizes in the Pilot Sport A/S3 Plus, and all models feature either a W or Y-speed rating. A 45K mile tread warranty is also included on this model.
Pros
Outstanding dry and wet traction
Steering response
Cornering grip and stability
Ride comfort
Treadlife
Cons
Bump up the ride comfort slightly
Overall Thoughts
While the older Pilot Sport A/S3 was a solid upper half of the class performing tire, this new A/S3 Plus is now arguably among the best in the ultra-high performance all-season category. It simply checks all the right boxes in what you want from this type of tire, and it excels at each one of them. There's really not a lot more that we can add without sounding like we work for Michelin.
We like how Michelin paid attention to one of the most frequent complaints regarding the older A/S3… poor winter performance. This new model delivers much better traction, braking and acceleration on snow and ice. It's obvious the company engineers spent a good deal of time in this area and the results are noticeable.
Ride comfort is good but not great. This is clearly a tire that is geared more towards the traction/cornering/response end of the scale than the comfort end. That said, it works very well in this case and we've not heard any real complaints from others up to this point as well.
Overall, if you're looking to increase the performance of your sport coupe or luxury sedan, this is one of the better available today. It delivers as advertised and is highly recommended.
What Vehicles Will The Michelin A/S 3 Plus Fit?
(This is not a complete list of ALL vehicles this tire will fit)
Acura TL, RL, RSX
Audi A6, A4, A8L, TT
BMW 135i, 545i, 550i, 750Li, M5, M3, 330i
Buick Regal, Lucerne
Chevrolet Corvette, Impala, Monte Carlo SS, Camaro, Cobalt, Cruze, Malibu
Chrysler 200
Dodge Charger, Avenger, Challenger
Ford Mustang GT, Fusion, Focus, Explorer, Contour
Honda Civic, CRZ
Hyundai Sonata, Veloster
Jaguar XKR, XK8
Lexus GS350, GS430, IS300, LS460L
Lincoln LS
Mazda3, RX-8, Miata
Mercedes-Benz E550, SL55, SL500, SLK320, CLK430
Mercury Milan
Nissan 370Z, Maxima
Pontiac GTO, G8, G6, Grand Prix, Trans Am
Scion tC
Subaru Legacy, Outback, Impreza, BRZ
Volkswagen Jetta, CC Sport, Passat, GTi
Tire Sizes
16″
225/50ZR16 92Y BSW
205/55ZR16 91Y BSW
17″
245/40ZR17 91Y BSW
255/40ZR17 94Y BSW
205/45ZR17 84W BSW
215/45ZR17/XL 91W BSW
225/45ZR17/XL 94Y BSW
235/45ZR17/XL 97Y BSW
245/45ZR17/XL 99Y BSW
205/50ZR17/XL 93Y BSW
215/50ZR17/XL 95W BSW
225/50ZR17 94W BSW
235/50ZR17 96Y BSW
235/55ZR17 99W BSW
18″
245/35ZR18/XL 92Y BSW
255/35ZR18/XL 94Y BSW
265/35ZR18/XL 97Y BSW
275/35ZR18 95Y BSW
285/35ZR18 97Y BSW
205/40ZR18/XL 86W BSW
215/40ZR18 85Y BSW
225/40ZR18/XL 92Y BSW
235/40ZR18/XL 95Y BSW
245/40ZR18/XL 97Y BSW
255/40ZR18 95Y BSW
275/40ZR18 99Y BSW
285/40ZR18 101Y BSW
215/45ZR18/XL 93Y BSW
225/45ZR18/XL 95Y BSW
245/45ZR18/XL 100Y BSW
255/45ZR18 99Y BSW
225/50ZR18 95W BSW
235/50ZR18 97Y BSW
19″
275/30ZR19/XL 96Y BSW
285/30ZR19/XL 98Y BSW
225/35ZR19/XL 88Y BSW
245/35ZR19/XL 93Y BSW
255/35ZR19/XL 96Y BSW
265/35ZR19/XL 98Y BSW
275/35ZR19 96Y BSW
285/35ZR19/XL 103Y BSW
225/40ZR19/XL 93Y BSW
245/40ZR19/XL 98Y BSW
255/40ZR19/XL 100Y BSW
265/40ZR19 98W BSW
275/40ZR19 101Y BSW
285/40ZR19 103Y BSW
225/45ZR19/XL 96Y BSW
245/45ZR19 98Y BSW
255/45ZR19 100Y BSW
245/50ZR19/XL 105W BSW
20″
285/30ZR20/XL 99Y BSW
255/35ZR20/XL 97Y BSW
275/35ZR20/XL 102Y BSW
285/35ZR20 100W BSW
245/45ZR20/XL 103Y BSW
255/45ZR20 101Y BSW
Price Range
Michelin Pilot Sport A/S 3 Plus prices range from approximately $165 and up. You may also find occasional rebates, discount prices, coupons and special offers on this tire.
Warranty
Michelin provides a 6-year or 45,000 mile tread warranty on the A/S 3+. Mileage is reduced by half if different sizes are used on front than on rear. Tire uniformity is guaranteed for the first year or first 2/32 inch of wear.
Materials and workmanship are warranted for 6-years and include free replacement during the first year or first 2/32 inch of wear. A prorated amount is given for the remaining time period or down to the final 2/32 inch of tread depth.
---