Michelin HydroEdge Tire Review & Rating
Michelin's latest standard all-season tire, the HydroEdge, combines all-weather handling with a longer tread life for drivers of all types of family coupes, sedans and minivans.
What you'll immediately notice when driving on the Hydro Edge is how well it handles in either dry or wet road conditions. Dry grip is enhanced through its 3-ribbed directional tread design that maximizes the contact patch and provides better handling.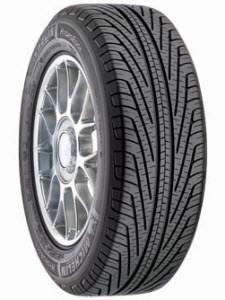 On wet roads the tire's silica based tread compound provides added traction, while unique HydroChutes and dual circumferential grooves expel more water from under the tread and resist hydroplaning, resulting in better control and traction on wet and light snow covered roads.
Michelin has added Energysaver Construction technology to the HydroEdge, which is engineered to lower the rolling resistance of the tire and improve fuel mileage. Comfort Control Technology aids in reducing vibration and noise by utilizing a computer-optimized tread design.
Another strong point with this tire is its longer tread life. It comes with Michelin's 90,000 mile tread warranty, which is among the best in this class. Other tire owners have confirmed that the tread does indeed provide the mileage stated.
Inside the tread are two steel belts to go with a polyester cord body. They combine to increase strength and stability, as well as giving a better overall ride quality.
Pros
Outstanding dry and wet traction for a standard all-season tire

Very smooth and comfortable ride

90,000 mile treadlife warranty
Cons
Tires get a little road noise as they age
Overall Thoughts
Note: Since our review was published, Michelin has discontinued making the Harmony.
Like most Michelin tire models, the HydroEdge is another high quality tire in the company's lineup. Traction and grip on both wet or dry pavement is among the best of any standard all-season tire. Wet traction in particular is superb with this model. The tire rides very comfortably and the 90,000 mile tread warranty is a testament to what you can expect from the tread life. All in all, the HydroEdge provides good value and performance, making it a solid choice in all-season tires.
Click Here For Current Michelin Coupons
Click Here To Find Current Prices
What Vehicles Will The HydroEdge Fit?
(This is not a complete list of ALL vehicles this tire will fit)

Cadillac Deville, DTS

Chevrolet Impala, Malibu

Chrysler Town and Country

Dodge Grand Caravan

Ford Crown Victoria, Taurus

Honda CRV, Odyssey, Element

Kia Amanti

Saturn Aura, LS200, Vue

Subaru Legacy Outback

Toyota Corolla, Sienna, Camry, Tacoma

Volkswagen Jetta, Golf
Tire Sizes
14″
P185/65R-14 85T BSW
P185/70R-14 87T BSW
P195/70R-14 90T BSW
15″
P185/65R-15 86T BSW
P195/60R-15 87T BSW
P195/65R-15 89T BSW
P205/60R-15 90T BSW
P205/65R-15 92T BSW
P205/70R-15 95T BSW
P215/60R-15 93T BSW
P215/65R-15 95T BSW
215/70R-15 98T BSW
16″
P205/55R-16 89T BSW
P205/65R16 94T NIS B
P215/55R-16 91T BSW
P215/60R-16 94T BSW
215/65R-16 98T BSW
P225/60R-16 97T BSW
P235/60R-16 99T BSW
17″
215/60R-17 96T BSW
P215/65R-17 98T BSW
P225/55R-17 95T BSW
P225/60R-17 98T BSW
P235/55R-17 98T CAD
18″
P225/50R-18 94T BSW
P225/55R-18 97T BSW
Price Range
Prices on the HydroEdge range from approximately $111 and up. You may also find occasional rebates, discounts, coupons and special offers on this tire.
Click Here To Find The Current Prices On All Michelin HydroEdge Sizes
Warranty
Michelin provides a 6-year or 90,000 mile warranty on the treadlife. (Mileage is reduced to 45,000 miles in rear if sized differently than the front) A one-year or first 2/32 inch of wear guarantee is added for tire uniformity.
Materials and workmanship are backed for 6-years and include free tire replacement during the first year or first 25% of wear. A prorated amount is given for the remaining time period or until the final 2/32 inch of tread depth on the tire.
You will also find a 3-year flat tire changing service on the Hydro Edge, as well as a 30-day satisfaction guarantee.
---