Michelin Defender LTX M/S Tire Review & Rating
Replacing a top performing tire like the LTX M/S2 is not an easy task for anyone, but that is exactly what the new 2015 Michelin Defender LTX M/S has been designed to do. Built for full-size pickups and SUV's, the Defender LTX combines the best traits of the original passenger car Defender with the same tread design and tread depth of the truck/SUV LTX M/S2.An all-season tread compound utilizes Michelin's Evertread technology that is created to resist wear and tear under tough road conditions, as well as perform well under heavier payloads. The company states that this new tread will last up to 10% longer than the original LTX M/S2, which is pretty impressive on its own. Looking at the test results you can clearly see the new Defender LTX does in fact handle heavier loads and last longer than several of the better tires in this class.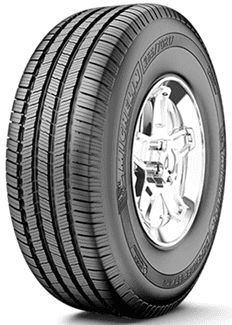 The biggest plus with this new model is where the rubber meets the road. Traction on dry, wet or snow covered road surfaces is among the best tires available today, and we do not say that lightly. In fact Michelin had third party testing done to prove the point. The Defender LTX stops shorter on wet pavement and tracts through the snow better than similar tires like the Goodyear Wrangler SR-A, Yokohama YK-HTX, Firestone LE2 among others.
The tread features four wide circumferential grooves and full-depth sipes that add to the grip in rain and snow. While traction and toughness are impressive, this model also delivers a smoother and quieter ride than you might expect. There isn't the tread pattern noise you often find on uneven or grooved pavement. We would say that ride comfort exceeds that of the older M/S2.

Inside the tire you will find Michelin's MaxTouch Construction that is designed to more evenly distribute the forces of acceleration, braking, and cornering for increased rolling resistance and an overall longer tread life. The Defender LTX M/S is available with either a BSW or OWL depending on the size. The tread is warranted for up to 70K miles depending on the speed rating.
Michelin is releasing 45 sizes through 2015 and another 26 sizes by the middle of 2016. Tires are available in a range of 15-22 inch sizes with T or H-speed ratings, and LT models feature an E load range rating.
Pros
All-season traction including snow

Tough tread compound

Treadlife

Value for the money
Cons
Overall Thoughts
There's not a lot we can add to say how impressive this new Defender LTX M/S performs on the street. The engineers at Michelin have managed to take the best of two unique tires and combine them into a model that provides excellent year-round traction, braking and handling, as well as a comfortable ride and longer treadwear.
Overall, the Defender LTX M/S simply does not disappoint in its performance. We rank it as one of the top tires in the truck/SUV all-season category and highly recommend it.
What Vehicles Will The Michelin Defender LTX Fit?
(This is not a complete list of ALL vehicles this tire will fit)

Chevrolet Silverado, Tahoe, Avalanche, S10, Suburban, K2500,

Colorado, Blazer

Dodge Ram, Durango, Dakota

Ford Expedition, Escape, Ranger, Bronco, F-150, Excursion, Explorer

GMC Yukon, Sierra, Canyon

Honda Element, CR-V

Hummer H3, H2

Isuzu Trooper

Jeep Wrangler, Grand Cherokee, Liberty

Land Rover Discovery

Lexus GX470

Mazda B4000

Mercury Mountaineer

Mitsubishi Montero

Nissan Titan, Xterra, Frontier, Armada, Pathfinder

Toyota Tacoma, Tundra, FJ Cruiser, Sequoia, 4Runner, Land Cruiser, Highlander
Tire Sizes
15″
31×10.50R15 C 109R OWL
205/65R15 XL 99T BSW
215/75R15 100T OWL
235/75R15 XL 109T OWL
235/75R15 XL 109T OWL
16″
215/55R16 XL 97H BSW
255/65R16 109T OWL
215/70R16 100H BSW
235/70R16 XL 109T OWL
235/70R16 XL 109T OWL
245/70R16 107T OWL
255/70R16 111T OWL
255/70R16 111T OWL
265/70R16 112T OWL
265/70R16 112T OWL
275/70R16 114H BSW
LT225/75R16 E 115/112R BSW
235/75R16 XL 112T OWL
LT245/75R16 E 120/116R BSW
245/75R16 111T OWL
LT265/75R16 E 123/120R OWL
265/75R16 116T OWL
LT215/85R16 E 115/112R BSW
LT235/85R16 E 120/116R BSW
17″
215/50R17 XL 95H BSW
225/55R17 XL 101H BSW
225/65R17 102H BSW
225/65R17 102H BSW
235/65R17 104T BSW
235/65R17 104T BSW
245/65R17 107T BSW
245/65R17 107T BSW
255/65R17 110T BSW
265/65R17 112T BSW
265/65R17 112T BSW
235/70R17 XL 109T BSW
LT245/70R17 E 119/116R BSW
255/70R17 112T BSW
LT265/70R17 E 121/118R OWL
265/70R17 115T OWL
265/70R17 115T OWL
LT285/70R17 E 121/118R BSW
LT295/70R17 E 121/118R BSW
LT225/75R17 E 116/113R BSW
235/75R17 109T BSW
LT245/75R17 E 121/118R BSW
255/75R17 115T BSW
18″
235/55R18 100T BSW
245/60R18 105H BSW
245/60R18 105H BSW
265/60R18 110T BSW
275/60R18 113H BSW
235/65R18 106T BSW
LT255/65R18 E 120/117R BSW
255/65R18 111T BSW
255/65R18 111T BSW
265/65R18 114T BSW
LT275/65R18 E 123/120R BSW
275/65R18 116T BSW
LT285/65R18 E 125/122R BSW
265/70R18 116T BSW
LT265/70R18 E 124/121R BSW
LT275/70R18 E 125/122R BSW
LT295/70R18 E 129/126R BSW
19″
255/50R19 XL 107H BSW
235/55R19 XL 105H BSW
245/55R19 103H BSW
255/60R19 109H BSW
20″
35×12.50R20 E 121R BSW
255/50R20 XL 109H BSW
265/50R20 107T BSW
305/50R20 116H BSW
255/55R20 XL 110H BSW
275/55R20 113T BSW
275/55R20 113T BSW
LT265/60R20 E 121/118R BSW
275/60R20 115T BSW
LT285/60R20 E 125/122R BSW
LT275/65R20 E 126/123R BSW
LT285/65R20 E 127/124R BSW
LT295/65R20/E 129/126R BSW
Price Range
Michelin Defender LTX M/S prices range from approximately $125 and up. You may also find occasional rebates, discount prices, coupons and special offers on this tire.
Warranty
Michelin provides a 6-year or 70,000 mile tread warranty on T and H-speed rated sizes, and 6-years or 50,000 miles on LT sizes. Tire uniformity is guaranteed for the first year or first 2/32 inch of wear.
Materials and workmanship are warranted for 6-years and include free replacement during the first year or first 2/32 inch of wear. A prorated amount is given for the remaining time period or down to the final 2/32 inch of tread depth.
You will also find a 3-year flat tire changing service and Michelin's 30-day customer satisfaction guarantee.
---