Mastercraft Courser CXT Tire Review & Rating
The Mastercraft Courser CXT is the company's newest tire in their lineup, and one that is beginning to gain wide popularity. Designed as a commercial traction tire, the CXT is built for all types of light duty trucks, SUV's and commercial vans that are looking for reliable traction on or off-road, as well as increased treadwear.
Mastercraft, which is owned by Cooper Tire, uses a silica-enhanced tougher tread compound and unique Duo-Tech2 two-ply carcass construction for added strength and durability. The tread pattern features larger tread blocks and side traction blocks to protect against cuts, chips and bruises.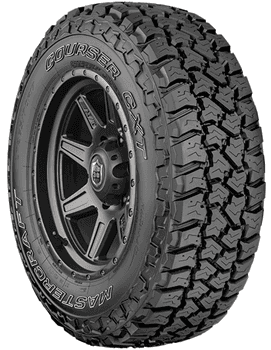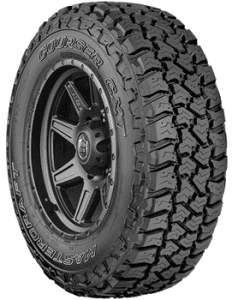 The Courser CXT sports an aggressive looking design that looks good on any truck due in part to the larger shoulder scallops. These added scallops provide additional traction on muddy terrain as well, which is a positive for this tire.
Full-depth sipes, which is another plus for the CXT, deliver enhanced traction on wet pavement, while also increasing performance off-road. These added sipes also help with grip on slush and hardpacked snow.
Mastercraft Courser CXT tires are available in a number of LT and flotation sizes that range from 15-20 inches. All sizes are M+S rated and come with a limited tread warranty.
Pros
Dependable on or off-road traction
Wet grip is better than average
Treadlife has shown to be very good
Cons
Increase ice braking/acceleration
Overall Thoughts
Mastercraft's new Courser CXT continues in a line of good quality tires at a lower price point than many other brand name tires. Performance both on and off-road is very good. They take on dirt, gravel, sand and mud as well as the Goodyear DuraTrac in our opinion.
We would like to have seen this model carrying the mountain/snowflake emblem for severe winter service, however, traction in light to moderate snow is not bad at all. It's on ice that you may find braking and acceleration issues.
Overall, the Courser CXT is a good choice for drivers who work at construction sites, delivery drivers or those who live in rural areas and need a reliable tire for everyday use.
What Vehicles Will The Mastercraft Courser CXT Fit?
(This is not a complete list of ALL vehicles this tire will fit)
Chevrolet Express G2500, Silverado, R2500, C2500, Suburban
Dodge Ram 3500, Ram 2500, Sprinter 3500, Durango
Ford F150, F250, F350, Excursion, Econoline
GMC Sierra, Suburban, K2500
Isuzu NPR-HD
Nissan Titan, Armada
Toyota Tundra
Tire Sizes
15″
31X10.50R15LT 109Q C OWL
33X12.50R15LT 108Q C OWL
35X12.50R15LT 113Q C OWL
16″
LT215/85R16 115\112Q E BLK
LT235/85R16 120\116Q E BLK
LT255/85R16 123\120Q E OWL
LT225/75R16 115\112Q E BLK
LT245/75R16 120\116Q E BLK
LT265/75R16 123\120Q E OWL
LT285/75R16 126\123Q E OWL
LT315/75R16 127\124Q E OWL
LT305/70R16 124\121Q E OWL
17″
LT235/80R17 120\117Q E BLK
LT255/80R17 121\118Q E BLK
LT245/75R17 121\118Q E OWL
LT245/70R17 119\116Q E BLK
LT265/70R17 121\118Q E OWL
LT285/70R17 121\118Q E OWL
LT295/70R17 121\118Q E OWL
LT315/70R17 121\118Q D OWL
LT305/65R17 121\118Q E OWL
18″
LT275/70R18 125\122Q E OWL
LT295/70R18 129\126Q E BLK
LT305/70R18 126\123Q E OWL
LT275/65R18 123\120Q E OWL
LT285/65R18 125\122Q E OWL
20″
LT275/65R20 126\123Q E BLK
LT305/55R20 121\118Q E BLK
35X12.50R20LT 121Q E BLK
Price Range
Mastercraft Courser CXT prices range from approximately $184 and up. You may also find occasional rebates, discount prices, coupons and special offers on this tire.
Warranty
Mastercraft provides a limited tread warranty on the Courser CXT.
---