Lexani LX-Seven Tire Review & Rating
The Lexani LX-Seven high-performance all-season tire is built to provide dependable year-round traction with a higher level of stability, comfort and tread life. Designed for use on all types of coupes, sedans and crossovers, the LX-Seven features a lower cost for budget-minded drivers.
Lexani utilizes an all-season tread compound that is matched up to a directional tread pattern for enhanced dry or wet traction, as well as increased handling and cornering grip. A solid center rib gives this tire much quicker steering response and better overall braking performance, which is a plus on this model.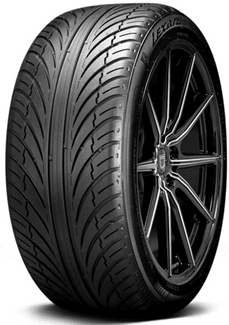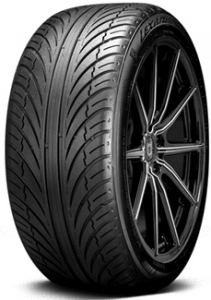 The unique V-shaped tread pattern with its lateral grooves on each side is engineered to pump out the water on wet road surfaces and reduce the risk of hydroplaning. Although this is an all-season tire, driving in anything other than light snow is likely going to be problematic for most drivers. It's a performance tire and not a winter tire to be sure.
Lexani offers a range of 17-22 inch sizes in the LX-Seven, and all sizes sport a W-speed rating. A limited tread warranty is also included.
Pros
Dry traction and cornering stability
Comfortable and quiet ride
Budget-friendly price
Cons
Increase the wet traction/braking
Traction in winter conditions
Overall Thoughts
Lexani is becoming well known for their line of budget high-performance tires, and the LX-Seven fits right into that mold. Dry traction and handling is very good on this model. Cornering grip is better than many second-tier brands, but not up to the levels you'll find on a Michelin Pilot Sport 4S.
Where we find this tire stumbling would be with its wet traction, especially during higher speed braking maneuvers. We've heard this from numerous drivers. Grip on snow and ice is minimal as you might expect, so if you intend on driving this tire in winter conditions you might want to keep that in mind.
Overall, for the money this is not a bad choice in a high-performance AS model. However, if you have a bigger budget we'd suggest going with the Michelin mentioned above or Bridgestone Potenza S-04 Pole Position.
What Vehicles Will The Lexani LX-Seven Fit?
(This is not a complete list of ALL vehicles this tire will fit)
Acura TL, RL, RSX, TSX
Audi A6, A4, A8L, TT
BMW 135i, 545i, 550i, 750Li, M5, M3, 330i
Buick Regal
Chevrolet Corvette, Impala, Monte Carlo, Camaro, Cobalt, Cruze, Malibu
Dodge Charger, Avenger, Challenger, Dart
Ford Mustang GT, Fusion, Focus, Contour
Honda Civic, CRZ, Accord
Hyundai Sonata, Veloster
Jaguar XKR, XK8
Lexus GS350, GS430, IS300, LS460L
Lincoln LS
Mazda3, RX-8, Miata
Mercedes-Benz E550, SL55, SL500, SLK320, CLK430
Nissan 370Z, Maxima, Sentra
Pontiac GTO, Grand Am, G8, G6, Grand Prix, Trans Am
Scion tC
Subaru Legacy, Outback, Impreza, BRZ
Toyota Corolla, Camry
Volkswagen Jetta, CC Sport, Passat, GTi, Golf, Beetle
Tire Sizes
17″
205/40ZR17 84W XL BSW
215/45ZR17 91W XL BSW
215/50ZR17 95W XL BSW
215/55ZR17 98W XL BSW
225/45ZR17 94W XL BSW
225/50ZR17 98W XL BSW
225/55ZR17 101W XL BSW
18″
215/35ZR18 84W XL BSW
225/40ZR18 92W XL BSW
245/40ZR18 97W XL BSW
245/45ZR18 100W XL BSW
20″
225/30ZR20 85W XL BSW
225/35ZR20 90W XL BSW
245/35ZR20 95W XL BSW
275/40ZR20 106W XL BSW
22″
225/30ZR22 87W XL BSW
Price Range
Lexani LX-Seven prices range from approximately $67 and up. You may also find occasional rebates, discount prices, coupons and special offers on this tire.
Warranty
Lexani provides a limited tread warranty on the LX-Seven.