Kumho Solus TA31 Tire Review & Rating
Designed for coupes, sedans, minivans and crossovers, the Kumho Solus TA31 is the latest entry in the company's touring all-season lineup. It can also be found as original equipment on vehicles such as the Kia Soul, Hyundai Sonata and a few others.
An all-season tread compound and symmetrical tread pattern deliver predictable dry traction on all types of pavement. Braking is sure and doesn't provide any unexpected surprises. Steering is responsive with its continuous center rib and provides good on-center feel at highway speeds.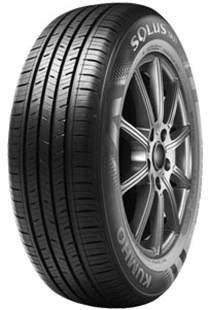 Wet traction is above average due in part to the tire's circumferential grooves and engineered sipes around the tread surface. You'll find excellent hydroplane resistance, while braking on wet roads is average for this model. The addition of the sipes in the tread design does add a bit of traction on snow and slush, but deep snow and ice may be more of an issue like it is on most all-season tires.
The two steel belts with spirally wrapped nylon and a polyester cord ply does add more strength and enhanced ride comfort on the TA31. For the most part it delivers a comfortable ride and road noise is minimal.
The Kumho TA31 is available in 14-18 inch sizes and speed ratings up a V. A 60K mile tread warranty also comes on this model.
Pros
Dry and wet traction

Steering response
Cons
Overall Thoughts
We found the TA31 to be a pretty good all-around performing tire among other tires in its class. It doesn't do anything spectacularly well, yet it doesn't fail miserably in any one category as well.
Traction on dry/wet roads, handling stability and ride comfort are strengths for this tire. On the other hand, hard cornering, winter traction and treadlife are not. While these may not be a huge issue for some that would prevent you from purchasing, you will find tires like the Pirelli P7 All Season Plus, Cooper CS5 Ultra Touring and others that deliver a little higher performance.
One other thing you will find with the TA31 is a good price. The cost is less than many other premium touring tires, making this model an overall decent value for the performance it provides.
Click Here For Current Kumho Coupons
Buy Used for 40 – 50% Less than Retail
What Vehicles Will The Kumho TA31 Fit?
(This is not a complete list of ALL vehicles this tire will fit)
Acura RSX, TL, TSX

BMW 128i, 325i, 528i, X3

Cadillac CTS

Chevrolet Impala, Malibu, Cruze, HHR

Chrysler 200

Ford Fusion, Focus

Honda Accord, Civic, CRZ

Hyundai Accent, Veloster, Genesis

Infiniti G35, G37

Kia Soul, Elantra, Sonata

Mazda Miata

Mini Cooper

Nissan Altima, Maxima

Subaru Legacy, Outback, Impreza, BRZ

Suzuki Kizashi

Toyota Avalon, Camry

Volkswagen Jetta

Volvo S40, S80
Tire Sizes
14″
185/65R14 86H BSW
15″
195/55R15 85H BSW
195/60R15 88H BSW
205/60R15 91H BSW
185/65R15 88H BSW
195/65R15 91H BSW
205/65R15 94H BSW
16″
205/55R16 91H BSW
215/55R16 97H XL BSW
225/55R16 99H XL BSW
235/55R16 98H BSW
205/60R16 92H BSW
215/60R16 95H BSW
225/60R16 98H BSW
235/60R16 100H BSW
205/65R16 95H BSW
215/65R16 98H BSW
225/65R16 100T BSW
17″
205/50R17 93V XL BSW
215/50R17 95V XL BSW
225/50R17 98V XL BSW
215/55R17 94V BSW
225/55R17 97V BSW
235/55R17 103V XL BSW
225/60R17 99H BSW
18″
225/45R18 95V XL BSW
235/45R18 94V BSW
235/50R18 101V XL BSW
Price Range
Kumho Solus TA31 prices range from approximately $58 and up. You may also find occasional rebates, discount prices, coupons and special offers on this tire.
Warranty
Kumho provides a 6-year or 60,000 mile tread warranty on the TA31. (Mileage is reduced by half if front and rear sizes are different.) Tire uniformity is guaranteed for the first year or first 2/32 inch of wear.
Materials and workmanship are warranted for 6-years and include free replacement during the first year or first 2/32 inch of wear. A prorated amount is given for the remaining time period or down to the final 2/32 inch of tread depth.
---